You pass a lot of small businesses driving through Glacier, but nothing catches your attention quite like a giant silver, futuristic-looking mobile unit with a barber's pole. In addition to its seemingly out-of-place location amidst more rustic buildings, the Hairstream grabs your eye with its artistic flair. Warm string lights, hanging ornaments, light-up star décor, and blue snowflake projections float outside its walls. The resident is a true artist.
Joelle Adams was born in Seattle on December 14, 1972. She went to the Gene Juarez Academy and advanced her training via Aveda in the early 1990's, working at Halley's Plumage, an Aveda Concept Salon, on Second and Stewart in downtown Seattle.
While Joelle's inner artist was successful, her inner naturalist felt unfulfilled, so she switched fields and began volunteering and interning in wildlife biology. She acquired an Associate's Degree in Environmental Technology in the mid-90's so she could work for the Department of Natural Resources and other private environmental consulting agencies. She traveled a lot for work and performed environmental surveys, which led her to Glacier.
Falling in Love in Glacier
In 2001, Joelle had a contract in Glacier to count threatened marbled murrelets and endangered spotted owl populations. She fell in love with that part of the state and bought land there in 2003.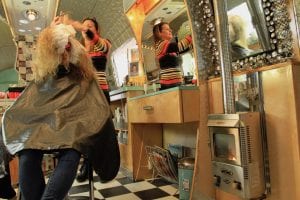 Then she married John Adams, the owner of Glacier Ski Shop. Joelle wanted to stop traveling for work, but how to make work for herself in this small town with a limited economy?
She asked herself, "What have I already invested in and what can I do with what I have as a starting point?"
Joelle became a kitchen hairdresser for local Glacier residents. She planned to turn her husband's house into a salon, until she discovered the costs of transitioning a residence into a business. Fortunately, Joelle's husband had an airstream trailer, which he suggested transforming into the "Hairstream." The idea stuck.
Functional Artistry
"I'm an artist first, so I paint and sculpt and do different things," Joelle says. "Haircutting is sculpture, hair color is painting. I like combining the two to create a look for somebody. Everyone wants to look their best. I don't try to sell anyone a signature haircut, I just try to listen to what they want."
Joelle has always wanted to be of service and has been doing hair in Glacier now for over 10 years. "I ask a lot of lifestyle questions. I'm consultation-heavy, and then the art comes in," she says. "I pair function with fashion and like to design hair that holds its own. I just try and make people feel good first and look good second. If you feel good, you look good."
She says she has a signature way of bringing out people's assets in a beautiful and functional way – and function is important, because her clientele is active.
Most Glacier residents are Mount Baker skiers and snowboarders, so Joelle's clients need hairstyles that don't get in the way of their sport.
Joelle and John have a nine-year-old son and all three spend time on the mountain. Besides skiing, Joelle enjoys hiking, trail running, equestrian, trail riding and swimming in the lake. She describes her own appearance as very low maintenance.
Clientele
"Doing hair is a personal connection," Joelle says. "Some people come back for that connection, trust and authentic sharing. It's an authentic experience; I like to meet people where they're at. I'm known as the 'hairapist.'"
In addition to full-time Glacier residents, some city dwellers have second homes in the area, contributing to the Hairstream's clientele. People also come from all over to experience a haircut at the Hairstream, from the San Juan Islands, Seattle and Vancouver. A special posse of beloved women from Bellingham regularly venture into the mountains for one of Joelle's hairstyles.
"It's a roadside attraction," Joelle says.
One of Joelle's most notable clients is a man who comes in for special occasions. He likes to get striking haircuts and usually brings a group of friends to witness the spectacle. One time, he lost a bet and Joelle gave him a mullet. Recently, he attended a party and asked for a Mohawk. Joelle was happy to oblige.
The Hairstream is a popular destination for local bridal parties, as well as the average Joe just looking for a trim. Joelle's gift for catering to her clientele and personalizing their style is a valuable asset to the local community. Whatcom County is fortunate to have this unique and personable small business.