A decade ago, an Englishman named Jamie Oliver hosted a television series where he visited a small town in West Virginia, working to bring healthier food into the school systems there. It was a response to the rising rates of obesity across the United States. In one episode, he showed young school children how chicken nuggets are made – namely that there's barely any quality meat in them, mostly just discarded bits.

It was amid this national conversation around obesity and nutrition that Jessica Sankey, the wellness director for Bellingham Public Schools, first got involved with local efforts to revitalize school lunches.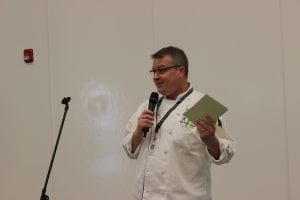 Working with the Bellingham community and school district leadership, she's now much further along that path. Bellingham's new central kitchen was officially unveiled in November 2018. The first food from the site was served to students at the new Sehome High School on January 30, 2019.
The new state-of-the-art kitchen will allow the district to serve lunches made from scratch with food sourced from local farmers and producers to all students in the district. The process came from a recognition that schools were a feasible place to bring more equity to the health of Bellingham's kids, Sankey says.
"In my experience, that's how that conversation started: with a huge desire from the community, from families and from school staff who saw inequities in the actual health of kids – inequities in access to healthy foods," she says. "One very real solution seemed to be the school meal program because schools have the ability to feed kids."
Executive Chef Patrick Durgan has been involved in the project from the outset. As a chef, Durgan has always appreciated good food. Becoming a parent only amplified his passion.
"I've always loved entertaining and food," he says. "That was always part of our family culture, to share the joys of that type of thing."
He spent many years working as a chef at a convention center. He also worked in food service at Portland State University and most recently at Western Washington University. At both of those schools, the goal was to incorporate more healthy, local options into meal plans.
That goal has carried over into his work at Bellingham Public Schools.
"We're trying to satisfy as many needs as possible," Durgan says. "No matter what your preferences are or your tastes are, we hope that you're able to find something every day that can satisfy the desires you may have as a customer, as a student."
In 2013, Bellingham voters passed a bond that funded construction of the central kitchen. The project also received money from a second bond passed in 2018, grants from the Whatcom Community Foundation, Whole Kids Foundation (the foundation arm of Whole Foods Market) and the Chef Ann Foundation. The latter was through a grant from the School Food Support Initiative, for which Bellingham Public Schools was a pilot project.
"I consider myself so fortunate every day for the community that allowed us to have the resources to build this and do this work," Durgan says.
The kitchen itself was designed by a team of community members intent on creating a site to incorporate produce from local farms and with an eye toward efficiency.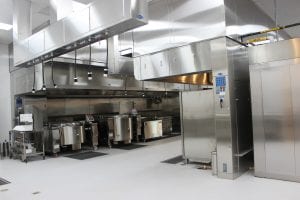 The kitchen has a large loading area to accommodate deliveries from local farmers complete with a washing station for produce just plucked from the ground. Its ovens, refrigerators and storage systems are all highly efficient models, both in terms of energy consumption and the pace at which food service staff will be able to turn out high volumes of food. They will also use reusable pans instead of single-use plastic containers to ship food out to schools.
"If we didn't have the right stakeholders at the table in the planning, that never would have happened," Sankey says. "The whole process started with a vision that was very thoughtful about making sure we were engaging with our local food economy."
It will take a couple years to transform the menu into one that exclusively sources local ingredients. Part of that depends on the number of students purchasing school lunches and putting money back into the program.
"That's our vision – basically, to source whole ingredients first and work our way into local ingredients as we grow the program and generate more participation," Durgan says.
It's already starting. Durgan and his staff made a berry sauce for french toast from frozen local berries picked last summer. At Sehome High School, they served nachos with a nacho cheese sauce made from scratch in the central kitchen.
The central kitchen allows the district to keep producing many of the same menu items, but with whole ingredients instead of processed substitutes, Durgan says.
Over the next couple years, the district will be revamping the kitchens at many of the schools in the district so they're prepared to receive food from the central kitchen.
By offering better lunches, Sankey, Durgan and the district are looking to not only create food and health equity, but broader social equity in the lunchroom as well.
"We want to take the stigma out of who eats school lunch and what school lunches really are," Durgan says. "If we can do that, we can create a lot more valuable equity amongst the social structures that are in our school lunchrooms today."