In 2012, enough food was thrown away in the United States to feed 190 million adults for a year. In Whatcom County, food waste is especially egregious, considering that one in every four residents experience food insecurity – defined as lacking reliable access to proper amounts of affordable, nutritious food.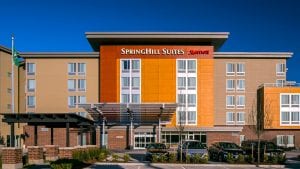 Fortunately, local nonprofit Sustainable Connections has partnered with SpringHill Suites by Marriott Bellingham and other local businesses on the Food Recovery Initiative. A commercial-based aspect of their "Squatch Food Waste" campaign, the initiative is funded by local businesses and a Department of Ecology waste reduction grant. The program reduces waste by collecting extra food from businesses and donating it to local hunger relief agencies, keeping it out of landfills. Since it began in February 2018, the program has saved over 20,000 pounds of food, equaling nearly 16,000 individual meals.
360 Hotel Group, which owns and operates SpringHill Suites and TownePlace Suites on Northwest Avenue, joined the Food Recovery Initiative about three months ago, becoming the first area hotel organization to take part in the program. Each day, they donate leftover hot breakfast items from both hotels, so far providing near 1,400 pounds' worth of food. The donations have equated to over 1,100 individual meals for those in need.
"How could you not feel good about that?" says Keith Coleman, general manager for both hotels. "It's an amazing win-win for everybody."
Coleman says SpringHill Suites originally reached out to Sustainable Connections to see how they could become a more sustainable business within the community. The Food Recovery Initiative came up during the conversation, and Coleman says it seemed like a natural fit. The hotels often had more food than needed for breakfast buffets, and were previously composting the leftovers.
Mark Peterson, sustainable business manager for Sustainable Connections, oversees the Food Recovery Initiative. He says the contributions from SpringHill Suites and TownePlace Suites have filled a needed gap in donations. While the program receives plenty of bread, soups and rice, breakfast proteins had been lacking. Hotels are ideal organizations to participate in food recovery. While many well-run restaurants actually have low volumes of leftovers, hotels need enough food to meet demand based on how many guests there are, regardless of whether or not they actually end up eating.
Donations are picked up daily by volunteer drivers, who often work with the Miracle Food Network, a local hunger relief organization that helps coordinate food pickups and deliveries. At SpringHill Suites, volunteers show up around 10:00 a.m. each day, not long after the breakfast buffet ends.
"It couldn't be a simpler process," says Coleman of participating in the program, which is free to businesses. In addition to simultaneously helping those in need and mitigating the effects of climate change, donations are tax deductible and could help reduce garbage bills.
Currently, donations go to four main organizations: Jesus Christ Chief Cornerstone Ministry, which operates a homeless shelter on the Lummi Nation; Northwest Youth Services, which helps at-risk homeless youths; Francis Place, a transitional housing and services facility for the chronically homeless; and the Lighthouse Mission.
Peterson says they work closely with Tom Kunnesh of the Whatcom County Health Department to ensure strict food safety guidelines are followed every step of the process. Donors are also protected by the 1996 Bill Emerson Good Samaritan Food Donation Act. The law protects good-faith donors from both civil and criminal liability in the event of a food safety issue.
There are currently 27 regular donors in the program, and Peterson says they're striving for more than 30 regular food producers, from hotels to caterers and restaurants to schools. While donuts, bagels and pastries are easy to donate, Peterson says it's an especially big deal to get fresh, nutrient-dense foods like produce and proteins.
Recently, the Chrysalis Inn and Spa made a donation of roasted vegetables and potatoes. Peterson donated the food himself to Northwest Youth Services, and the reaction was heartwarming.
"When I walked in with [the donations], and the youth there saw that food, I was kind of taken aback because they said, 'We are so excited for real food!'" he recalls. "They were so excited for healthy, good food."
Many employees of participating businesses are also excited that the food they've labored to prepare isn't simply being thrown away. Some of Coleman's employees, he says, have previously weathered tough times in which they themselves benefited from local hunger programs. It's been heart-warming for them to know they're giving back to the community in such a way.
All in all, the Food Recovery Initiative has shifted the way Peterson thinks about homelessness and hunger in the community.
"There are way more people in our community experiencing hunger than you would think," he says. "And it's not always the person on the corner with the sign. It is, more often than not, a hard-working single mom, or a family that's trying to work two jobs to make ends meet, or a family that's endured tragedy or a health scare. Food insecurity affects a lot of people."
The program is currently funded through June, and Peterson says they're re-applying for another grant. They hope to expand the program to outlying areas, including Blaine and eastern Whatcom County. They're also hoping to partner with East Whatcom Regional Resource Center in Kendall, which may one day add a food bank to its services.
Coleman, as president of the recently formed Bellingham Whatcom County Lodging Association, says he plans to encourage all membership hotels to consider joining the program.
"Whether it's breakfast food or banquet food, think about it before you toss it," he says. "There might be an opportunity for that food to go to someone who's starving."
Sponsored