Judd & Black Appliance believes in giving back. "We're very community oriented," says Thomas Stoneham-Judge, creative marketing lead. "We've been in business for nearly 80 years and we're very devoted to our community."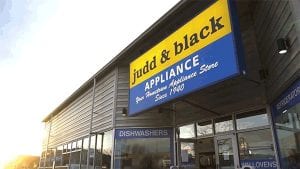 Judd & Black is an award-winning local appliance store that sells everything from refrigerators to barbeque grills. This family company has been passed down for three generations. They've become part of the fabric of Western Washington, with six stores spanning from Whatcom County south to Snohomish.
This year the Judd & Black team decided to give back by highlighting a different nonprofit organization each month.
"We really wanted to put a spotlight on those nonprofits that are doing great things in the community and making it a better place," says Stoneham-Judge. "We thought it would be a good way to show our appreciation and contribute to their causes."
Nonprofits are chosen from communities where Judd & Black Appliance stores are located. Each month the company highlights one philanthropic company they feel exemplifies a worthy cause.
"We have stores all the way from Bellingham to Lynnwood," says Stoneham-Judge. "It's a big footprint. There's a lot of stuff going on and we want to highlight places that are giving back."
Judd & Black Appliance spotlight selected nonprofits on their social media to show people what they do. Community members can vote quarterly on their Facebook page for their favorite organization. The winning nonprofit receives a donation of $1,000 from Judd & Black Appliance.
The first spotlight was rolled out on January 14, focused on Bellingham's Lighthouse Mission. "We want to bring awareness to how impactful they are to the Bellingham community," says Stoneham-Judge. "I think the Lighthouse Mission is a really awesome organization."
The Lighthouse Mission does more than give beds to those experiencing homelessness; it strives to reach the hearts of residents and lend a tender ear, which is often worth more than anything.
In addition to running out of resources, people often lack reliable friends and family to turn to in times of need. They arrive with heartbreaking stories of rough childhoods, abuse, illness and addiction.
The Lighthouse Mission treats these individuals like people, giving them the tools they need to get back on their feet. Services include basic needs like a warm bed in a dry place, toiletries and three hot meals a day. They also offer drug addiction recovery, mental health counseling, and housing services.
The Lighthouse Mission recently started a program to bring veterinary care to their shelter guests' pets. These animals are often residents' only dependable companions and offering them the gift of health is priceless.
"It's not just a place for the homeless to stay, it's really taking care of people," says Stoneham-Judge. "It's an impressive thing to take on – outside of just offering basic needs and basic services – help with getting their lives back on track."
To learn more about the Lighthouse Mission and all the gracious work they do, check out their video on Judd & Black's Facebook page.
Judd & Black Appliance hopes their program will spread the word about these inspirational organizations and bring awareness to their missions, helping them – and the communities in which they work – to thrive.
"Hopefully people experience what we're doing and share it with others; that's the beauty of social media," says Stoneham-Judge.
Judd & Black Appliance will continue to highlight more amazing services and nonprofits in Western Washington; share and follow their Facebook page to learn more. And vote for your favorite organization each quarter to help them to earn a $1,000 donation from Judd & Black Appliance.
Sponsored