This year, woo your Valentine at Hotel Bellwether – all month long. The Bellwether team believes Valentine's Day should be accessible to all. To give guests more of an opportunity to enjoy the holiday, the Bellwether is celebrating for the entire month of February.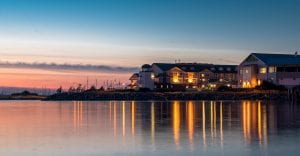 "We tagged it the 'Month of Love,'" says Jim Haupt, general manager.
The Lighthouse Grill and Sunset Lounge is serving up a special four-course, Chef's Table Dinner every night for the whole month. The Chef will change the menu according to fresh, seasonal favorites, so come often. Enjoy creative options from elegant seafood dishes to mouth-watering steak tenderloin. Dinner is completed with a champagne toast and luscious, chocolate-dipped strawberries.
During the Month of Love, the Bellwether is offering an incredible room package, which includes:
A single rose delivered to your room before arrival.
A complimentary upgrade to your room based on vacancy.
A two-for-one four-course Chef's Table Dinner.
Available for arrival Sunday-Thursdays and select weekends.
"Not everybody can travel on that particular weekend, and it can get expensive," says Jim.
Imagine checking into one of our signature suites, such as the Owner's Suite, with your loved one. A single red rose waits in a vase on the table, and enormous corner windows bathe the room in light. Wrap-around views of the bay and marina steal your breath. The water is so close, it feels like you're floating. Recline on the dark wooden, pillow-topped, king-size sleigh bed under vibrantly colored oil paintings of the Pacific Northwest.
The fireplace crackles to life at the flip of a switch, and you pour your valentine and yourself a glass of champagne. Together, you wander out to sip on the balcony while you watch the ships come in and the sea lions play in the bay. If you're lucky, you'll see a pod of orcas jumping and celebrating life with you. White capped Mount Baker shines in the distance as the sun sets, painting the sky in hues of pink and orange, vibrant above the San Juan Islands. It doesn't get better than this.
"Valentine's Day is a big event," says Jim. "People go out to dinner and the restaurant sells out. It's tied into a long weekend for a lot of people."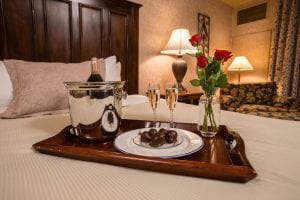 Not only is the food amazing, but the entertainment is, too. The Lighthouse Grill will play live music every weekend, with guitar and vocals, or a grand piano on Fridays and Saturdays. On Sundays, a jazz band performs Jazz on the Bay from 4:30 p.m. to 7:30 p.m.
Hotel Bellwether's location and ambiance are made for Love, and staff are more than happy to accommodate requests.
The most popular and romantic accommodations at the Bellwether is the signature Lighthouse Suite, a stand-alone, 900-square-foot hotel suite. Here you'll enjoy three floors of views, connected by a winding staircase. The Lighthouse Suite contains two fireplaces, a kitchenette, three balconies and a jacuzzi jet tub. It's one of the most unique hotel rooms in the Pacific Northwest.
One guest recently proposed to his girlfriend in the Lighthouse Suite. He gave her a tour of each floor, explaining the details of the rooms. When they arrived at the third floor, with 360-degree wrap around views of the sound, she was surprised by rose petals, champagne and her boyfriend dropping to one knee high above the bay.
"We've had several love affairs, and several marriages spark here," says Haupt. "Our bar is probably the most romantic bar in town with the fireplaces and the coziness. It's not loud and has a special, intimate ambiance."
The Lighthouse Grill is sophisticated without being stuffy. It's difficult not to relax here in front of the crackling fire, in soft, high-backed chairs. The bay view and friendly, relaxed staff make you feel completely at ease. Craft cocktails, local brews, a wine list for every palate and a chef-inspired menu make the Lighthouse the perfect place to take your valentine.
Entertainment greets you at every turn, whether it's live music, seabirds, marine life or the parade of boats wandering in and out of the harbor.
"We've had the orcas come through on several occasions and they were actually breaching," says Haupt. "They can show up anytime. They were just in central Puget Sound a few weeks ago and gave people a great show."
Impress your Valentine with a quiet, romantic, four-course dinner and drinks in front of the fire or a weekend getaway on the bay at Bellingham's favorite gem. And with all of February to celebrate, there are plenty of opportunities to savor the Month of Love.
Sponsored