Know a high school student with a passion for filmmaking, screenwriting and acting? Make sure they know about the Guerilla Film Project, hosted by Pickford Film Center. This event has been inspiring young minds annually for the last 15 years, proving it's possible for anyone to create a three-minute masterpiece. The only requirements are that participants be in high school and live in Washington State.
"We're looking for teams from high schools all over Washington to participate," says Lindsey Gerhard, marketing manager at the Pickford Film Center. "The whole thing takes place on President's Day Weekend. They come on Thursday for a workshop, get the prompts for the competition, and then have three days to write, shoot, edit and complete their short before it's presented to the judges, and then to the public on Monday."
Stories created for the Guerilla Film Project are long-lasting snapshots of a student's life; relatable, strangely timeless and memorable.
Last year's winner was Identidad, which tackled current immigration issues from a young immigrant's perspective. The film's content and quality had Pickford Film Center staff and patrons discussing it for weeks.
"I wish this was something I had when I was in high school," says Mikayla Nicholson, Guerilla Film Project Director and education outreach coordinator at the Pickford, "I was really interested in filmmaking and there just weren't opportunities to do so where I grew up."
The process is accessible for students from all backgrounds. "You don't really need anything other than a smartphone and a computer to edit a three-minute short film," says Nicholson. "This is a good opportunity to learn filmmaking with a team of peers. I'm really excited about it. I hope kids take a risk and try it out, because I think it's worth it."
High schoolers can choose any genre, and are often attracted to horror or comedy. "It makes the dramas really stand out when kids try to tackle more nuanced issues, instead of going for broad humor," says Nicholson. "I usually appreciate those because it's more of a risk to play something serious. Watching what the students come up with is really entertaining."
Luck of the Draw was a 2005 People's Choice Award winner in which students moved action figures through a series of still shots in their home and garden. Their illusion of movement is still impressive 13 years later.
2014's The Battle of the Brushes is a funnyshort story about dueling young artists, competition and the negative consequences that can ensue.
Groups of one to five students can register as a team for $40. Registration opens on January 15, with a deadline of February 12.
Students provide their own equipment or rent it from their AV Club. And fancy equipment isn't necessary; smartphones have enough technology to successfully produce films on their own.
On Thursday, February 14, the Pickford Film Center will host participating teams for a one hour filmmaker's workshop. During this time, Nicholson says they'll be given "a prop, a line of dialogue and a type of shot, like a tracking shot, zoom, split screen or some type of filmmaking element."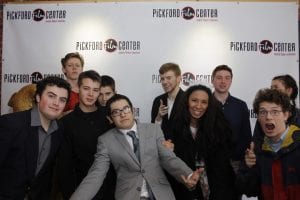 Last year, the prop was a cat – living or dead, real or fake. The winning team used the photo from a cat food can.
"Then it's go time," says Gerhard. "They have 65 hours to do it before they have to come back with a finished film."
The finished product is only three minutes long, creating an exciting and approachable project, without becoming too daunting or laborious.
Students' films are then rated by a panel of judges. Out-of-town teams aren't required to come in person, but they have a lot more fun if they do. Often these groups attend with family and friends on Sunday to participate, watch their films together in a theater, and vote for the People's Choice Award.
First, second and third prizes are given, with a Golden Hamster Award going to the first place winners.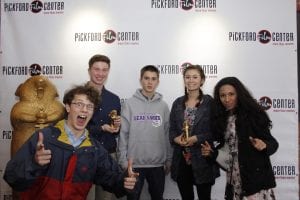 "My very first year I remember seeing an article that the students who won the Guerilla Festival got a local contract to do a commercial," says Gerhard. "We've heard stories about it sparking something in students who have gone on to pursue that in college."
She says that often students don't realize how accessible it is to make theirown film, especially in recent years with smartphones. "Major pictures filmed on iPhones are getting some attention and making people realize they can do it on their own."
Pass this along to the young Spielbergs in your life. They might just surprise themselves with their own talent. And they're sure to have a memorable experience unleashing their creativity.
Sponsored