After struggling with intermittent homelessness, the three men finally got to the point where they could band together and rent a house. They were a step closer to finding sure footing and stability, a cause for celebration.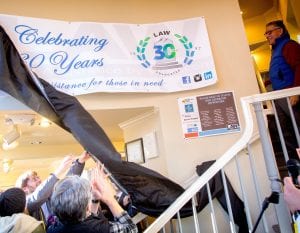 It was going well, until their landlord converted their basement into an un-permitted rental, one which lacked proper ventilation.
Unfortunately, two of the men had chronic lung disease. All the smoke and vapor from the basement kitchen was coming up into their quarters and making them sick. They didn't have the money to break their lease and put a deposit on a new one, so they turned to the Tenant Clinic through Law Advocates for counsel. A volunteer lawyer took on their case. In the end, they received a settlement from their landlord that they used to secure housing in a new place.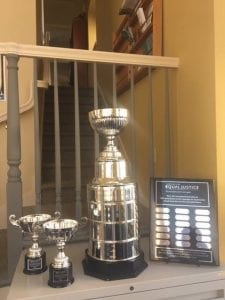 Lawyers are like ambassadors. They are oftentimes necessary to guide through a complicated legal system many wouldn't be able to navigate on their own. Unfortunately, those with limited resources often can't access their services due to cost. This barrier is compounded by the fact that three out of four Whatcom County residents living in poverty are likely to encounter a civil legal issue this year – a much higher rate than among higher-income demographics.
For many hovering at or below the poverty level, there's a cycle of closing doors. Employment is harder to secure. Landlords don't want to rent to them. Maybe their driver's license was suspended because of tickets they couldn't afford to pay. Perhaps they were once incarcerated, and are now facing housing and employment discrimination.
"A lot of our clients are facing varying degrees of housing instability, whether they're homeless, intermittently homeless or on the precipice of being homeless," says Law Advocates Executive Director, Michael Heatherly. "That immediately puts them into a category where they are more likely to have a legal problem, and less likely to be able to pay for it — have a lawyer."
Lawyers have an obligation as part of their profession to volunteer their services to the community in some manner. For some attorneys, that means taking on occasional pro-bono cases through their own private practices. For many in Whatcom County, however, that means volunteering their time through their local nonprofit legal assistance program, Law Advocates.
It began small, with one organizer who would facilitate for the Whatcom Bar Association attorneys who would chip in their time. Now, 30 years later, with 6 paid employees and many volunteers, Law Advocates serves between 1,100 and 1,200 clients per year. At any given time, Heatherly estimates between 50-60 attorneys assist at the organization. "We've always been well supported here," he says. "Whether it's contributions of money or volunteer time."
A formative event in Law Advocates' history came with the advent of Street Law in the mid 1990s. It was the start of being able to offer clinic-oriented legal assistance. In the beginning, lawyers would set up a table and chairs on Railroad Avenue and open themselves up to anyone who came by with a legal question. Today, Street Law now takes place twice a month on Saturday afternoons at the Bellingham Public Library. Attendees can ask anything in the area of civil law, and the volunteer attorneys do their best to provide an answer or next steps. Common civil law issues encompass family law problems, property disputes, health insurance and employment termination to name a few.
Having valid identification is necessary for being hired at a job, finding a place to live or receiving government benefits for those who qualify. Heatherly described the success story of a young man in the Access ID Project at Law Advocates. The man had been incarcerated, and when he was released, he came back to Bellingham. He didn't have a driver's license and his only valid ID was what he was issued from prison. "If you're trying to get a job, that's not the one you want to show them," said Heatherly. "He went through our Access ID program, where we can help folks get their government issued identification card." Soon after, he found employment and an apartment and was back on his feet.
Law Advocates offers counsel through its many content-specific programs. Among others, there is the Tenant Clinic for housing related concerns, a Kinship Custody Clinic for familial guardianships, and clinics for Veterans and Disability Benefits Assistance. It's possible that assistance through Law Advocates would help alleviate other civil legal issues as well. If so, potential clients are asked to call LAW Advocates' screening service, CLEAR line (Coordinated Legal Education Advice and Referral) at 1-888-201-1014 to determine eligibility.