Submitted by: Miirrorhouse
Miirrorhouse, an innovative design house, was conceived by Bobby Davis with the mission of creating products that combine elegance with utility to reflect the needs of the user. Davis' design background is informed from his studies at Western Washington University, his work with Pensar Product Design, and a lifetime aptitude for entrepreneurship and making. Miirrorhouse's current innovation, Hi-Duo, serves as a flashlight, utility lantern and safety-light to provide versatile, streamlined lighting for the user.
Bobby's vision for Miirrorhouse began in 2016, when he was preparing to graduate from Western Washington University after an internship with Pensar Product Development. His academic work in design, engineering and building led Bobby to channel his desire to provide products that motivate and empower society, establishing Miirrorhouse.
Miirrorhouse's first product, Hi-Duo, was inspired by the people in Bellingham, Washington. This northern, wooded college town – where Bobby was located while conceiving his business plan and finishing his degree – has a strong community of hikers and outdoor enthusiasts. It was there that he identified the need for a hand-held lighting device that illuminates the area in a capacity suitable for anyone from a college student walking after dark to an avid backpacker. It also acts as an area light to illuminate a tent or other enclosed space.
Bobby designed it with a front facing LED light and a custom strip of LED lighting along the bottom, so the user not only illuminates what's in front of them, but also achieves visibility where they're walking.
After several stages of prototype design, with input from both engineers and community members, a final prototype was developed that met the top-quality standards set forth by Miirrorhouse. Having a finalized prototype allowed Miirrorhouse to get an accurate pricing estimate and launch a kickstarter for the Hi-Duo. Going live December 1, 2018, the kickstarter will serve as a sales platform, allowing the public to pre-order the Hi-Duo, which will be finalized and ready for delivery in December of 2019, as it's launched on Miirrorhouse's website.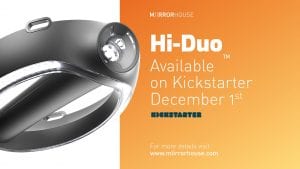 This project is reflective of the rapidly advancing design world, with technologies such as digital rendering and 3D printing becoming far more accessible. This boom empowers designers, makers and engineers to create products on a smaller, far more local scale, and fine-tune the services provided by their product to those around them. Miirrorhouse is dedicated to utilizing the accessibility of these technologies to create high-quality products that have a direct impact, inspire and meet people's needs through powerful design experiences.
While Miirrorhouse's main focus is currently on Hi-Duo, they plan to create a number of similar products with the same mission of creating utilitarian, elegant products that serve the needs of the community. Miirrorhouse's work speaks to the ability of artfully designed products to bring moving experiences to the user through inspired, community-driven product development. Look for the Hi-Duo kickstarter on December 1.