Have you tried Ginger Beer? If not, you're in for a treat. And if you really want something special, try locally made Bright and Sunny Ginger Beer.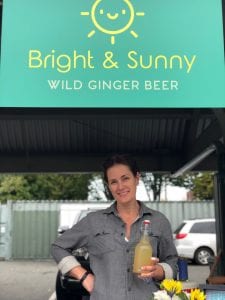 "I've been nerding out on fermentation for several years, and my experiments with ginger beer produced such stellar results that friends told me I ought to try to sell it," says Miranda LeonJones, Bright and Sunny Ginger Beer owner. "It turned out so much better than any ginger beer that I could buy most of the time."
After quitting her job to move to Whatcom County from the Seattle area, LeonJones found herself with a lot of time on her hands. So she decided to play around with fermentation. A pure passion for ginger beer and a love of the book Wild Fermentation by Sandor Ellix Katz gave her the knowledge she needed to create her first ginger brew.
Unlike most ginger beers on the market, Bright and Sunny uses a natural fermentation process utilizing lacto-fermentation, which actually creates beneficial live cultures in the drink. These promote a healthy gut biome in your body, balancing digestion and enhancing your immune system.
"Every batch is like a science experiment," says LeonJones. "Sometimes the ginger beer gets really happy bubbly. The microorganisms are in their prime and when we try to get it out of the keg, it fizzes and bubbles."
"One of the reasons my ginger beer stands out is because it's wild fermented," she says. "That means all of the tiny bubbles come from the spontaneous fermentation process. I don't add yeast and we only use CO2 to extract the beer from the keg."
LeonJones uses a complicated process with four equations that measure the specific gravity meter and density of the water, giving her the alcohol content of her brews. "If it's too sugary it tastes like [a commercial] off-the-shelf ginger beer," says LeonJones. But if there's too little or it's too warm, it leads to more alcohol. It's a balancing game when using different types of fruit weekly.
Last week, LeonJones created an interesting flavor from dogwood fruit off a tree in her yard. The sugars in the dogwood fruit brewed in a record two days (it normally takes around five). LeonJones describes the dogwood fruit as "a guava and pumpkin cross."
Stop by the Bellingham Farmers Market to sample her products; she'll be there through December.
Every week she brings her original ginger beer; the perfect gingery, citrusy, fizzy drink with a hint of lime to brighten it up. The not toddy is a satisfying, warm, healthy, hot brew made from ginger beer, apple cider, honey, cinnamon, turmeric and black pepper. Her third product is rotational and changes weekly. Although her business is new, it's already getting a lot of attention, for good reason.
Come for a taster at the Bellingham Farmers Market, you can buy it by the cup or the bottle and they give discounts if you bring your own.