Our bodies never stop changing. And yet, many of us would like to hit pause, or at least age with a little grace. This can mean different things for different people. Some want to regain energy that has diminished over time. Others want their visage to reflect how young they feel.
Sound Women's Health & Aesthetics has been helping local women and men look and feel their best for the last two years. Now they're taking the next step in their own journey; growing their clinic into a new location where they can expand their services and be even more accessible.
Sound Women's Health has grown fast. In recent months, they've introduced several new procedures and therapies. They began offering personalized bio-identical pelleted hormone therapy called BioTE. In aesthetics, they now offer Radiesse filler injections and, with the opening of their new space, are adding Ultherapy ultrasound skin tightening, Xeomin for wrinkles and frown lines, and Neocutis Skin Care.
Sound Women's Health is a full-service medical spa that specializes in all aspects of anti-aging medicine, from hormone balancing therapy to skin rejuvenation. They offer treatments that address summer sun damage, wrinkles and scars. They also offer non-invasive procedures that target unwanted fat or weight gain. There are even cosmetics for special occasions, like spray tanning and lash extensions, as well as facial injectables to smooth and plump cheeks and lips.
The vision for Sound Women's Health belongs to Dr. Karyn Tapley, an experienced Ob-Gyn with specialized training in hormone optimization, aesthetics and integrative medicine. She has curated their services to include only those that are non-invasive and transformative. With little to no downtime, patients can walk out the door and get back to enjoying their lives. Dr. Tapley is joined by a caring team of Master Estheticians who facilitate many of the treatments at Sound Women's Health.
With the added room to grow, Dr. Tapley is looking forward to diversifying their services and collaborating with more practitioners. "The larger space allows the addition of other complementary services in the future, such as massage, acupuncture, naturopathy and other holistic practitioners in line with our philosophy of holistic health and aesthetics," she says.
Additionally, the new space will accommodate details that couldn't be worked into their smaller Bellwether suite. Dr. Tapley is excited about the upgrade. "We now have our own patient-dedicated bathroom, a new lab facility for our BioTE hormone blood draws and a luxurious, but more intimate, waiting area for our patients," she says.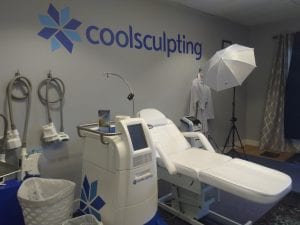 For clients receiving a CoolSculpting fat-removal procedure, the clinic will now offer an iPad for watching movies during reclining time. And they'll continue to supply comfortable robes and pillows for added relaxation.
Sound Women's Health wants to ensure that their services are highly personalized, while remaining financially accessible. To do so, they'll be the first Bellingham practice to offer two new services. "Beginning in December, we will be implementing two new amazing software programs," Dr. Tapley says. "TouchMD will help us consult and educate our clients as to all the various treatments we have, how they work and how they can be combined for the best possible client outcomes."
"We are also adding HintMD," she continues, "which will allow us to provide subscriptions for our services and products, just like signing up at a gym." This program allows patients to sign up for regular services and disperse the payments on autopay over a month-to-month plan.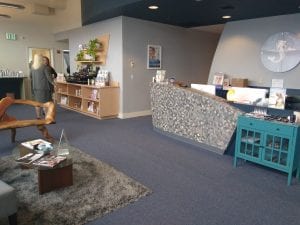 Join the team at Sound Women's Health and Aesthetics as they celebrate their move with an open house on December 11, from 10:00 a.m. – 6:30 p.m. at 909 Squalicum Way. They'll be located in the new Squalicum Lofts development adjacent to Squalicum Creek Park. The clinic is quickly accessed from downtown and the Guide Meridian exit on I-5.
The opening will be commemorated by the Bellingham Regional Chamber of Commerce with a ribbon cutting at 4:30 p.m. Get acquainted with the space while you sample hors d'oeuvres and One Hope Wine along with live music. There will even be giveaways and a raffle for a free Ultherapy skin tightening treatment!
Sponsored