If like me, your afternoon pick-me-up includes an endless string of cat videos on YouTube, I'd like to recommend the Creatures Comfort Facebook page. The no-kill rescue facility posts adorable photos as well as heartwarming rescue stories with happy endings.
"I trapped a cat behind a bowling alley," says Chelsea Mathews, Lead Volunteer for Creatures Comfort. "There were a lot of transients back there – drunk and belligerent. The cat was taken to Creatures Comfort. I felt bad for her and didn't want her to return to that environment. So I called Lois and asked if I could see her."
Lois Wade started Creatures Comfort – whose mission is to improve the lives of feral cats in Whatcom County – out of her home 30 years ago.
"I was overwhelmed with emotion for this woman who'd been doing this," Chelsea says. "This was the only resource Whatcom County had to help ferals." Chelsea sports a pink, cat-faced sweatshirt and rarely stops smiling. "Lois promised they wouldn't return the cat to that environment. Later she said, 'I think the best ending would be if you could take her.' So I took her home."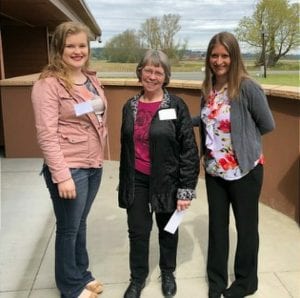 That was five years ago. Today, Chelsea's days are filled with rescuing cats, which includes humane trapping, transport to clinics, administering vaccines, managing adoptions and running the Facebook page. Previously, she worked in retail, banking and attended school to be an x-ray technician.
"After I lost my job in March, I decided to focus on this," she says. "I'm also a pet care provider, to keep me viable and available. People say, 'I don't know how you do that,' but after a while, it's like, 'I don't know how I couldn't do it.'"
Creatures Comfort adopted out roughly 500 cats last year, and rescued even more.
"We don't have a fancy shelter," Chelsea says with a smile. Instead, a network of volunteers open their homes to foster cats, with Lois' house being the primary location. "She has dedicated cat rooms inside, and out back there's a heated cabin sanctuary for free roaming."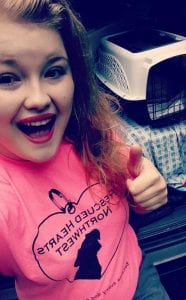 With so many cats rescued each year, there is clearly a substantial expense.
"A lot of volunteers just invest their own money," Chelsea says. "Lois calls it her 'very expensive hobby.' We partner with vets to get discounts and wherever we can, we try to do things ourselves. I beg for donations like crazy on the Facebook page," she adds with a laugh. "We focus on Whatcom County, so I like to say 'We're rescuing the cats in your backyards.' We put together an Amazon Wishlist and people will send in items there. I don't think the public realizes how direct of an impact they can make with individual donations. We appreciate everyone's support. Every dollar they give just goes into these cats."
Creatures Comfort has over 1,900 followers on Facebook. The purpose of the page is awareness.
"We always hear about people just shooting ferals," Chelsea says. "But if you don't want an animal on your property, that's where Creatures Comfort comes in. We find the displaced ferals, ask if they can be rehabbed or resocialized. What's the best environment? From there, we'll trap-neuter-release, and put them into homes."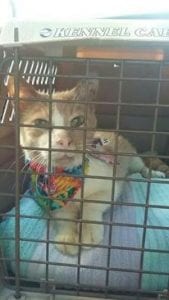 After working with Creatures Comfort for a couple of years, Chelsea noticed some cats at Lois' home weren't adjusting very well. She decided to do something about it.
"That's why I started the Whatcom Barn Buddies program," she says. "I would see the same cats there every day and they weren't progressing socially. They were stuck. They couldn't go back to where they came from. So I look for barns or people contact me. I'll see what the caretaker is like and what the barn is like. We get the cats ready, vaccinated and fixed, then we take them out there and monitor them. It's an involved, five-week process."
When asked what keeps Chelsea going each day, she says, "Definitely Lois. If she's 50 years older than me and can do all this, then there's no reason for me to be tired or complaining. And then my rescue partner Siva Jacobs. We're like twin souls in rescue. We have the same principles and we're both just diehards for it."
Working with Creatures Comfort has changed Chelsea's life. "It's given me a sense of purpose. I've seen literal miracles when cats progress socially or turn around. It's redefined what's possible."
If you're interested in adopting a Creatures Comfort cat or volunteering, check out the Creatures Comfort website or Facebook page. If you'd like to make a donation, click here or visit their Facebook page.