Entertainment News Northwest (ENNW) is in its 15th year as premier art and entertainment publication of Northwest Washington. A 2014 recipient of the Mayor's Arts Award, this free, monthly, multi-page glossy magazine reports on arts and events in Whatcom and Skagit Counties where ENNW is a fixture.

The 10,000 copies printed each month are distributed to more than 200 locations and can be found in Whatcom and Skagit county libraries, both Community Food Co-ops and Village Books.
Loyal supporters and advertisers of ENNW may not know that owners Barb and Mark Fuller are making plans to retire from the helm of ENNW.
Where It All Began
Barb was working part time doing marketing for TCBY, bringing yogurt samples to exercise classes. One day, the store manager asked her to create a promotional flyer. She had never done anything like that before, but having her first MAC at home, with determination and grit, she did as asked.
Over a short period of time, she taught herself graphic design. This was 1992, and when more design work started coming in, she and Mark created Our House Publishing (OHP). Barb soon found herself getting steady work doing graphic design for Minuteman Press and creating memorial programs for local funeral homes.
Mark retired from his public service career in 1997 and was able to spend more time working with OHP. Their largest client at that time, the Bellingham Theatre Guild, had them producing programs and occasional swag (t-shirts and tote bags) for their season of plays.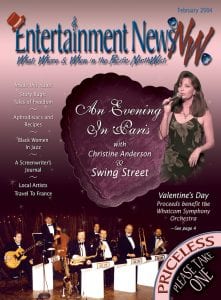 One of their many customers at the time was "Town and Country Jewelers," formerly located in the Bellwether Plaza. The owner introduced them to the manager of the Bellwether Hotel, who asked them if they could create a bi-annual glossy lifestyle magazine that would showcase Whatcom County, to be placed in every hotel room.
"Of course we can," Mark said.
It was agreed the magazine could be distributed to other local hotels as well. Mark solicited local businesses, sold ads, and Fourth Corner View was born.
Every six months for the next three and a half years, they printed a beautiful long form magazine that included stories on Colophon Cafe's chocolate cake, Ski to Sea, Yeager's, Mark Twain, Edward R. Murrow, Karolyn Grimes who played ZuZu Bailey in the film "It's A Wonderful Life," and Bellingham resident Noemi Ban. Jeff Jewell and Todd Warger from the Whatcom Museum were helpful from the beginning with finding historical photos.
After completing a few issue cycles, the Fullers felt the moment was right to create a monthly "what's happening" magazine, as there was nothing else being published at the time. Northwest Events and Lifestyle Review had filled that niche in the past, but had been out of print for months. Shortly after their final issue of Fourth Corner View, Barb, Mark and six other people on the original publishing team pulled together their first issue of ENNW in February 2004.
Barb says her favorite part of publishing the magazine is designing the cover. "I love processing the photos and editing the printed copy," she says. "I love the calendar section and knowing what is happening before anyone else does."
Mark is proud of the fact that ENNW has always been a cooperative effort with Barb and partners Gladys Crnich and Lynna Dunn Fuller, as well as retired partners Dorothy and Cary Worthen, each bringing their special skill set and taking responsibility for design, content, grammatical correctness, layout and bookkeeping. Mark offers to those who may be interested in owning a magazine that ENNW is a profitable and popular publication that has not required a full time staff of people. "It has not been a full time endeavor for the four working partners," he adds.
They have the magazine up for sale with Real Estate Listing Broker Meredith Murray of MacDonough Real Estate. Meredith keeps the magazine's current issue readily available for the entire month "so I can keep track of and attend the many offerings – from music and poetry to art exhibits and workshops." She also appreciates the feature articles.
Speaking of feature articles, the magazine boasts a team of loyal and regular monthly contributors (like me).  And Margaret Bikman, who was Arts and Entertainment coordinator at The Bellingham Herald for 27 years, has been a contributor both in print and online for ENNW since August 2017. Margaret has expressed her interest to continue sharing her enthusiasm for the arts in Whatcom and Skagit counties with readers of ENNW.
Mark and Barb agree that successful new owner(s) do not need to be a fine artist, dancer or actor. They should only be enthusiastic about being involved and promoting the arts to the community. Interested parties are invited to contact Meredith Murray at 360-739-0871.