Ferndale's Leader Block is a special place. "The leader block building has an interesting, distinct history as a vibrant, underground speakeasy," says Robert Pinkley, owner of the Leader Block Wine Co. & Eatery.
Located in downtown Ferndale, the building has a sordid past. "Upstairs was a barbershop and a drugstore, and that was a front for the speakeasy that was located in the basement," says Pinkley, who has owned the building for the past 15 years. He's found old bottles and distilling equipment in the basement, complete with an old timey speakeasy door. If you can imagine a pioneer Great Gatsby structure, the Leader Block is it. It's rumored that the top floor was home to a brothel.
Eventually, police somehow caught on. Perhaps it was when floods of people dressed to the nines were seen heading down the basement steps every Friday and Saturday night. Or maybe it was when they staggered back out again in the middle of the night. The building is right in the middle of Main Street, after all. However it happened, the police force figured it out. And that's when it happened: the violent police raid.
Not much is known about the specifics of the raid or the speakeasy, except for the remnants in the basement. "It's hard to find documentation of illegal activities," says Pinkley, but rumor has it that the brothel's madam, now known as Lady Leader Block, was killed during the raid.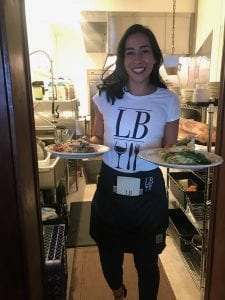 Although she died almost 100 years ago, her ghost is alive and well today. Doors sometimes open and glasses are pushed off counters. "She mostly loves to break glass," says Brett Wiltse co-owner of the Leader Block. And there are a lot of witnesses to prove it. Even guests have seen wine glasses mysteriously fall off of shelves while dining at the bar. She's a friendly ghost, with a nice spirit – glass breaking aside – but no one has ever seen her head on. "No exact figures, but you'll be down there [in the basement] and see something out of the corner of your eye," says Wiltse.
After extensive renovations, Pinkley recently opened the Leader Block Wine Company and Eatery on the main floor of the building and transitioned it from a wine bar to a full Italian Restaurant. It's so fresh that the walls still smell faintly like varnish, but it's already incredibly popular and receiving rave reviews from new fans. "This is just what Ferndale needed," he's often told by guests. The fresh Italian food is made from scratch and has caught on like wildfire. On Wednesday nights, diners spill out the front door waiting for tables while Roy Knaak plays live on the saxophone.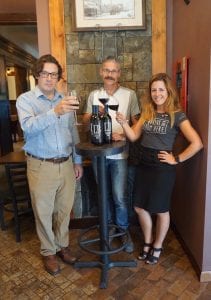 "I have a family background in agriculture," says Pinkley, whose family lived in the Yakima Valley where they were "orchardist and hop farmers and also had tertiary relationships with the Batali family where we source our cured meats and derive our inspiration."
Pinkley has big plans in the Whatcom County area and is bringing his love of historical buildings with him. "I have been a developer of turn-of-the-century buildings and also a wine exporter and I decided to put those two together," says Pinkley.
He brings the vision and Wiltse, his business partner, provides the brawn, making the spaces come alive with his experience in construction. "The Leader Block wine company has established itself in Ferndale at the Leader Block building but has ambitious plans to go to other regions in Western Washington to open tasting rooms and restaurants," says Pinkley.
He's currently looking for spaces in older buildings around Whatcom County. Each will be unique and specific to the area, but go by the Leader Block name.
Pinkley prides himself on hiring local people, including Amberleigh Brownson, number three to their company trifecta. Brownson used to co-own EAT Restaurant and Bar in Bellingham, but sold her half of the business to start a restaurant consulting company. Now director of operations, she has a wine that bears her name and silhouette sold at Leader Block.
Taking full advantage of their sordid speakeasy past, Leader Block has fun playing up the building's history with legitimate, historical, speakeasy drinks utilizing old fashioned recipes with a Whatcom twist. For example, the Ferndale Sazerac is a classic drink made with local blueberries. On December 5, they're planning a huge end-of-prohibition party.
Currently Leader Block is open for social hour and dinner and will open for lunch on October 22. They'll be opening up for morning coffee, espresso and a light breakfast shortly thereafter.
The entertainment is always changing and Pinkley is hoping to bring in traditional Whatcom County Jazz as well.
"This area has a pretty impressive history of jazz music," says Pinkley.
"Ferndale is the fastest growing city in Whatcom county with a lot of new net migration of young families, professionals and retirees," he says, adding that he "feels it's high time for the community to remember and embrace the past and bring it into the present."
A wine club with monthly winemaker dinners, member perks and private wine storage will be offered in November.
Come out for a drink and, if you're lucky, you may even spot Lady Leader Block.