WhatcomTalk is proud to announce that two team members – founder Stacee Sledge and business development manager Kevin Coleman – have been nominated for Bellingham Regional Chamber of Commerce Man and Woman of the Year. Winners will be announced at the Chamber's Annual Awards Dinner on December 6.
"This is such an honor," says Stacee Sledge, who launched WhatcomTalk.com in January 2014 and now manages a full-time sales staff and 15 local writers. "I've gained so much – both personally and professionally – as a member of the Bellingham Regional Chamber. To be recognized by such a respected organization is overwhelming in the best possible way."
Kevin Coleman, who came aboard at WhatcomTalk in early 2016, is equally overwhelmed and humbled.
"Being nominated just confirms my commitment to being better every day," he says. "It's not about winning, but more about being your best. I truly try to live my life as a ripple of positivity."
WhatcomTalk launched in January 2014 and joined the Bellingham Regional Chamber right away. The benefits to both the business and its individual team members have been immeasurable.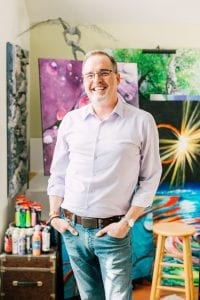 Sledge had never taken part in any formal business networking before joining the Bellingham Regional Chamber. "I was always a solo writer or editor working on projects for employers or clients," she says. "When I became a business owner, I knew my first step was Chamber membership. I quickly began to build strong relationships through Chamber events and am now intricately connected to our business community."
Coleman doesn't hesitate when asked what he loves most about being involved in the Chamber. "That's simple: the connection to others," he says. "To know I have someone in any area of work that I can refer to or connect someone with."
Both Sledge and Coleman happily give their time and energy to the Bellingham Regional Chamber, as a way to give back to the organization that's given them so much – and to the larger Whatcom County business community. Sledge recently joined the Board of Directors and Coleman is a Chamber Ambassador, regular host on the Chamber's Whatcom Report radio program through KGMI, and has recently begun recording weekly business briefs, as well.
Following is this year's list of award nominees.
Man of the Year
Woman of the Year
CEO of the Year:
Small Business of the Year:
Large Business of the Year
Nonprofit of the Year
Tickets to this popular event sell out every year, so if you're interested in attending the Annual Awards Dinner on Thursday, December 6, presented by First Federal, visit www.bellingham.com for more information.