Treedom Productions was recently featured on Growing Exposed, a new series from Loaded Gun Productions (famous for MTV's Cribs), hosted by model, journalist and TV star Amanda MacKay. In the episode, co-owner Chad TerWisscha and crew gave an extensive tour of the facility and discussed their growing philosophy.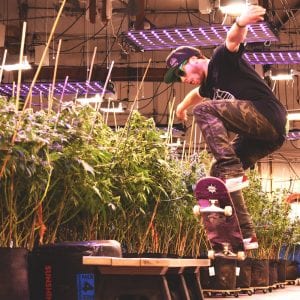 The business was established in Bellingham in 2014, following years of growing cannabis for medical patients. It's now a licensed I-502 cannabis farm, growing cannabis for recreational distribution.
They're most famous in the cannabis world for their Dutch Hawaiian strain. We took some time to ask Chad what's so good about that specific strain, a common misconception customers have about the marijuana industry and if growing cannabis was always in his plans.
WhatcomTalk: Dutch Hawaiian is known as your staple; what is it about this strain you love most and when did you start growing it?
Chad TerWisscha: Joe and I started growing medically many, many moons ago. In the beginning, it was quite difficult and there weren't a lot of resources to step up your game. Then, one day, we came across Dutch Hawaiian – and it was a game changer. Things became very exciting at that point. Dutch Hawaiian is the all-around perfect tasty strain for every situation. It's great for a social setting and great for movie night. It's awesome for rolling in a grape swisher and floating the river during a hot summer day.

WhatcomTalk: What are some strains you're growing right now that you're especially excited about releasing to the public?
Chad TerWisscha: Right now, we're really impressed with our LA God's Gift (LA Confidential x God's Gift). It's a super heady indica with a surprise flavor when smoked. We've done a lot of strain development and testing so there's an arsenal of flavors to offer right now. Blue Bastard and 9lb Hammer are pure staples in the lineup. Wedding Cake is coming soon and also Chemdawg 94′ will be a little ways out, but it's an incredible twist on the classic!
WhatcomTalk: What's one growing technique you learned over the years that you wish you had known in the beginning?
Chad TerWisscha: Take what people and the internet have to say with a grain of salt. Just because they think it works for them, it might not [work for you].
WhatcomTalk: You and your co-owner, Joe, have known each other since high school. Did you have a dream of opening a business together since then? If so, was the business idea always marijuana?
Chad TerWisscha: Not at all (he says with a laugh). We didn't think too much beyond partying, snowboarding and rolling swishers. We did an amazing job of being young and behaving accordingly. Definitely advocates of marijuana though, thinking we were kings with that beaster from up north! After college and a few years in a professional career, our views started focusing on the business side of marijuana and the medical importance it offers to patients.
WhatcomTalk: What's one thing you think customers don't know about the marijuana industry that they would find interesting?

Chad TerWisscha: Just how tightly regulated this industry is. So many think we're swimming in pools of cash money and smoking ourselves to oblivion every day. It's an extremely difficult industry that takes a lot of discipline, networking and passion for the product.
WhatcomTalk: You get one of your strains, one album and one snack: What are they?
Chad TerWisscha: Well, of course, Dutch Hawaiian! Now, this one is weird, but I'll say it anyway: Swiss cheese, dill pickle and mixed nuts. Now that is a snack! Especially if you can get a bit of each in one solid bite. All while listening to Michael Jackson's Thriller, which just happens to be the first concert I ever went to at five years old.
Sponsored