You've seen his truck around town. A tall, green Army truck with large Huskies riding in the back. Maybe you've been downtown late and seen the Unimog parked on Holly and dogs in the back eager for some attention. I've seen him driving around town for years, even decades. I've always wondered why Unimogs and why "Huskies."
His name is Gary (Gerhardt) Winkler. He bought his first Unimog from a friend after a dare to drive it. He had to have it 10 minutes later. "It's like an ugly girl at the bar," Gary relays. "Once you meet her and spend time with her, you're hooked." He bought his first Unimog from the friend. A week later, he was offered twice what he bought it for and Gary said, "No way!"
Unimogs are German-built trucks produced after World War II. They don't have tractor like transmission with propeller shaft running of the transmission with gearing in the wheels. They were all made by hand, each with their own character. Unimogs were designed like a tractor to be capable of being connected to water pumps, saw mills and anything else that needs an engine to rotate something for pumping, milling or processing.
Gary stumbled across a surplus of Unimogs while on a trip to visit family near Stuttgart. They were bought by a trucking company from the Swiss Army who used the jeeps for about three years each. They sat in a field from 1973 to 2001, when Gary bought them.
Yes, Gary bought a field of thousands of Unimogs. He's fixed them up and sold most. The remaining ones he continues to renovate and sell to make ends meet. At present, he drives a green 1955 model and a black 1970 model. Both are gas powered. He's got six more in Bellingham, four in his backyard in various states of repair and two at a friend's house.
Gary was born in Stuttgart, Germany. His grandfather was sent to Bellingham to help with the Phillips 66 refinery.  Upon arrival, grandpa knew he needed reinforcements so he called on Gary's father to help. Gary's father had a Fluid Dynamics degree which was a perfect fit. His dad was supposed to be in Bellingham for six months. Two years later, his mom arrived with the kids, including Gary. After three years, dad returned to Germany but mom decided to stay. The couple divorced because of his infidelity.
As a young man, Gary worked for his dad's construction company. He travelled around the world working on remote bridge and canal projects including in Egypt. He also visited his grandpa, who lived onsite developing refineries in Singapore and Perth, Australia. Grandpa was a unique man. While he oversaw hundreds of employees, he worked with each of them as a compatriot. He was tightening bolts, checking components and doing the calculations along with his team. Gary attributes his success to this influence. He learned how to work on things while learning to work with people. "Set the bar high and achieve your goals," he says. Gary raises is hand up high to signal the bar being set.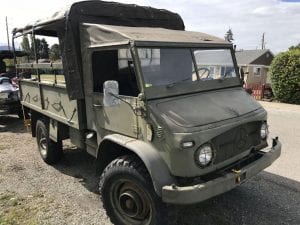 When Gary was a freshman in college, his roommate asked him to take care of his dog. The dog was a MacKenzie River Wolf. Gary fell in love. Later on, these dogs would profoundly affect Gary's life. Mackenzie River Wolves were domesticated because they can smell and hear seals beneath the ice. A symbiotic relationship was born as native tribes learned to hunt the seals by cutting holes in the ice once alerted to their presence by the dogs. Both man and dog were fed. Before this, legend has it both the wolves and native tribes were starving to death.
After college, Gary lived in Bellingham and commuted to Boeing. He worked hard, got promotions, wore suits. Yet, corporate life ate at his soul. He remembers walking along the trail adjacent to Lake Washington on the Boeing Tukwila campus and deciding this lifestyle was not for him.
At about the same time, his friend found a want ad in the paper about Mackenzie River Wolves. They happened to be in Alger, south of Bellingham. Gary recalls driving to Alger to the approximate location of the breeder, yelling through the gate to the backyard and, with no answer, decided to open the gate and walk in. There, in a kennel, was his puppy. He had to have it. He convinced the breeder he must have it that moment, leaving his driver's license, a chainsaw and a vacuum cleaner he happened to have in his car at the time as an initial down payment.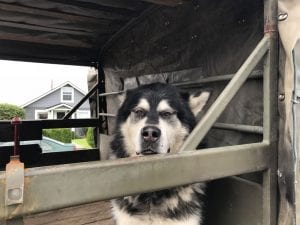 After Boeing, he decided to move to Alaska with his dog and girlfriend after being offered a job at a gold mine. There he gained experience with dynamite and river dredging, swimming under the ice to search for gold. He then moved to the Yukon Territory and worked for the Canadian government shipping medical supplies to remote locations. He learned to fly as a bush pilot, trusting his instruments with limited radio contact in bad weather.
In the summers, he lived in Skagway, Alaska. He met an Eskimo Chief who gave him a female wolf. So, he bred his dogs and connected with cruise ships docking at the harbor, providing sled dog rides. While doing this, he was introduced to the producers of Never Cry Wolf and his dogs were featured in the movie. Gary's dogs were also in White Fang which was filmed in Haines, Alaska. Teddy, his dog (now deceased), is on the DVD cover of the movie. This continued with Snow Dogs. His dogs were also in Northern Exposure, and REI and Ford commercials.
While shooting Eight Below, Gary was at a gas station where he slipped on an oil slick and fell hard on his back and head. He dislocated his brainstem and nearly died. He was airlifted to Harborview in Seattle. Not only did he dislocate his brainstem, he also broke his lower back.
He went back to Germany to have 19 surgeries over nine months to replace vertebrae in his neck and lower back. He now has stainless steel universal joints in his lower back and neck giving him full movement. He settled with the gas station and used the money to buy the Unimogs in the field.
Of late, he and his dogs have been extras in The Man in the High Castle. He played a Nazi guard in Season 2 which was filmed in Darrington, Washington.
Over the years, Gary has had over 200 Mackenzie River Wolves. He paid $17,000 for his last one. His dogs have allowed him to hang out with James Coburn and Cuba Gooding Jr. He's worked with Stephen Spielberg. He's very thankful to have had the experience.
Gary never stops. He's now into high powered jet skis riding the wakes of the Victoria Clipper and Foss tugs in Puget Sound. His yard is strewn with jet ski parts which he repairs, tinkers and upgrades to fuel his passion. He believes in things that last. That's why he loves Unimogs. He also has no fear of doing things in his own, unique way. His zest for life shines through as genuine and unique.
As we departed, I heard his last name for a second time (he tends to speak quickly – German quickly). Once I wrote it down, I immediately recognized it. Yes, he's a second cousin to Fonzie (Henry Winkler) and I can see a resemblance.
Update:
Gary regularly takes his dogs camping and on hikes. Polar, age 7, recently went missing after a hike up to Winchester Mountain in the Mount Baker Snoqualmie National Forest. Gary needs your help in returning Polar home. If you have any information regarding Polar, please contact Gary at 360 920-6306.
Since the social media blitz with over two million hits on Facebook about his missing dog, a couple gave Gary a dog named Maya. She's Polar's granddaughter. Junior (Polar's son) now has another family member to play with. Gary cannot be more thankful, but still grieves for Polar and is hoping for a safe return. He's heard of a Facebook post in Skagit County showing a shaved dog looking like Polar but has not been able to find the post. He would be grateful to get his dog back.
Got an idea for someone you've always wondered about? Maybe you already know them but think they deserve some lime light. I'm looking to get to know others that make our community a better place, a unique place, maybe even a stranger place. Drop me a line at submit@whatcomtalk.com.