The Heppners have a lot in common, besides the fact they're related. Grandfather Howard Heppner, son Brian Heppner and grandson Brock Heppner are all basketball players – champions, in fact. Each generation of Heppner has a coveted championship win for the Lynden High School Lions. Howard even has two.
At 6 feet 6 inches, Howard's still the tallest. The grand ol' theory of shrinking with age didn't apply to him. Brian and Brock aren't small either; both stand well over 6 feet tall. Brian is closest to Howard in height, but Brock's only a junior in high school. He's still growing.
Throughout the last few decades, the game of basketball has changed and so have the players. Howard's favorite player is Bill Russell (he's a die-hard Celtics fan). Brian grew up in the 1990s, the era of Michael Jordan, so that's obviously who he enjoyed watching. And Brock's partial to Lebron James, the greatest basketball talent of the last 20 years (yep, I said it).
When Howard played the game at Lynden High School and then Seattle Pacific University, there was no three-point line. In both professional and youth basketball nowadays, it's almost impossible to prevent someone from shooting a three. Two extremes: the basketball of the 1960s and that of the 2010s. Brian's basketball of the 1990s is the middle ground, the three-point line was becoming more popular and slam dunks more inventive.
If each Heppner was in their prime, who would win in a head-to-head match? With Brian pitted against his dad, Howard says there's no question he would have the upper hand.
Brian disagrees, "Dad I would shoot threes all over you. You didn't even have the three-point line."
"That's true, but I started learning how to shoot them later on and I would beat you in the paint, get all the rebounds."
The competitive spirit is fierce. While fighting back a few laughs, Brock listens as his father and grandfather dispute who would best the other.
How to quell the boiling competition? Ask a question that can bring them all back together, a question that brings all Washington sports fans back together: When do you think the Sonics are coming back?
Leaving after the 2007-2008 season, many Washingtonians feel as though the Seattle SuperSonics were taken from them. The Heppners are no different.
"There was a period of time in the 90s where I didn't miss watching a single game for five straight years," Brian says.
In the 1990s, George Karl was running the show, and Shawn Kemp and Gary Payton established themselves as some of the best SuperSonics of all time. The Sonics were a play-off team year in and year out. The only time they were better was in the 1970s.
Howard remembers the team coming to Seattle. In fact, he recalls the team's creation in 1966. When he was a member of the Seattle Pacific University Falcons, the Sonics would use the gym after they were done practicing. Howard was around for the championship years. He remembers the back-to-back years in the late 70s where they reached the NBA Finals and took home Seattle's only championship in the 1978-79 season.
In his years at Seattle Pacific University, Howard racked up quite the storied career. In 1966, he was the SPU athlete of the year and in 1965 his team qualified for SPU's first ever national appearance where they made it to the Elite Eight. He played against the likes of NBA greats Phil Jackson, Jerry Sloan and Walt Frazier.
Playing against Jackson was especially memorable. "Phil was all arms and legs," Howard says. "Real gangly, used his elbows a lot. Playing against him was tough."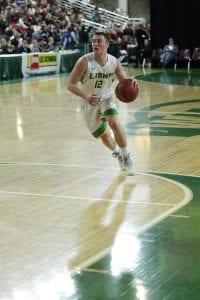 Brock didn't grow up in the same Pacific Northwest that Brian and Howard did. Seattle and its surrounding areas were no longer a basketball haven. The Sonics left when Brock was six, and his only memory is when Brian took him to a Sonics game during their last season and got then-Sonic Jeff Green's signature.
This is part of the reason Brock's more focused football. He says growing up without a local NBA team made a difference in his connection with the sport of basketball. He still loves the game, but is hoping to play football in college and not basketball.
A member of Lynden High School's football and basketball teams, Brock plays quarterback, outside linebacker and receiver on the field, and both small and power forward spots on the basketball court.
Brian and Howard were two-sport athletes as well. Both ran track in addition to playing basketball.
"Track was a great way for me to stay in shape for basketball season," Howard says. "It was extra conditioning."
All three of the men agree basketball has been a way to forge relationships with friends that stand the test of time. To this day, Howard still talks to some of his fellow teammates from his days at Lynden High School.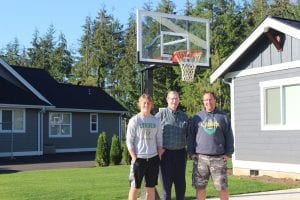 "The chemistry you create on the court is something special," Brian says. "I look back on those days fondly. There's nothing better than hanging out with your buddies and having success on the court at the same time."
Due to the age gap between them, the three Heppner's haven't played much competitive ball against one other, other than intense games of "Pig" or "Horse," that is.
Brian's wife Sally calls out from the living room, "The hospital bills would be too much if you all played against one another."
Howard laughs, "Well you know, when you get older, your mind makes you think you can do more than your body enables."
Sally is a basketball powerhouse herself. She was part of Lynden Christian's State Championship basketball team in 1990, 1991 and 1992, under Coach Curt DeHaan. "Some of my best memories are battling it out on the court with those ladies," Sally says. "We even beat cross-town rivals, Lynden, in 1991 for the State Title!"
Following their basketball careers, Brian and Howard made the conscious choice to give back to the Lynden community that grew them into the men they are today.
Howard became a teacher before going on to serve as superintendent of the Lynden School District for 24 years. Brian currently teaches Language Arts and Social Studies at Lynden Middle School, and helps coach the Lynden High School Lions Men's Basketball Team.
Although Brock still has two years of high school left, who knows? Maybe he'll continue the Heppner tradition of giving back to the community as well. As they say, only time will tell.