Submitted by: The Chrysalis Inn & Spa
The Chrysalis Inn & Spa was proud to present their August spa donation in the amount of $2,100 to Whatcom Center for Early Learning which provides comprehensive, family-centered early intervention services to children ages birth to three with developmental disabilities and delays. Some of the children have Down Syndrome, others are somewhere on the autism spectrum, some just have a speech or motor delay that, with early intervention, helps them catch up with their typically developing peers prior to their entry into the school system.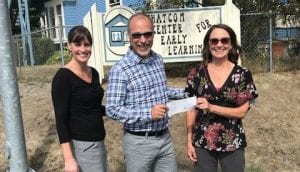 The professional WCEL staff provides speech, occupational and physical therapy, as well as specialized support for behavior and/or high-risk families, in the homes of the children and their parents or caregivers. Additionally, classroom teachers facilitate playgroup opportunities both at the WCEL building and in other community locations.
WCEL just purchased another facility in Ferndale that will be opening later this spring after a remodel. This generous donation from The Chrysalis Inn & Spa will go toward purchasing toys for the playgroup programs at this new children's center.
Founder Anne Brown began working with children in Whatcom County in the early 1970s. Incorporated in 1991, WCEL now provides
65-70 percent of all Birth-to-Three services in Whatcom County, and has established itself as one of the leaders of early intervention in the region.
The Chrysalis Inn & Spa, a locally owned hotel, spa and restaurant on Fairhaven's waterfront, has been giving one percent of monthly spa revenues to a local non-profit since February of 2017, now totaling almost $38,000.
September's one percent of spa revenues will be donated to the Bellingham Giving Circle whose mission is to support the needs of homeless kids in order for them to stay in school.