Maggie had cerebral palsy and, at age 12, was dependent on a walker to get around. One day at the beach, leaning on her friends to walk on the sand without it, her friends got distracted and wandered away. She was stranded until her father came to help.

Embarrassed about using a walker at school, Maggie became introverted and withdrawn. Denise Costanten, owner of Brigadoon Service Dogs, trained a dog to help her walk with a specially built harness. Now, instead of hiding behind a metal walker, she could show up to school with a friend. Her confidence soared. Given her newfound independence, she blossomed and began to thrive. Her senior year, she was voted prom queen. Now she's 21 and attending Western Washington University. Maggie volunteers at Brigadoon Service Dogs every weekend.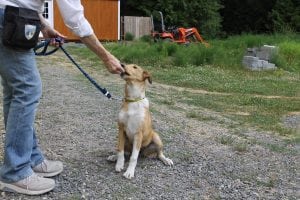 Seeing these life changes keeps Costanten going. "I've been doing this for 16 years," she says, "and didn't make money for 15 of them."
When her husband recently passed away she thought about leaving the project behind. "It would be much easier if I did," she says, but the dogs change so many lives for the better. She decided to pour her heart into it for the next five years, setting it up to run without her.
Service dogs give independence and help people live their best lives. According to Costanten, disability is often accompanied by depression. Whether it's mental or physical, disability can be isolating and lonely. Dogs change that with unconditional love 24 hours a day.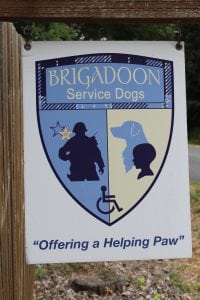 "I appreciate all Brigadoon is doing for people with disabilities and our American veterans," says Terri Sirmans, general manager of Holiday Inn Express. "Brigadoon touches so many people's lives, from using incarcerated veterans for the training to training specialized dogs for disorders that are not the standard type. It's so endearing to hear people who have received the dogs talk about how it's changed their lives; it touches your heart. Our hotel enjoys helping where we can especially with organizations like Brigadoon Service Dogs. They're an asset to our community."
One of Costanten's clients had a neurological problem affecting her balance. She loves to hike in the woods, but became too afraid to go, due to her fear of falling. She's tall, so Costanten trained an exceptionally tall Golden Retriever to support her, allowing her to use the dog as support and get back on her feet if she falls.
Stafford Creek Corrections Center in Aberdeen and Coyote Ridge Corrections Center in Connell, Washington, both have veteran units for prisoners who have served. Costanten trains veteran prisoners with good behavior to train service dogs. If the men do anything against the rules, they lose their privilege to train. Prison counselors say the dogs reduce stress within the prison and make both the men and staff members calmer and more relaxed.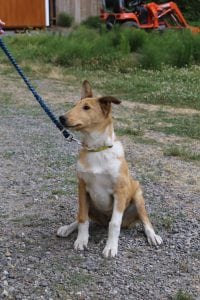 The training program is regimented and involves a lot of work for the inmates, but there's a never-ending line hoping to be involved. The chosen trainers are required to work with a dog seven days a week giving commands, using cues and keeping records of the dog's progress. Costanten works with the trainers for an entire year, teaching them how to train the dogs; the inmates also learn communication and record-keeping skills. These will come in handy in a variety of professions when they get out. She also trains prison staff to detect the dog's demeanor and body language. Staff watches the dogs for signs, making sure they're happy and well cared for. If a dog isn't happy in the prison environment, they're taken out of the program.
Inmates are always excited to learn and often ask for more reading material. One even felt good enough to wean off his anxiety medication while working with the dogs. Veteran prisoners feel good about training dogs for veterans on the outside.
Costanten has met numerous veterans who could benefit from her dogs, but service dogs aren't recognized by the VA, meaning they won't pay for them. She looks for company donations to cover the costs.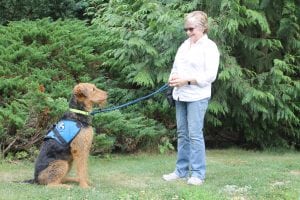 She has helped veterans who are afraid of leaving the house because of their PTSD; afraid of loud noises, garbage by the side of the road that looks like explosive devices, and so on. She worked with one veteran who was afraid to leave his bedroom. His wife cared for him and their four kids. He stayed in his room all day and his family was falling apart. Then Costanten trained a service dog for him.
Within two years, he was traveling on planes and even went on a second honeymoon with his wife (and dog). He became a father again, helping his children with their homework and taking them on walks. He completely repaired his life and family through the friendship and vigilance of his service dog.
Brigadoon finds dogs for people that other schools won't. Costanten trains dogs of any breed – including poodles for households with allergies – and finds the perfect personality match between dog and new owner. Even if a person has multiple types of disabilities or diseases, she can train a dog in all possible scenarios. For instance, if a woman has diabetes, hearing and balance problems. Costanten will train a dog to recognize and alert her if she has low blood sugar, act as an aid for standing and alert the woman when the doorbell rings or sirens alarm.
Remember, every donation makes a difference. Service Dogs don't just help people enjoy their lives, they give them their lives back.
Sponsored