The Lynden Craft and Antique Show is simply extraordinary. "There's no venue around where you can see this much," says co-owner Judy Meixner. "The variety is huge."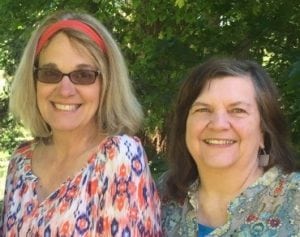 Meixner and her business partner, Trudy Ferguson, started the bi-annual show in 1987. "We were looking for a venue to sell our handcrafted and vintage [wares]," Meixner says. "So many wanted to join us, we kind of fell into putting on shows."
The resulting event has been successful from the start. "All these people are hand-picked; it's a juried show," says Meixner of her vendors. The artists are true craftsmen and the displays are always changing, keeping the market varied and interesting.
Meixner believes in local, handmade goods and prides herself on buying as many local products as possible, from produce to home goods to fashion. She feels it's important to be part of the community, personally connecting with the people who make your clothes and grow your food.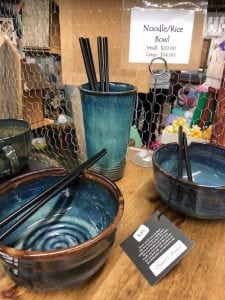 Ferguson and Meixner work hard to make the show a social event for their patrons. "This is an experience," says Meixner. "It's that old market feel. I love to see people so excited, to sit, talk and connect. People have no idea how cool it is to talk to an artist one on one. It brings back the old-fashioned vibe of caring."
The artists and vendors are proud of their products. This feeling of pride can be lost on consumers used to online shopping and the frantic pace of everyday life. The artists enjoy connecting with customers and can even create a custom piece, perfect for your home or gift.
Above all, Meixner hopes guests will leave the show feeling creative. "The inspiration, to me, is to be around so many inspiring people," she says. "It just explodes my mind!"
One of Meixner's favorite new artists is a blacksmith named Daniel Hamilton of Dakota Creek Forge. Hamilton has lived in Whatcom County since he was six-years-old. He went to school for boat building, but found it to be a difficult trade on the West Coast during the financial slump, so he moved on to forge. Hamilton is a perfect example of inspiration; he wanted to become a blacksmith since he was 15 and he learned how by watching YouTube videos.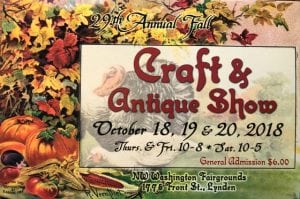 His very first blacksmith tool was a piece of railroad track found at an estate sale he used as an anvil. He had found that anvils were mostly located out east and are too heavy to be shipped, so he improvised. "I made a lot of my own tools to start out with," he says.
Hamilton started as a hobbyist but quickly became successful. He now forges full-time in his backyard workshop in Blaine. He's rapidly becoming known for creating beautiful, functional tools with girth. He makes hand forged, wrought iron BBQ skewers, knives, candle holders and coat racks. "I've done some custom work all the way from South Dakota," he says. "Another craftsman who made historical, Civil War-era tin ovens had me make the spit and skewers that went in them. He sent me a historical drawing." From the drawing, Hamilton created four historically accurate skewers.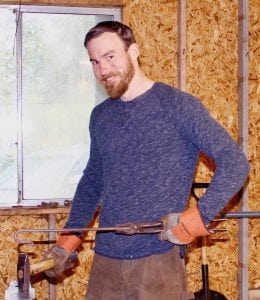 "It's all difficult at first, then you figure out through trial and error how to make something efficiently and consistently," Hamilton says of creating his one-of-a-kind pieces. "It's easy to make a one-off of something, but to make multiples you really have to have your process down."
"I'm always trying to expand my skill set," he says. When a man from Canada asked him to build hairpin table legs, he learned what they were and how to make them. He now creates live-edge, mid-century modern tables with hairpin legs. Hamilton is partnering his exceptional woodworking and metal skills to create a larger variety of functional goods for his business.
Meixner believes greater Whatcom County and the surrounding areas "would be surprised at the uniqueness of what we have." Located on the Northwest Washington fairgrounds, in Lynden, a short drive from Bellingham, the Lynden Craft and Antique Show has something for everyone on your Christmas list. "It's the perfect place to buy gifts for people who are hard to buy for," she says.
And giving handmade artwork is so much more meaningful than something pulled off a store's shelf or ordered online. With so many options, from pottery and memorabilia to hand-stitched towels, soup mixes for your emergency kit, Holmquist Hazelnuts grown right down the street, hand-knitted hats, homemade truffles, colorful paintings, jewelry or a hand-forged coat hook from a modern blacksmith, there's no shortage of unique gifts.
Have an inside joke painted on a sign or stitched onto a pillowcase. Find a vintage set of plates and a hand-forged hunting knife. You can even customize your lunch! Al from AB Crepes will be one of many food vendors at this fall's show. He loves finding new crepe variations by getting ideas from his customers.
With help from the Lynden Craft and Antique Show, it just might be the best Christmas yet. Bring a friend to enjoy the weekend with, while you take the stress out of – and put the fun back in – holiday shopping.
Lynden Craft and Antique Show
October 18, 19 and 20
Northwest Washington Fairgrounds
1775 Front Street
Lynden
Dakota Creek Forge
Daniel Hamilton
instagram.com/dry_creek_forge/?hl=en
dakotacreekforge@gmail.com