Dan Radil's love of wine started over 30 years ago in Eastern Washington. He got involved in the burgeoning wine scene and spent time tasting at various friends' wineries throughout the 1980s. In 1985, he went to the Tri-Cities Wine Festival, an experience that would change his life. He hasn't missed one since and has been enamored with wine from that point on. As President of The Whatcom Beer and Wine Foundation, he's trying to recreate that feeling he had at the Tri-Cities Wine Festival for Whatcom County residents.

The Whatcom Beer and Wine Foundation formed three years ago, created by Dan Radil and spouse Zacchoreli Frescobaldi-Grimaldi. The couple enlisted family members' help to round out the advisory board. The foundation is a family affair, featuring Radil's sister, brother-in-law and two nieces on its board.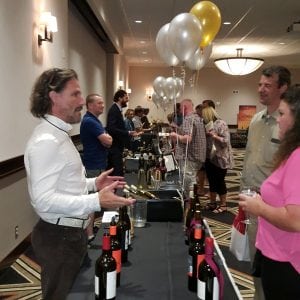 Radil credits Frescobaldi-Grimaldi with the foundation's original blueprint. Frescobaldi-Grimaldi had worked at previous non-profits and wanted to find a way to help local Bellingham organizations.
The goal of the foundation is to promote the beer and wine of the Pacific Northwest – Whatcom County in particular – while giving the generated proceeds to a rotating list of non-profit organizations in Whatcom County.
The foundation hosts two major fundraising events throughout the year, in addition to smaller quarterly wine dinners, where all net proceeds are given to non-profits selected at their January board meetings. Selected non-profits receive the total net profits from all events during that calendar year.
The Whatcom Beer and Wine Foundation's two major events are the Bellingham Beer and Music Festival and the Bellingham Northwest Wine Festival. Both are held in the summer; the beer festival taking place in June and the wine festival in August.
"I always tell people to go taste wine," Radil says. "It's a much more fun experience to go actually taste the wine and to learn what wine tasting is like."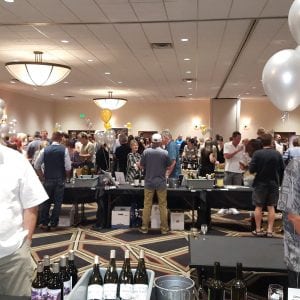 Radil wrote a wine column for The Bellingham Herald for 15 years. He still freelances for Wine Press Northwest and Bellingham Alive Magazine, leveraging his contacts over the years as a wine writer. Radil and team have facilitated three successful Bellingham Northwest Wine Festivals at Four Points by Sheraton Bellingham Hotel & Conference Center in Bellingham.
"When I started tasting wine in Washington, there were 25 wineries in the entire state," he says. "Now, in 2018, we're able to have 53 attend our festival alone. I've watched the wine industry grow considerably; there are over 900 wineries in Washington now."
For the Bellingham Northwest Wine Festival, wineries have an option to send wine in early and have it judged by both local and out-of-town judges. Radil screens all judges to ensure they have extensive wine backgrounds. They award bronze, silver, gold, double-gold and best in show medals.
The festival has grown since its inception; this year there were over 400 attendees. All profits were donated to 2018's selected non-profits: Lydia Place, Our Treehouse, Growing Alliances and Make.Shift.
Holiday Inn Express likes to support local organizations like the Whatcom Beer and Wine Foundation, as they create positive change in the local community. "We feel this organization is another great example our how our community works to help each other," says General Manager Terri Sirmans. "They put on two great events which raise funds for several local non-profits. We need to keep organizations like this going with our support."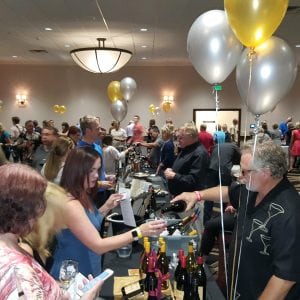 Radil says they're still working hard to get the word out about the Bellingham Beer and Music Festival; 25 breweries poured brews this year and four bands played. This event takes place at the North Bellingham Golf Course and is the perfect way to spend an early summer Saturday evening. This year, they brought in a bigger stage for the festival's musical acts to perform on and featured live acts from all over the Pacific Northwest, including many local bands from Bellingham and around Whatcom County, such as The Katie Gray Band and more.
Radil says his favorite part of running the foundation is the moment he's up on stage at the wine festival, and looks out over the crowd to see everyone tasting all the wine, conversing, smiling and genuinely being happy.
It's then he sees all the hard work paying off. The foundation is making a difference in both festival attendees' lives and the lives of all individuals serviced from the non-profits they support. Join them and raise a glass to making a difference in Whatcom County.
Sponsored