Submitted by: Ellie Margulies, owner of Flex Movement Lab
This time of year it is particularly clear how much we need Firefighters as we all have experienced the negative impacts of wildfires and the smoke they cause. But even without the hazy skies and harmful air, we know how much our local Firefighters do for our communities day in and day out. They are often first on the scene of any incident, car accident, natural disaster and house fire. The very nature of their jobs requires them to risk their lives for us. And every year, some of them give the ultimate sacrifice, as do their families.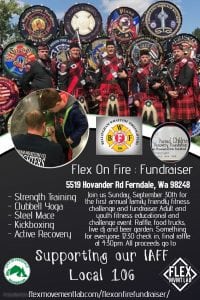 That is why this year, we are dedicating our energy towards supporting the Bellingham Whatcom Firefighters Benevolence Foundation and we hope that you will join us in those efforts. On Sunday, September 30 2018 we will be hosting the first annual Flex on Fire, Fit Challenge and Fundraiser in honor of our local Fire Department Benevolence Foundation.
The Bellingham/Whatcom Fire Fighters Benevolent Foundation is a 501(c)3 non-profit that provides assistance to firefighters, their families and people in need who have been injured or killed due to a fire-related event. Gifts are also made to funds set up to benefit the families of firefighters injured or killed in the line of duty both locally and around the nation as well as other community organizations that provide assistance to local families without resources through the holidays and help with essentials for those who've lost their home and belongings in a fire.
Funds are distributed in many forms, one of which is the Jason Karwhite scholarship to high school seniors who are seeking education for a career in the fire service/medical field. They are selected by a committee of our members. We support other charitable organizations with significant local impact such as Burned Children Recovery Foundation, Royal Family Kids Camp, Relay For Life, Camp Blaze, MDA.
We hope you will join us in our efforts to support this fund while enjoying a family-friendly, functional fitness oriented event at the same time. We have included the event sponsorship packet as well as the event itinerary and sponsors who have already committed. We hope to see you on Sunday, September 30 with your team and your family as together we improve health in our community and support a fantastic cause.
Sincerely,
Ellie Margulies—Owner, Flex Movement Lab
Robert Glorioso— President, Union 106 Fire Department
Tony Melillo— Director, Bellingham Whatcom Fire Department Benevolence Foundation
Flex on Fire, Fit Challenge and Fundraiser Itinerary
12:30 p.m.—Check in, kids get ready for their stations indoors. Adult participants get signed in.
1:00 p.m. – Opening Ceremony.Performance by the BFD Pipes and Drums band to kick things into high gear.
Group Mobility warm up– Hosted by Flex Movement Lab owner Ellie Margulies. Participate in a joint healthy open chain mobility warm-up that will get you ready to explore the many fitness options found here in Ferndale and Whatcom County.
Scavenger Hunt time! – Grab your scavenger hunt packet and head out to explore! Participants receive two bonus raffle tickets for completing the whole course and one extra for completing half.
1:30-3:00 p.m. – Fitness and learning Stations include: 15 minutes each, 5-minute transition
Bodyweight Power
Rad Roller SMR basics, shoulders, back, hips—Hosted by Ellie Margulies
Steel Mace basics—Hosted by Fire Captain and Flex Coach Scott Ryckman
Clubbell Mechanics—Hosted by Flex Head Coach Bethany Sanderson
Cardio Kick Bag Line—Hosted by WCFC Owner Cain Spaulding
1:30-3:00 p.m. – For the kids!
We want to make sure the next generations are healthy and active so those 7-13 can enjoy youth yoga, Zumba and MMA hosted by WCFC, Zig Zag and Rags and NW Yoga Fold.
Bouncy house and face painting will also be available!
2:45-3:15 p.m. – Bonus: Timed Challenge!! After everyone has completed all five stations, those who wish to participate in the Fit 300 Rep Timed Challenge can test their new skills just learned. The challenge will consist of one element from each of the previous stations (ie: 25 mace squats, 25 mountain climbers, 25 jab/hook combos etc) Winner gets major bragging rights and a special gift!
3:00 p.m. – come back together with the whole family for a group cool down and time to learn and enjoy samples from the many vendors such as Enjoy samples of local fitness related products by companies such as: BurnButter, Chike Nutrition, Strong Coffee, Klass Nutrition, Jurrasic Snacks, Friendly Foot, Superfeet, Erin Bakers and more.
Dj Nella will be spinning the beats and the food trucks and adult beverages will be poured. Stay, mingle and enjoy as we raffle off some amazing prizes including gym memberships, automotive packages, gift certificates and more.
4:30 p.m. – Closing ceremony and departure.