Alex Cleary's rugby team had gotten a red card and two yellows. They were down two men. The score was 13 to 15 and the odds weren't good. As time expired, they ran one final play.

The ball was swung out wide. Alex received a pass and ran it up the pitch, cutting inside on two guys, only to be immediately jumped on by three more opposing players. But this didn't stop Alex. He dragged them about five meters until he got into the try zone and put the ball down.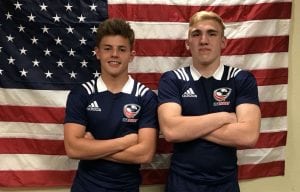 This play tied the game – one they would end up winning, thanks to the extra tries.
Alex remembers the play fondly. He even has pictures of himself freaking out afterward – it was that emotional and important of a moment. It happened at last year's Regional Cup Tournament in Idaho. With Alex's trajectory, there will be many more rugby memories just like this one.
Sometimes Alex can't believe how far he has come.
Four years ago, as a freshman at Ferndale High School, he didn't even make the all-state Washington Rugby Team. Now, Alex is a Youth Olympian, training with some of his favorite players and traveling across the globe to play the sport he loves.
"It's both weird and awesome to be at the Junior Olympic level," he says. "I get to hang out and talk to guys like Perry Baker and Carlin Isles, players I have looked up to my whole time playing rugby. I even have a selfie with Andrew Durutalo; this dude is an absolute tank. He's playing in England right now. He's one of the best players in the sport."
Alex didn't start playing rugby until the sixth grade. At first, he was a football and baseball guy. But after finding out his father played rugby for Western Washington University back when he was in college, he asked his dad more about the sport and how he could get involved in it.
"Once I started playing rugby, I knew I didn't want to play football or baseball anymore," Alex says. "I fell in love with rugby. It's just a great sport and I've had a lot of really great coaches that have helped me grow as a player along the way."
Being a Youth Olympian comes with its fair share of responsibilities and demanding travel. Alex hasn't spent too much time back home in Ferndale this summer. He has been on the road, training and learning more about his sport everywhere he goes.
This summer Alex ventured to the Olympic Training Center in Chula Vista, California, where he trained with the United States Men's Olympic Rugby Team. He then went off to Lake Placid, New York, where he participated in trials. Alex followed his East Coast excursion with a trip to Utah where he shadow-coached, helping him learn valuable coaching experience for the future. After Utah, it was back to Chula Vista for more training, before jetting off to his current location of Denver, Colorado. Here he'll play rugby until he goes back to Southern California for the final weeks of training before heading out to Buenos Aires, Argentina for the 2018 Youth Olympics.
Talk about busy.
Despite the demanding schedule, you sense nothing but excitement when you speak with Alex. He's a calm and collected young man, who has his eyes set on the future. Every time he's on the pitch, he wants to improve and become the best rugby player he can possibly be.
Argentina is the next challenge and Alex says it will be some world-class rugby. The United States will play against other Youth Olympic teams from countries such as France, Argentina and South Africa. The Youth Olympics run from October 6 to October 18, and he won't head back to the U.S. until the end of October.
In addition, Alex is entering his freshman year of college, where he will play rugby for the Central Washington University Wildcats. Due to all his Youth Olympic commitments, Alex and CWU men's rugby head coach Todd Thornley, decided it best he defer from the fall quarter and start school in the winter.
Alex is looking forward to getting into college rugby, especially at CWU, who were ranked 15th in the nation last year in NCAA Division I rugby.
"High school rugby was fun, but this is the next level," he says. "I want to get better and in college rugby you practice every single day. It becomes a bigger part of your life. Plus, rugby is helping me pay my way through school and I get to travel and make friends throughout the country and world."
Through all the grueling commitments and activity, Alex is building lifelong relationships and brotherhood through rugby.
Alex plans to earn his bachelor's degree and play rugby for as long as he can. He wants to stay in the sport in whatever way possible, eventually becoming a coach or team manager.
Alex couldn't have picked a better time to be a rugby player in the United States. Rugby continues to see its popularity rise. The first annual season for Major League Rugby completed this year and the Seattle Seawolves beat the Glendale Raptors in the championship.
How does Alex feel about being on the Seattle Seawolves himself one day?
Alex laughs, "Yeah I've definitely thought about it. That would be really awesome."