Movement is freedom. This concept took center stage at the 2018 Freedom of Movement Gala at the Bellingham Golf & Country Club. The event's proceeds were donated to the Arthritis Foundation to help those battling this debilitating joint disease. Local clothing boutique Quinn & Foster sponsored a special runway fashion show that delighted attendees and highlighted this important cause.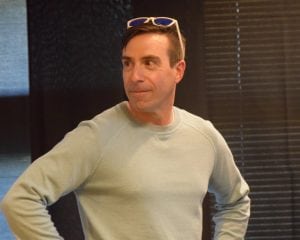 According to the Arthritis Foundation, over 50 million Americans suffer from some form of arthritis, making it the leading disability in the United States. Many associate arthritis with older people, but it doesn't discriminate against age. All individuals – both young and old – can, and will, be diagnosed with arthritis. Throughout the years, the numbers of those suffering from arthritis have grown but thanks to organizations like the Arthritis Foundation, and businesses like Quinn & Foster, awareness continues to spread.
Quinn & Foster owner Chris Hayward was more than happy to have her boutique participate in the event, which she heard about from her sales and marketing associate, Kelly Sygitowicz.
"Kelly knew the person running the gala and Kelly was key in the organization of Quinn & Foster's part in the fashion show. This was the first fashion show the Arthritis Foundation had presented," Hayward says. "Any opportunity we can get our  clothing in front of  people is a good opportunity and it's even better when it goes to support a really good cause."
Many of those who modeled at the event's fashion show battle some form of arthritis. Models even included some event organizers and Arthritis Foundation volunteers.
The gala also featured hors-d'oeuvres, beer from Boundary Bay Brewery, wine from Coach House Cellars, a full dinner, live and silent auctions and speeches from Arthritis Foundation volunteers.
Hayward says the event inspired them to plan another fashion show for the fall, which will also benefit a good cause.
Quinn & Foster fashion shows may appear simple, but they actually require a great deal of work. First they determine which season they want to feature. Then models come to the store to figure out which clothes will look best on them.
"We pair clothes to the person," Hayward says. "It's all about finding things that fit their body type and then making them look their best. We want them to look great and feel great."
Because the Freedom of Movement Gala took place in July, featured looks were ideal for fall. Fashion show items tend to reflect what's on display in-store at the time. Quinn & Foster starts showing fall clothes in the summer so people can shop ahead.
Hayward and the team at Quinn & Foster are very excited for their October fashion show, which will feature winter clothing. They'll create an in-store runway and host the fashion show at the boutique.
Quinn & Foster is in the same location as Gary's Clothing Store, which operated in the space for 37 years. Many Bellingham community members were sad when Gary's closed, Hayward recalls. Gary's had been a Bellingham staple for a very long time and was the only local boutique of its kind.
"When I saw that Gary's was closing, I realized it was a good opportunity for me to keep a clothing store in this space," Hayward says. "I was thinking about moving to the area and it seemed to be a sign that this was what I was supposed to do."
Hayward was born in Alaska, but much of her family is from Bellingham. Her parents even met here.
Hayward has been in retail since 2006. She owned her own clothing store in Eugene, Oregon before opening Quinn & Foster in Bellingham. But she really fell in love with clothes while living abroad in Europe. She lived in France, Spain, Finland, Israel and Italy, where she even created her own line of clothing. A world traveler, each location has an influence on the types of clothing Hayward sells at her store.
"I think my favorite part about the job is finding clothes for customers that they normally wouldn't wear," she says. "I like helping people get out of their comfort zone. They can walk away with an outfit that's perfect for them and is also something they may have never tried on without our help."
Quinn & Foster recently started offering online purchasing for the convenience of their customers. "My goal is to establish steady customers," Hayward says. "Ones we get to know and build personal relationships with. I want Quinn & Foster to become their personal stylist."
Quinn & Foster
128 W Holly Street
Bellingham