In 1998, a group of cinephiles gathered in their new theater on Cornwall Avenue. They'd come together to create a space dedicated to the preservation and celebration of independent film – and to watch movies. They've come a long way and enjoyed a lot of films since those humble beginnings. This year marks the 20th Anniversary of the Pickford Film Center, one of our community's most beloved cultural institutions.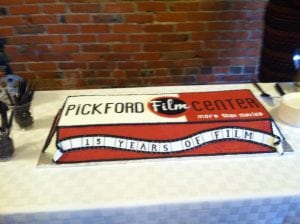 Today, many can't imagine Bellingham without Pickford Film Center. It has grown to include two locations, screening films 365 days a year. This organization possesses a heartfelt commitment to the craft of film and those who patronize the artform.
To celebrate their anniversary, the Pickford is screening a film for every year of its history. Each one has been chosen and sponsored by a Pickford member. Movie lover, gourmet popcorn maker and all around great mom, Nancy Knechtel, is a sponsor of the upcoming screening of Much Ado About Nothing. She chose to be a sponsor for their anniversary because she loves the Pickford and wishes them every success. It's as simple as that.
"I believe in voting with my dollar and supporting businesses that I want to see be successful," she says. "The Pickford is wonderful." Member-sponsored films run every other Monday for the remainder of the year.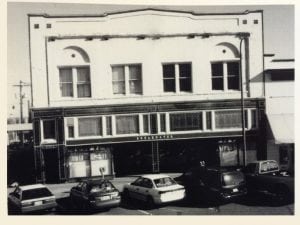 There are occasional moviegoers, and there are those who consider the Pickford an extension of their living room; Kolton Kirkendoll is somewhere in between. He appreciates that the Pickford has good taste in movies— there's always one playing he'd like to see. "I'm happy that we have the Pickford as an alternative to going to a big box theater; it's cozier and you can tell the volunteers are happy to be there," he explains. "Also, a soda and popcorn won't cost you $20!" And the Pickford even serves adult beverages.
For every indie film, there's a director who has poured their heart into it. But where can they show their masterpiece to the world? One Pickford Film Center projectionist, Michael Barone, knows where. Michael was a senior at Fairhaven College with a concentration in Film Production when the Pickford screened his independent film. "One of the reasons the Pickford is so important is the way it supports small and independent filmmakers," Michael explains. "The Pickford played my film, Gone, for two nights and sold out both of them. It was an amazing opportunity and you don't get those very often as a filmmaker, especially starting out."
When the room goes dark and a flickering blue light pours itself into an enrapturing story, who's making more popcorn? The Pickford is grateful for their team of talented volunteers who help keep the pictures in motion. Howard Siegel has been volunteering at three movies per week for almost four years. He's proud that the Pickford is more than a theatre— it's a cultural hub that celebrates education and the arts. "I'm consistently impressed by the events and community support they offer here, especially for the children," Howard says. "When school kids come in on field trips to see documentaries, there are people here in the morning setting out a hundred bags of popcorn for them." Some of Howard's favorite Pickford events are the Doctober Film Festival, Rooftop Cinema and the Red Carpet Affair.
Behind the scenes, the Pickford is still run by those who share a mission to preserve and celebrate film. With its Board of Directors at the helm, the Pickford's original vision has stayed on course, even as the theatre has grown.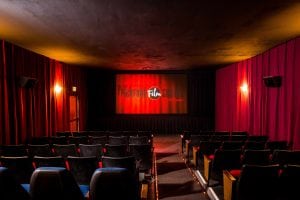 Chris Kobdish has been on the board since 2013, serving as secretary and now as vice president. She believes the Pickford offers Whatcom County an opportunity to see life through someone else's eyes, a cornerstone in building a healthy community. "Film can transport you to another time or different place, culture or personal circumstance," she says. "It's through these shared experiences that we can learn from others and broaden our understanding of the world around us."
The Pickford's namesake, Mary Pickford, pushed the boundaries of cinema and paved the way for women in the film industry. The Pickford hopes to embody her tenacity and commitment to her craft by sharing engaging and provocative films with our community. And we hope they continue for years to come. If you haven't already, please visit the Pickford Film Center and see why so many fall in love with the way they do movies.
Sponsored