A special flame in Bellingham history still burns brightly thanks to the tireless efforts of a community of volunteers and thespians. Tucked in the Lettered Streets neighborhood in a renovated Episcopal church, the Bellingham Theatre Guild (BTG) is a beacon for those who love the warmth and familiarity of seeing their friends and neighbors perform on stage.

Founded in 1928, the Theatre Guild was designed to give local actors and directors a chance to execute avant-garde material. Oftentimes during that period, the shows that were available were limited to popular touring acts or those approved by theater conglomerates. The monopoly held by these large syndicates kept local playwrights and European performances off American main stages. The BTG, our local chapter of the Little Theatre Movement, could circumvent the rules and hold public performances as long as the actors weren't paid and the theatre was a non-profit.
Today, in its 90th season, the Bellingham Theatre Guild is alive and well. Their success hinges directly on their team of committed volunteers, who complete every task from set design to ticket sales.
Each season, the BTG hosts five to six plays, with additional special performances and events in between. With upwards of 1,200 people seeing each production, their member board is highly conscientious about choosing acts that will appeal to both new and recurrent audience members. "We try to pick plays that will reach out to the variety that comes with that amount of people, run by directors we're really excited about," says the Guild's Vice President of Production, Sean Walbeck. "That's part of the joy and the nervousness of the Theatre Guild, taking risks and hoping the plays we choose strike audience's hearts the way they've struck ours."
The Guild is opening their season in September with performances of La Cage Aux Folles, a comedy centered on the farcical circumstances of a gay couple trying to hide their sexuality and their nightclub's drag events from their conservative houseguests.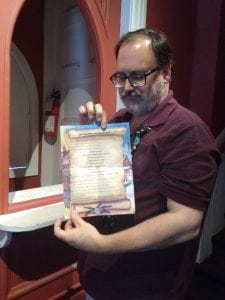 While every play is open auditioned and never pre-cast, the director for La Cage Aux Folles invited talent directly from Bellingham's drag community to participate. "Almost every show has somebody new on our stage," says the Guild's board President, Dee Dee O'Connor. "If you volunteer to put in the commitment to act, we volunteer to put on the play."
The Bellingham Theatre Guild has a loyal member base, with over a third of their audience being season ticket holders. Perhaps unbeknownst to many attendees, their presence is an integral part of the power of live performance. "In theater, the art form is really about the connection and the energy between actor and audience—the way they feed each other," says Sean. "It's not until the play is aired in front of an audience that the actors get sharper. They can see when they get laughs and fine-tune the performance until it evolves into a finished piece."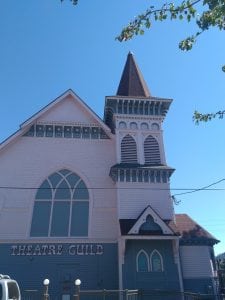 Sprinkled in amongst main performances, the Guild holds intimate, special events. A reader's theater series, called Lend Us Your Ears, is turning out to be a new favorite. Actors perform from scripts, relying on their voices and gestures in lieu of sets. In the end, it gets more actors and directors involved, while providing a pay-what-you-will scale for interested audiences.
For local directors and play-writes, the annual Bellinghamster's One Act Theatre Festival is the perfect opportunity to test their material. The event features 12 to 16 shorts over the course of a week. "It's always fun, always interesting and a great opportunity to see snapshots of people's favorite plays or original material," says O'Connor. "They essentially do all the work and produce their own shows, we just provide the stage."
To wrap up a busy season, the Guild members have fun putting on their Bentley Awards— the theater's own mini Tony ceremony. Members have the opportunity to vote for their favorite plays and actors, always a contentious issue for those with an opinion. "It's one of the ways we like to give back to our community, we give them something to complain about!" quips Sean.
The opportunities to become involved in the BTG are seemingly endless, especially for the creatively inclined. Dee Dee O'Connor, now Board President, began as a stage hand volunteer. "If you have the wherewithal and commitment, and are interested in theatre, it's an amazing opportunity to learn from and get started," she says.
It's difficult to describe the magic of a place that one really should just see for themselves.
Tickets for BTG events are available both online and at their box office. For information on upcoming auditions or volunteer opportunities, visit their Facebook page for more information. "Our shows are definitely cheaper than iMax," reminds Sean. "And way more 3D."