Submitted by: Whole Foods Market
It's time to support your community again, and Whole Kids Foundation is here to help. Whole Kids Foundation, a nonprofit founded by Whole Foods Market, has been supporting local community and school gardens since 2011.  The School Garden Grant program provides funding and resource support to schools wanting to establish or grow their school gardening programs.
At Whole Kids Foundation, we know that the more kids know and feel connected to their food, the more curious they become about how things grow or taste, and the more willing they are to try new foods. This is why we believe in edible garden learning spaces! Created in partnership with FoodCorps, the Garden Grant program provides a $2,000 monetary grant to support a new or existing garden. School gardens give children the valuable opportunity to learn and apply math, science and health concepts in a dynamic, interactive setting. Teachers and or community members curate these learning opportunities by either integrating lessons into curriculum or introducing lesson plans created by the United Heart Association.
The benefits of school gardens are long lasting. School garden programs not only promote healthy lifestyles in children, but have also been shown to improve children's behavior and performance at school and improve their attitudes and appreciation for the environment. Gardens serve as great outdoor classrooms for any number of subjects, including science and ecology, math, creative writing and art. School gardens are wonderful spaces for kids with different learning styles and abilities to work in groups and engage in hands-on, cross-disciplinary education.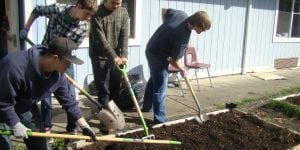 We all know it takes a village, and your grant request is just the start of something great! Last year in New Orleans, the organization United Health Group celebrated grants for 15 new school gardens. The Louisiana Community has thoughtfully repurposed much of the land destroyed by hurricane Katrina and community gardens have become an aspect of that development. This is not Louisiana's first round of grants and the benefits received have become catapults for youth development and leadership training. The gardens yield not only food for the several aspects of the community, but have become symbols for growth and intentional eating habits.
The Garden itself is just the start. Whole Kids Foundation provides grants to raise awareness of food access issues at several points that it impact a child's life, including: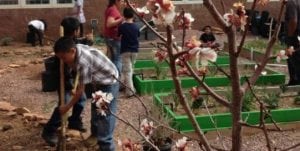 Salad Bar grants that ensure that leafy greens and mixed color veggies are highlighted during lunch breaks
Honey Bee Grants which teach children about the bigger picture and deeper understanding of where food comes from.
The Get Schools Cooking program, which aids in removing processed foods from lunch counters in favor of handmade meals.
Healthy Teacher grants that provide learning opportunities for teachers that turn into demonstrated change in their classrooms
Curious about writing your first grant proposal? The Whole Kids Foundation provides resources to guide you through the process. We have provided grants for thousands of schools throughout the United States, Canada and the UK.  Whole Foods Market believes that what we feed our children, and what we teach them about food in school, shapes how they learn and grow. The public health issue of childhood nutrition is real, and our youth are in need of support from you. We encourage everyone to apply at WholeKidsFoundation.org.
Starting September 1, 2019, you can submit a garden grant request at WholeKidsFoundation.org and help bring garden education and passion to a local K-12 school or Non-profit organization.
Sponsored