Five young faces beam with happiness as they don brand new backpacks they selected themselves. This is a magical place decorated with children's novels, a gourmet play-kitchen and a bulletin covered in thank you notes. Two families wait at the entrance; two adults with five girls ranging from elementary to junior high and another woman with a young boy and girl.

"Are you here for backpacks?" a chipper voice inquires. This is Myah Dawkins, one of the program coordinators at Blue Skies for Children and acting gatekeeper to the piles of donated backpacks. She escorts the kids into a back room, which glistens with zippers and a rainbow of colorful fabrics.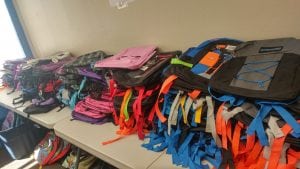 Blue Skies for Children's Back to School Backpack Program runs from the beginning of August until September 27. "Everything inspires me about this work," says Executive Director Julie Guay. "The kids that come in are the most fun and they get so excited when they see a backpack they really love. They grab the color they want and they're all smiles. That's very inspiring."
As if on cue, five girls walk out of the back room proudly carrying backpacks of varying sizes, styles and colors. They each look complete with their new backpacks and blazing smiles.
Guay explains that Blue Skies for Children is expecting 500 to 600 children to request backpacks, which they collect year-round for this event. "We serve all school districts in Whatcom County and support all requests from Skagit County," Guay explains. "We serve homeless, low-income and foster children from the ages of 6 to 18."
The Back-to-School Backpack Program was formally established in 2016 and has thrived. This year they're going above and beyond by setting up a table at Carl Cozier on August 24 from 7:00 a.m. to 2:00 p.m. If a young person qualifies for free or reduced lunch, they can stop by and scoop up a backpack. The program supplements Bellingham School District's efforts to provide school supplies.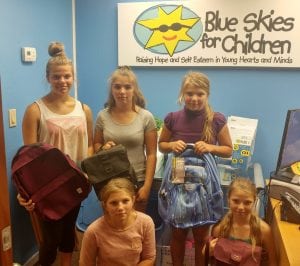 Blue Skies for Children truly lives up to its mission of raising hope and self-esteem by sponsoring enrichment programs and other essentials. Before summer even began, Blue Skies for Children was hard at work making sure children had shoes so they could run, jump and play the sunny days away. Over 603 pairs of athletic shoes walked out the door this spring.
They support children year-round with their Little Wishes Instrument Loaner Program, which helps kids participate in their school band or orchestra if they can't afford the monthly rental cost of an instrument. They also help cover school trip fees with the One-Time Little Wishes Program and provide ongoing activity support with the Little Wishes Enrichment Program.
As summer turns to fall, Blue Skies for Children will continue their work with the Winter Warm-Up Distribution Program, which provides children in need with a new or gently used coat, hat, gloves, scarf and/or blanket. This program is dependent on donations of new or gently used items.
Creating programs that rely on community support is key. Blue Skies for Children is thankful for supporters like LaserPoint Awards & Promotional Solutions or CTK Church who recently conducted a backpack drive, delivering 360 backpacks to Blue Skies. CPI Plumbing is currently conducting a social media campaign to collect backpacks.
From shoes and backpacks to winter gear, Blue Skies for Children is an unsung hero. They raise hope in young hearts and minds every day of the year, contributing to improved self-esteem. They give everything to this work.
If you would like to donate a backpack or volunteer, contact Blue Skies for Children at 360-756-6710 Monday through Thursday, 10:00 a.m. to 4:00 p.m. and make a difference in a young person's life today.
Sponsored