Have you ever meandered through downtown Bellingham or the Fairhaven Historic District and stumbled upon the statue lady? She's a lovely, if unexpected, sight and her portrayals of "living art" are actually a form of traditional busking. A busker entertains on the street for gratuities or donations by playing music, juggling or, in this case, performing as a living statue.
Our busker is the mother of four sons and originally from California. She holds a degree in anthropology from Oregon State University and is a design and illustration artist.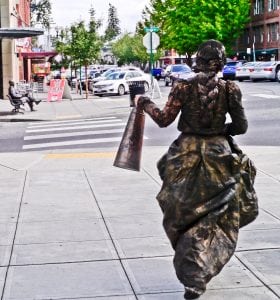 Her inspiration to become a living statue came from a TED Talk titled "The Art Of Asking" by Amanda Palmer. At the time, she had been a school lunch volunteer and worked for Acme Farms and Kitchen. She was looking to create a "job" that was uniquely her own, something that truly suited her talents and interests, and that would allow her to interact with the community at large. She also needed the freedom and flexibility to work "within the guidelines of her life."
It took her awhile to make this idea a reality. One day she went shopping at Value Village. On the way she said, "Okay, if there's a bride's dress that fits me, then this is it – this is my new beginning." On that day, she did find a bride's dress and had a gift card to pay for it.
Her original hand-made costumes are designed to look like metal by coating the fabric with liquid-latex and acrylic paint. She covers her face or any exposed skin with theatre grade pancake make-up that washes off easily with soap and water. Everything she uses is non-toxic.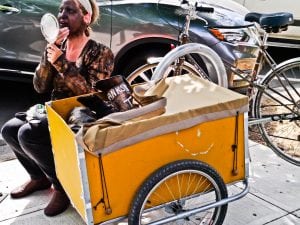 Her first statue portrayal was a silver bride. Her second was a field worker in copper with a hat of flowers – she wore that one out. Her current costume is bronze colored, representing the Victorian era of the real statues of J.J. Donovan and Dirty Dan Harris in Fairhaven. For her newest copper creation, the Queen of Crowns, she wears a medieval gown, veil and crown, and carries a sword.
After her first day busking, she knew she'd found something she loved. Her on-the-job training in street performance consisted of lots of experimentation. She learned to exaggerate her gestures and use non-verbal communication with body language. She spent a lot of time people-watching to get a sense of what her audience wanted to see.
She arrives at her performance site on bicycle with her costume and other gear loaded on a small trailer. She applies her make-up and gets into costume and character street-side for everyone to see. She then spends up to eight hours interacting with her audience. Sometimes she poses on the sidewalk and other times uses a plastic milk crate to add height to her statue. Breaks to stretch are important.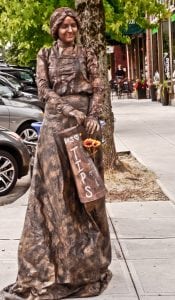 Sometimes she has an emotional interchange with someone. "Some people think they're invisible," she says. "But I see them from my crate, or I see them as me when I'm not a live statue." She tries to affirm their presence with her eyes.
She usually feels safe on the street, but there's also a degree of vulnerability. Once a person reached into her container of donations and helped himself to some cash. She said, "Hey!" and startled him. Then he asked, "May I have this?" and she gave him some money. Another passerby put something in the container and took money as a trade, except this busker wasn't interested in what the person was trading!
Occasionally someone has tried to knock her down. She has learned to be very aware of her surroundings, and of people who seem to watch her too closely. In those few instances, she was prepared to defend herself if needed, but someone always came to her aid. Those experiences were difficult at the time, but are now funny stories to share.
She has performed in many cities where busking is common including: Seattle, San Francisco, Sacramento, Santa Cruz, San Diego and Avalon on Catalina Island. Bellingham is her favorite place to perform. Our statue lady notes that busking is not the same as panhandling. Panhandlers ask for money via signs and are not performers. Her street performance is a tax-paying, licensed Bellingham business.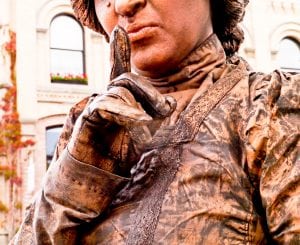 Half of her earnings as a busker come from people who see her on a regular basis. She loves the interactions with those who are taken by surprise and those who seem to treasure their souvenir photos of her.
Our "Statue Lady" prefers to remain an anonymous work of art. She hopes that you'll come see her perform very soon.
Hours:
Fairhaven Historic District – Corner of Harris and 12th 
by Fairhaven Fish & Chips.
Wednesday and Friday, 11:00 a.m. – 4:00 p.m.
Occasional Sunday afternoons
Bellingham – Corner of Holly and Railroad
Thursday and Saturday, 11:00 a.m. – 2:00 p.m.