There's nothing better than a soul-nourishing yoga session in beautiful downtown Bellingham – except one with kittens. That's the idea behind Whatcom Humane Society's Meowga events taking place at 8 Petals Yoga on Commercial Street this summer.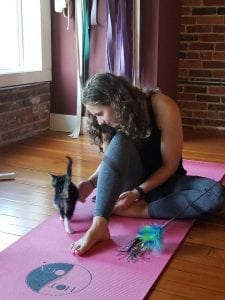 Whatcom Humane Society (WHS) volunteer and board member Kim Rice says her favorite part of the event is hearing everyone's voice raise a couple of octaves when they enter the studio and see the kittens. She says there's always a lot of laughter throughout the class thanks to the kittens and their crazy antics.
The most recent class was full to the brim. Fourteen kittens – the most they've had at a Meowga event – and 22 students were led by studio owner Susan D'Onofrio, a fabulous instructor with 30 years of experience under her belt. D'Onofrio loves to work with all abilities and skill levels and beginners are always welcome. The classes involve one hour of basic yoga and no experience is required.
After successful Meowga sessions in 2017, the adorable event is back by popular demand. The recurring class has two 2018 sessions left, so mark your calendar for August 11 and September 22. WHS Outreach Coordinator Carly Brewer says if Meowga continues, it will likely be on hold until spring when more kittens arrive.
Spring and summer are known as "kitten seasons" at WHS due to the influx of adoptable animals that flood the shelter like clockwork each year. Newborn kittens and their moms are often cared for by foster families, volunteers who graciously open their hearts and homes to adoptable critters until they find their forever families.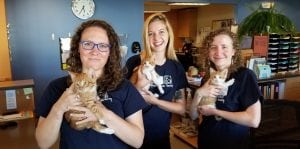 In exchange for kitten necessities and veterinary care, foster volunteers provide a healthy environment and important socialization for animals who would not receive the same quality of care in a crowded shelter.
All the kittens at Meowga events are 100 percent adoptable. The popular event supports animal care at WHS, including the foster program, and offers opportunities for community members to learn more about the organization and its role in Whatcom County. If you're in the market for a furry feline friend, Meowga is a great way to meet them and learn more about WHS and their adoption process.
There are 22 spots available at the 8 Petals Yoga studio, which Rice says works perfectly since there aren't many hiding spots for curious kittens. Interested participants have the option of paying a basic fee of $25 for the class or bump it up to $40 to receive a limited edition Meowga tote bag as well. Fees for the cutest yoga class yet should be partly considered donations to the humane society.
A number of other events help fund WHS programs and animal care, like their annual Dog Days of Summer festival featuring interactive pet games, an animal caricaturist, dog demos, a kids area, a vegetarian food court, more than 50 pet-related vendors and more. According to WHS, this event alone provided comfort and care to more than 4,000 domestic and native wild animals throughout Whatcom County last year.
The Whatcom Humane Society is unique in that they turn no animal away, regardless of breed, medical condition, age or temperament. And it doesn't just stop at dogs and cats, WHS welcomes farm and wild animals, too.
In addition to their shelter on Division Street in Bellingham, WHS operates a wildlife rehabilitation center and a 10-acre farm facility in Everson. Whatever pet you're looking for, WHS can help you find it.
"It's a mighty little shelter with an exceptionally dedicated group of staff and volunteers," Rice says.
You can register for Meowga on the WHS website and advanced registration and payment is required. If you can't make it, you can always meet adoptable animals at their Bellingham shelter or by appointment at their farm facility in Everson. Check their website for up-to-date information on adoptable animals, too.
Adoption and fostering isn't for everyone, but volunteers are always welcome at WHS. Attend a volunteer training course and learn about available opportunities. You can walk dogs, play with cats, do laundry, answer phones or all of the above. No matter your ability or skill level, there's a place for you at the Whatcom Humane Society.
Kim Rice began as a "Cat TLC" volunteer eight years ago. Now she's a member of the WHS board, has five cats (all adopted from WHS, of course) and helps facilitate Meowga events. Though she admits she may be biased, Rice says the Whatcom Humane Society is one of the best shelters in the Pacific Northwest.
Whatcom Humane Society
2172 Division Street, Bellingham
360-733-2080