When temperatures climb and the sun lingers, it's time to head into nature. In the Pacific Northwest, we take advantage of our gorgeous summers by spending every waking minute outside – even during mealtime.

There's nothing better than rolling out of bed on a Sunday, slapping on your shades and having brunch. Here are our favorite spots to do just that while enjoying Bellingham's great outdoors.
1300 Bay Street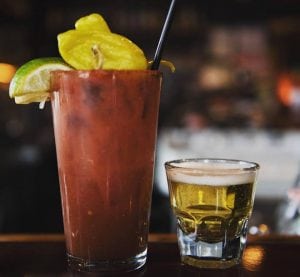 This Cajun-style eatery is known for their legendary brunch offerings, including a build-your-own bloody Mary bar. Their sunny outdoor patio is the perfect place to power up on breakfast and drinks after a rough weekend on the town.
Bayou on the Bay serves tasty food with a southern twist. For brunch, find everything from crawfish scrambles to classic eggs benedict.
1200 Cornwall Avenue
Vitamin D deficiency is no joke. Get your daily dose downtown at EAT Restaurant and Bar's sunny outdoor seating area.
The locally-sourced eatery serves American fare with a French twist alongside an impressive selection of craft cocktails. If that doesn't entice you, their beignets will.
200 E Chestnut Street
That's right, your favorite pizzeria serves brunch. And they've got a killer outdoor patio to boot. La Fiamma's specialty is pizza, so expect to see their popular dinner pie choices on their brunch menu, in addition to a variety of breakfast pizzas.
Leftover lovers – or those battling a hangover – will praise the pizza gods for La Fiamma's bartender's breakfast. It comes with a toasted slice of last night's pizza from their late-night pizza window, the Pye Hole, a beer and a shot of whiskey.
La Fiamma flawlessly whips up classic dishes like skillets and French toast, too. There's something for everyone.
714 Lakeway Drive
B-Town's outdoor patio is a true delight – and not just for brunch. With large fire pits and four large-screen TV's, their patio is a great place to enjoy an outdoor meal all year long. You'll love their delicious seafood and don't forget to indulge in a cocktail while you're at it.
1101 Harris Avenue
Sorry, late risers. You'll have to get up and in line at a reasonable hour to get a table at this popular Fairhaven brunch spot. If you've got a hankering for a nourishing breakfast and an excellent cup of Joe, you've come to the right place.
Harris Avenue Cafe is adjacent to notable Bellingham roaster Tony's Coffee. While you're dining in, you're welcome to order your coffee from the neighboring cafe. Their outdoor seating area lets you soak in some rays while you chow down.
2530 North Shore Road
How does a decadent brunch on the lake sound?
The Fork is located steps away from Lake Whatcom. They're known for upscale dinner dining, but some argue their brunch takes the cake. The restaurant is committed to using quality, local ingredients, giving their seemingly simple dishes a flavorful twist.
The fancy-meets-casual romantic ambiance of their indoor dining room extends onto their patio where you can enjoy the sun and sounds of nature while savoring a locally-sourced meal.
521 Kentucky Street
Perhaps Bellingham's most popular brunch spot, Homeskillet, has been serving legendary sweet and savory dishes in the Sunnyland neighborhood since 2012, after owners Tina and Kirby White spent years cooking for crews of researchers in Antarctica.
Finding a table inside can be tough since the operation is quite small – parties more than four are discouraged – but they recently opened a seasonal outdoor area where you can seat yourself. Now, you can order a beastly breakfast burrito or personal cast iron skillet full of home fries from the spacious outdoors.
1308 11th Street
When it comes to brunch, Fairhaven has it down. Skylark's is among their standouts, serving classic fare in a funky-chic venue that feels simultaneously antique and modern. There's plenty of outdoor seating to enjoy the hustle and bustle, or lack thereof, in the heart of Fairhaven. The restaurant features an in-house bakery too. You simply can't skip ordering a gooey homemade cinnamon roll to go.
1208 11th Street
Gorgeous summer views aren't hard to find in Historic Fairhaven and the patio at the Colophon Cafe is one of my favorite spots to enjoy them. Nestled next to the serene Village Green and buzzing Village Books, this spot is the perfect addition to a lazy Fairhaven Sunday.
The Colophon Cafe has been serving hungry visitors since 1985. The award-winning cafe is a sunny spot for a light brunch or espresso. Homemade quiche and decadent baked goods are just a few customer favorites.
133 East Holly Street
Come for the mom-and-pop charm, stay for the hash browns. They're the house specialty at this breakfast-only joint in downtown Bellingham, but The Little Cheerful offers a little bit of everything if fried potatoes aren't your jam. With their menu, you can't go wrong. Pancakes, eggs benedict, omelets – oh my! They also have soup, sandwiches and salads for those looking for a savory meal. Reminder: they don't accept plastic, so bring cash or visit the nearby ATM beforehand.