Whether you're new to Whatcom County or a longtime resident, there are certain annual events you just have to attend. One of those events is Lynden's Northwest Washington Fair.
It's a glorious bastion of funnel cakes and frivolity, of magicians and Moo-wiches, of demolition derbies and carnival rides. In the bright heat of the day or the cooling ambience of night, the Northwest Washington Fair plays host to everything most loved about a county fair, and draws around 200,000 visitors each third week in August.
This year's fair, the 108th edition, will be held August 13 to 18, featuring a new carnival and grandstand acts including former Poison front man Bret Michaels and nationally-renowned comedian Jeff Foxworthy. Jim Baron, fair manager, says variety is one of the event's hallmarks.
"There is just something for everybody," he says. "The fair is a reflection of the community."
The new carnival set-up is courtesy of Funtastic Traveling Shows, the region's largest carnival ride and game provider. More than three million people, from Puyallup's Washington State Fair to Salem's Oregon State Fair, enjoy the company's carnivals each year. Baron says there'll be a new layout and some new rides compared to past fairs, and the children's carnival will be closer to the main carnival, allowing its former location to become an additional parking lot.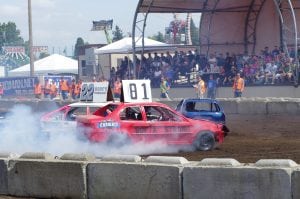 This year's Bank of the Pacific Grandstand Entertainment Series has amazing acts every night. Things kick off Monday, August 13 with the demolition derby, held at 12:30 and 7:30 p.m. to ensure everyone gets their fill of vehicular carnage. The Lynden PRCA Rodeo brings professional cowboys to compete in bull riding, steer wrestling and many more competitive events on August 14 and 15, with shows at 7:30 p.m. each day. Children 10 and under are free to the rodeo.
Bret Michaels, former lead singer for rock band Poison and star of the hit reality show "Rock of Love," takes the stage on Thursday, August 16 at 7:30 p.m. He'll join the ranks of memorable grandstand performers like Huey Lewis, Chicago, Weird Al Yankovic, Ted Nugent, Willie Nelson, Johnny Cash and Trisha Yearwood, whose 1997 appearance featured an unannounced guest at the all-time height of his popularity: Garth Brooks.
The weekend brings a stellar performance from country music duo (and brothers) High Valley on Friday evening, and Saturday features comedy from the man who acknowledges that, yes, you might be a redneck: Jeff Foxworthy.
There's plenty to be found outside the grandstand and carnival grounds, too, including at the Banner Bank Festival Stage. Performers will include magician Louie Foxx and the trip-roping, joke-telling antics of Karen Quest. Also, be sure to catch the Wenatchee Youth Circus, which returns this year with high-wire and flying trapeze artists, fire acts and aerial feats. The Silver Reef Hotel Casino Spa Beer Garden Stage, new this year, will feature live music each evening from 5:00 to 7:00 p.m.
There are also free events for all ages, including horse shows and – for fans of the film "Frozen" – Elsa and Anna will be meeting children the last three days of the fair. Local farmers, 4-H participants and FFA youth will exhibit hundreds of animals, including cows, horses, pigs and sheep. There's also live poultry, rabbits and other furry critters to be seen, and endless exhibits to check out, including those for art, quilts and numerous hobby collections of everything from die-cast cars to patriotic guitars.
Food vendors never disappoint, offering unique and popular local choices from poffertjes (sweet and fluffy Dutch mini-pancakes) to roasted corn on the cob to Moo-wiches, the cookie ice cream sandwiches sold every year by the Whatcom County Dairy Women.
The fair will also pay tribute to those who've served our country, marking Wednesday as "Armed Forces Day." Active duty, retired and veteran military members receive free fair admission, along with spouses and children. Several special programs will honor those who've served, including a tribute prior to Wednesday's PRCA Rodeo grandstand show.
Hassle-free parking is always on fairgoers' minds and Baron says there are several free parking lots to choose from. For those worried about long walks to and from their vehicles, a continuously running shuttle bus stops at several lots to whisk people to and from the fairgrounds.
Whatcom Transportation Authority has also stepped up, offering free fares for nearly all routes August 12 through 18, including the fair-bound Route 26. A special 10:00 p.m. return bus will depart across the street from the fairgrounds, making stops at WTA's Cordata Station and WTA's downtown Bellingham station. In other words, there's no reason to leave early.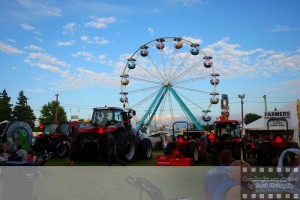 So, ride the Ferris wheel. Eat some ice cream. Take in a show. The Northwest Washington Fair isn't to be missed.
Gate admission is $13 for adults, $11 for seniors (62 and older) and $8 for youth (ages 6 to 12). Children age five and younger are free. Discounted tickets are also available until Aug. 12 at Whatcom and Skagit County Haggen locations, Whatcom County Peoples Bank branches, and Whatcom and Skagit County Little Caesars stores. Gates are open each day from 9:00 a.m. to 10:00 p.m., with carnival hours running 11:00 a.m. to 11:00 p.m. Carnival Wristbands are accepted only until 10:00 p.m. After 10:00 p.m., fair attendees can use carnival tickets to ride until closing. For more information, visit nwwafair.com.