One of Maureen McCarthy's favorite stories is from a colleague, who was riding the bus on a hot day. Everyone seemed to be tired and stressed. A baby was crying loudly, adding to the tense atmosphere, when a man got on. He looked somewhat intimidating, with tattoos, multiple piercings, and low-riding pants. He started making silly faces at the baby, surprising her into quieting down. He kept making the baby laugh, breaking the tension. Soon everyone was laughing and the mood was lifted. These kinds of things happen every day on the bus, McCarthy says; experiences with people who wouldn't normally have the opportunity to meet.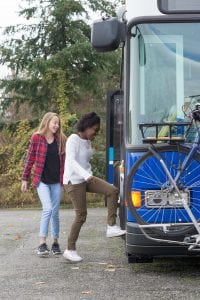 McCarthy is the Community Relations and Marketing Manager at Whatcom Transportation Authority (WTA). She believes these instances create a sense of community, reminding us to stop and get to know each other. Making connections with people in town isn't always easy and our culture can be isolating; many of us go days without interacting with new people. The bus is a way to slow down, notice those around you and make connections. We're united through our human experiences and riding the bus brings us into a shared space. It's also a great way to enjoy the ride: read a book, look out the window and become part of your community.
WTA is giving new riders a chance to try the bus with Free Fare Week. This event is held during the week of the Northwest Washington Fair from August 12-18. During this time, every ride is completely free with the exception of Route 80X to Mount Vernon.
Bus routes are available throughout Whatcom County. Jump on for a ride and enjoy the countryside. On a regular day, all fares are only $1. Passes are available for $25 and cover all rides for 31 days.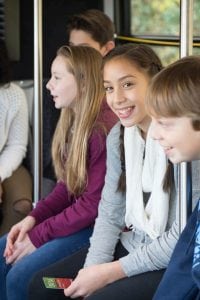 WTA has also added a special bus time for those who would like to stay at the fair late. A 10:00 p.m. bus is available from the fairgrounds in Lynden to Cordata station. Park your car at the Cordata bus terminal for free, then catch a free bus to the fairgrounds, eliminating traffic, parking and fees.
Busses can be taken to parks, lakes and bike trails throughout the city. Go lines are easily identified by color and are available throughout Bellingham. Along these lines, busses arrive every 15 minutes, preventing long wait times. Take the kids to the lake for the day. Or throw your bike on front for a ride on a new bike trail.
"Children love the bus," says McCarthy, who has worked for WTA for 16 years. "For them, it's an adventure." They like to look out the giant windows, which are low enough to easily see out of. They like to watch the doors open and close, and all of the different people get on and off. Riding the bus is exciting.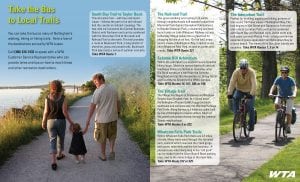 McCarthy describes the bus as a community place where people look out for each other. Kids often ride the bus expecting to find a parent or friend at a certain stop, she says. Every now and then, it doesn't work out as expected; children get lost or get off on the wrong stop. When this happens, the driver calls other WTA staffers and supervisors. Everyone steps in to help. They're always successful, working together to make sure the child ends up where he or she needs to be. This is a safe community environment where people look out for each other, McCarthy says proudly.
McCarthy rides the bus past the humane society every day on her way to work and enjoys seeing new pet owners take their pets home for the first time in their approved pet carriers. Everyone usually gathers around to look at the pet and share the excitement with the proud new owner.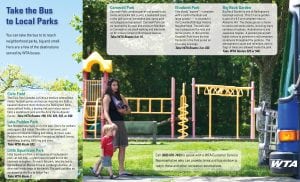 Travel planning is easy with the route planning tool on the WTA website. Just visit the page and put in your address, final destination and the time you'd like to leave. The route planner will give you a breakdown of which lines to take, where the bus stops are and your arrival time. You can also call 360-676-7433 during business hours and a WTA representative will help you schedule your trip in person, while answering any other questions that may arise.
Relax, enjoy the ride and meet new friends along the way. Life is about the journey.
Whatcom Transportation Authority
360-676-7433
comment@ridewta.com
Sponsored