Each year, millions of people struggle to find or afford healthcare services in America. The reasons are many, including being uninsured, geographically-isolated or simply unable to afford rising co-pays, premiums and deductibles. Some face language barriers and cultural differences that make the care they need difficult to obtain.
But community health centers like Unity Care Northwest can help, providing affordable medical care to those in need and increasing years of healthy life in the people and communities they serve. After more than 30 years of helping Whatcom County residents with primary medical, dental, behavioral health and pharmacy care, Unity Care continues to expand while working hard to meet the growing needs of its patients.
Desmond Skubi, Unity Care's executive director of nearly a decade, says the healthcare provider will see about 95,000 visits this year from about 21,500 people.
"It's really exciting what we're able to do and I'm very grateful," Skubi says.
Removing Barriers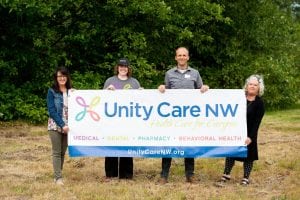 Community health centers were established in the 1960s as part of President Lyndon B. Johnson's War on Poverty. Today there are about 1,500 centers nationwide, including 25 in Washington that serve one out of every six residents.
Unity Care's story began in 1982, when healthcare and social services were severely cut during the first Reagan administration. A coalition of local churches and other concerned citizens formed, examining how they could work together to meet needs no longer provided for by government services. They created a referral center to find people in need of medical and dental care, and get them into the private practices of healthcare providers, many of whom were congregants. Over time, the need began outweighing what volunteers could handle and, in 1987, Unity Care became a direct provider of services.
Today, Unity Care Northwest has healthcare locations in Bellingham, Ferndale and Point Roberts, and employs about 250 full-time equivalent employees. In addition to primary medical, dental, behavioral health and pharmacy care, Unity Care offers social-based services like case management and outreach and enrollment.
Unity Care's outreach and enrollment team helps people enroll in programs they're eligible for, including those under Medicaid and the Washington Healthplanfinder. They're a non-profit medical provider overseen by a board of directors, the majority of whom use Unity Care's services, enabling board members to better understand what's working and what needs improvement.
Skubi began working in community health centers in 1982 and sees Unity Care as part of a nationwide movement toward a specific approach to healthcare. He first set foot in a community health center at the Rosebud Indian Reservation in South Dakota.
"The moment I walked into a community health center, I said 'This is the kind of healthcare that I believe in,'" he says.
How Unity Care Operates
For those who rely on Medicaid while receiving services, Unity Care is reimbursed the approximate cost of care. That's significantly better, Skubi says, than what many private providers receive for the same services. However, for that improved reimbursement rate, Unity Care must offer equal access of care, regardless of a patient's ability to pay. To help patients afford care, Unity Care uses a sliding-fee scale discounting their services according to household size and income. Those with household income below 200 percent of the Federal Poverty Level are eligible.
"We have to have some way of covering the difference between what the patient pays and what it actually costs to provide services," Skubi says. "And that's where grants and charitable contributions come in."
Those grants and contributions have been fairly stable in recent years, although the manner in which they're used has changed thanks to the Affordable Care Act. When new insurance options became available under the ACA in 2013, 16 percent of Unity Care's visits were from uninsured people. By 2017, that number had shrunk to 7 percent. Getting more people insured created an additional revenue stream.
That means grants and charitable funds underwrite fewer visits, allowing that money to be used on expanding services. Because adult dental isn't covered under the ACA, Unity Care is now expanding their dental service with a new 12-chair clinic in Ferndale.
"It is truly the Affordable Care Act that is allowing us to grow and expand services," Skubi says. "Were the ACA to be repealed or replaced, we could not sustain what we're currently doing, let alone expand the services that we're planning to do out in Ferndale."
Looking to the Future
The current Ferndale clinic opened in 2007, providing medical, dental and behavioral services. It's only 3,400 square-feet, with just two medical and dental specialists. This June, Unity Care began construction on a new 23,500 square-foot clinic on Portal Way, set to open in June 2019. It will serve all of North Whatcom County and provide everything its Bellingham locations have, including lab and pharmacy services.
But even with the expansion, meeting the county's dental needs remains problematic. There are about 54,000 low-income adults in Whatcom County, Skubi says, and only about 9,000 currently receive dental care. While the Ferndale clinic would add an additional 4,000 potential patients, that still leaves over 40,000 people unable to access care.
"One of the things you have to decide as an organization is: If the need is that overwhelming and large and you can't serve everybody, how do you decide who you do serve?" Skubi says.
Unity Care has to make decisions about how to use limited resources to improve the oral health of its communities. One way is by serving the county's pregnant women in order to help prevent cavities in their offspring.
According to Skubi, if a mother has untreated cavities, the bacterial infections that create those cavities can be passed along to the child. When the baby's teeth sprout, that bacteria acts upon sugars the child ingests, creating acid that attacks tooth enamel and leads to cavities. So, treating a woman's dental issues before she gives birth can also help her child's future dental health.
Overall, Unity Care acts as a full "healthcare home" for its patients. This means as long as patients establish primary medical care through them, they have access to all Unity Care's extensive services. And that's important, Skubi says, because looking after a patient's health shouldn't be about just solving one particular issue.
Behavioral health serves only those who choose primary medical care from Unity Care, but dental services are open to people who don't have primary care with Unity, including: pregnant women, children, parents of children already in Unity Care medical or dental, those with HIV and walk-ins for anyone with pain and swelling due to acute dental issues. Pharmacy services are available to Unity Care patients.
"Our effort is really to provide a more global and comprehensive approach to a person's health," Skubi says.
It's all part of the approach that community health centers like Unity Care NW take with the health of their patients, no matter who they are and what help they need.
Sponsored