Nothing compares to waterfront dining on a beautiful summer evening. The meal is enriched by the setting sun, a slight breeze and a blue ocean vista stretching toward the horizon. There's no better way to enjoy delicious food and thirst-quenching beverages.
The al fresco dining experience is available all summer at Hotel Bellwether's Lighthouse Bar & Grill. Considered one of Bellingham's true treasures, dining on the Lighthouse's patio is an enjoyable – and flexible – experience.
"You can have any kind of dining experience you want on the patio," says Rachel Reneer, restaurant manager. "You can come in and just have some clams and a glass of wine, or you can come in and do a three- or four-course dinner."
The Lighthouse relies on locally sourced ingredients whenever possible and its menus are expertly curated by executive chef Michael Grogan. The dinner menu includes hand-cut steak, rack of lamb, blackberry- and coriander-glazed duck breast, and fresh wild Alaskan salmon and halibut. The seafood risotto is a classic best-seller. And for vegetarian visitors, one of the menu's new, out-of-this-world dishes is the saffron falafel and grilled watermelon.
The Lighthouse Bar & Grill offers patio-only summer specials, including a bucket filled with an entire pound of fresh Dungeness crab. It arrives at your table with drawn butter, cocktail sauce, lemons and – of course – crab-cracking utensils. It's available for $27, with an additional cluster of legs for another $13.
While the patio provides a full outdoor dining experience, the dining room also offers waterfront ambiance. Recent changes allow the restaurant's windows to open toward the Waterfront Terrace, with views of Bellingham Bay and surrounding sights.
"We have just an unbeatable view and setting," says James Kozanitis, Lighthouse Bar & Grill's sales and marketing assistant.
Kozanitis helps organize the popular "Blues, Brews and BBQ" nights, held every Thursday from mid-June through mid-September on Hotel Bellwether's Waterfront Terrace. The cover ranges from $7 to $10 depending on which band is playing. Patrons can grab drinks, including local craft beers, at the bar starting at 4:30 p.m. before enjoying a host of barbeque options. Cooked over all-natural mesquite lump charcoal, options include ribs, burgers, brats and several seafood varieties. Bands play from 6:00 to 9:00 p.m., filling the waterfront with music while up to several hundred people dance the night away.
The Lighthouse also has a terrific happy hour each Tuesday to Saturday from 3:00 p.m. to close in the restaurant's Sunset Lounge and on the outdoor patio. All glasses of wine and craft beers are $1 off. On Mondays, happiness has no limits, as happy hour lasts all day long.
As for summertime cocktails, there are many to choose from. Reneer suggests trying the Bee's Knees: a mix of BelleWood Acres gin, honey and fresh lemon juice, shaken and served with a lemon swath. Also appealing for summer palettes is Odin's Shandy: a Chuckanut Brewery Kolsch mixed with house-made hibiscus syrup and lemon juice.
Every Wednesday from 3:00 p.m. to close is Ladies' Night, with wine and appetizer pairing specials, as well as happy hour cocktails.
The Lighthouse Bar & Grill offers several menus to choose from.
The lunch menu is served daily from 11:00 a.m. to 3:00 p.m.
The dinner menu is served daily from 5:00 to 9:00 p.m.
Breakfast is served Monday through Friday from 7:00 to 11:00 a.m.
Enjoy an excellent brunch on weekends from 7:00 a.m. to 3:00 p.m.
The lounge menu is available from 3:00 p.m. to close.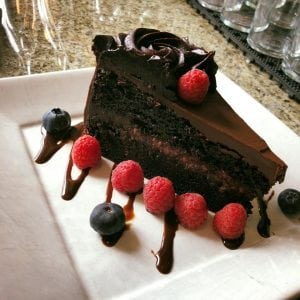 Weekends also feature live music, with relaxing piano and guitar-based tunes on Friday and Saturday nights in the Sunset Lounge. Local jazz groups perform at 4:30 p.m. on Sundays, always drawing a healthy crowd.
The Lighthouse Bar & Grill offers one more surprise to its list of dining options: a luxurious, European-style wine cellar and dining room, located downstairs from the lounge area. Furnished with imported Louis XIV-style chairs and a mahogany-stained table, the 300-square-foot room accommodates up to 14 people. This space is perfect for private and elegant occasions, surrounded by a truly impressive selection of wines.
So, whether you're looking for a memorable meal or a waterfront respite, the Lighthouse Bar & Grill has something for everyone. Summer is the best time to stop in and see for yourself.
Sponsored