Atwood Ales is cool. Owners Josh, Monica, Stephen and Leslee Smith brew beer out of their family's 100-year-old farmhouse in Blaine. The northernmost brewery in the contiguous United States, the farmhouse brewery is also the oldest and first to operate out of Blaine. Want to see for yourself how cool it is? Don't just take my word for it – pay them a visit.
Previously closed to the public, the Smiths recently decided to offer tours of their location. The farm, which has been in Josh's family for over 30 years is picturesque, well-kept and home to some of Whatcom County's best beer.
Following the tradition of farmhouse brewing, Atwood Ales brings together styles of brewing from Northern France, Western Germany and Belgium to the Pacific Northwest. And now, you can see it all up close. You'll learn how Josh brews the beer from step one until it's poured in your glass.
The tour consists of three parts: the farm, hop yard and brewery. And, you'll even get to sample three beers along the way. After the tour is finished, you can purchase bottles of Atwood Ales' beer to take home and share. Tours are free and take place once a month on Sundays, with sessions at 1:00 p.m. and 3:00 p.m. The first 20 people to sign up get to participate.
The 1:00 p.m. time slot on July 22 still has some space. The next available tour date is August 14.
The Smiths plan on hosting tours throughout the year so guests can witness the brewery in all seasons of operation. "I'm excited to do the tours year round," Josh says. "People will get to see how everything around the farm and brewery changes. A tour in summer will be completely different than one we give in the winter."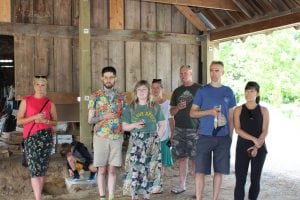 As if brewery tours couldn't get any better, Sabi and Coco, Josh and Monica's dogs, are honorary tour guides. Sabi (named for her sable-colored coat) and Coco (for her black fur) are boisterous, fun and just as excited about the beer as their owners.
Although the front end of the farm is covered in apple, peach and cherry trees, beer is the only commercial product on the farm. Josh grew up there and his dad, Stephen Smith, continues to care for all the fruit and vegetables scattered throughout the property.
As we walk by a cherry tree, Josh laughs and says, "Birds planted this one, not us. But we picked cherries from it and put 90 pounds of cherries into one of the new beers we're making."
Once you pass the various garden plots and assorted fruit trees, you get to the hop yard; the source of Atwood Ales' excellence.
The hop yard contains five different varieties: Tettnang, Cascade, Willamette, Nugget and Centennial. Atwood grows 60 to 65 percent of the hops they use in their brews. A field of buckwheat is conveniently planted next to the hops, which Monica says they're planning to use in the future. "Eighty-five percent of our grain comes from Skagit Valley Malting with the remaining 15 percent being imported from Belgium and England." They're also thinking of adding to the amount of hop varieties they grow.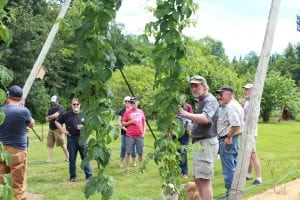 On August 10 and 11, the hop yard will play host to an extra special event. Chef Todd Martin of Hundred North will host a locally sourced multi-course tasting menu accompanied by five Atwood Ales beers.
In addition, come late August or early September, Atwood will host their second annual Hop Harvest Party. During the hop harvest, attendees will harvest hops and be treated to a few free beers and lunch, courtesy of the Smiths. "Folks who take part in the free tours and hear about the hop harvest parties are all excited to return and help out," says Monica.
Just like the hop harvest, the beer at Atwood Ales is all about collaboration. Josh and Monica have worked with breweries such as North Fork Brewery, Boundary Bay Brewery  and Urban Family to come up with collaboration beers. The breweries work together to gather all ingredients and brew the beer.
The Alien Fingers mushroom saison features reishi mushrooms from Cascadia Mushrooms. Idaho Pale Ale is made with real potatoes from Bedlington Farms. These are both downright delicious. Both are collaboration beers from Atwood Ales and North Fork Brewery.
So why not be the next to collaborate? Sign up on Atwood Ales' website to secure your place for their monthly brewery tours and grab a spot on the 2018 Hop Harvest Party.
Sponsored