Limitations only exist if you let them. Optimize your body. Unlock your potential. Redefine life lived in your body.
If you're a member at Flex Movement Lab, you may be familiar with these ideas and their benefits. So what is a movement lab? In a nutshell, it's a unique blend of functional fitness modalities including yoga, clubbells, kettlebells, resistance and mobility training, helping clients achieve long-lasting physical and behavioral changes. The client stories below may give you more insight into why and how this transformation happens:
Putting Away the Pain
Tyson Oreiro, a 38-year-old local fisherman and competitive tribal canoer for Lummi Nation, wanted to get back to an active lifestyle. He wanted to enjoy playing ball with his son again and for that to happen, the pain had to stop.
He had suffered a debilitating back injury a few seasons ago while working as a commercial fisherman. The injury uncovered a deteriorating condition requiring five reconstructive surgeries and a year of bed rest. Afterward, Oreiro found himself on painkillers and a liquid diet. The constant pain and extreme inactivity took its toll: he felt pain from his neck to his ankles and gained 75 pounds.
No matter what Oreiro did, he found it impossible to get his body back. But when he found Flex Movement Lab – the Ferndale-based functional fitness and movement lab specializing in clubbell yoga – his body and life got better.
Clubbells (essentially weighted clubs) have been around for centuries, dating back to the Pelwani Warriors of India. They were brought to the Western world by the British army, and were even featured in the Olympics in the early 1900s.
Summer Huntington is the founder of Clubbell Yoga, a combination of traditional asana with the addition of small, weighted clubs. She was influenced by her coach, Scott Sonnon, the founder of RMAX International and circular strength training (CST).
When Oreiro started clubbell, he'd never taken a yoga class in his life. But after trying it, he quickly became obsessed. The results helped him get his life back.
"I went from a guy who couldn't put on his socks without being in pain, to a guy who's never been physically stronger and more flexible," he says. Not only that, but he's well on his way to losing all that extra weight and has already trimmed four inches off his waistline.
Perhaps one of the best parts of this success story is that while Oreiro trains to improve his health and life, his son is right next door at West Coast Fight Club taking a kids' Mixed Martial Arts (MMA) class. It's offered at the same time as adult fitness so that both kids and adults can engage in creating healthy life patterns.
Oreiro looks forward to advancing his training with Flex Movement Lab's engaging and well-educated instructors, who know how to push and encourage you while still respecting your pace.
"We're here to learn about our bodies and how to work and strengthen them," he says. "In my mind, these classes are about discovering a lot about yourself and improving your own quality of life."
Benefits for All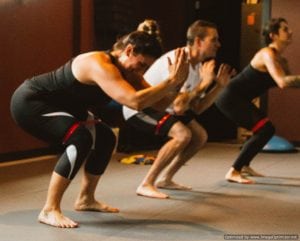 Weight-lifting can also cause issues people can struggle to overcome. Bethany Lauren was one of those people.
About five years ago, she was a consistent gym-goer, doing heavy-lifting and cardio. She had no interest in yoga or group fitness classes. But while dead-lifting one morning, she felt a sudden tweak in her back. She finished lifting, then did a 10-hour work shift.
When she sat down that night, she realized she couldn't stand back up. The lower half of her body refused to move and she felt excruciating pain. Lauren was suffering from temporary paralysis caused by nerve damage in her spine, the result of dead-lifting with incorrect form.
It was several weeks before she hit the gym again and she found it slow-going. Lauren could barely walk on a treadmill and found it hard to accept her slow recovery.
"I realized that I had done some serious damage to my body," she says. "I never wanted to put myself in that position again."
Re-thinking how she worked out, she talked to her good friend and clubbell instructor, Huntington. She decided to try the classes and soon noticed her strength, stamina and endurance increasing with each practice.
She was so impressed by the changes in her body, she pursed a teaching certificate and found a passion for power yoga. She is now Flex Movement Lab's head clubbell yoga instructor and a firm believer in what it can do.
"It truly doesn't matter what you are into," she says. "The benefits that you will experience from this practice will not only add to your life but will strengthen it."
Clubbell Strong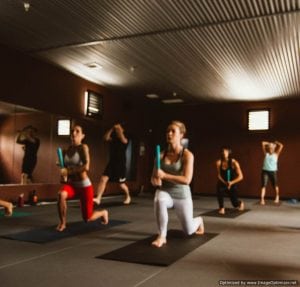 Nick Hanlon was tough on his body over the years. He rock-climbed, downhill mountain-biked and skied, among other activities. The results were breaks, separations, concussions and multiple dislocations. In addition, an old high school injury nagged at him.
Hanlon took to keeping a low profile, building up his own video production company, 1123 Productions. He did basic exercises to stay in shape. But when he was introduced to clubbell yoga, Hanlon began working on his then- limited motion and overall mobility.
Clubbell yoga quickly became part of his regular fitness routine. The aches, pains and creaking have substantially decreased. The best part is the incredible range of motion he now enjoys, which also makes his muscle mass more functional.
"Now that I've experienced the effect of continuous clubbell work, I use it as a means to make the muscle mass I gain at the gym actually useful, instead of just large and stagnant," he says. "My goal right now is to make my body an active functioning tool again instead of a walking package for my brain to use for work."
In addition to clubbell yoga, Flex Movement Lab offers additional classes including strength training, mobility body weight conditioning and resistance band workouts.
Ellie Margulies, Flex Movement Lab's owner, says her lab's classes are about redefining what it means to live life in your physical body, feel fantastic in your own skin and actively participate in all life has to offer.
"Our bodies are like walking scrapbooks of injuries' past, limitations we have learned to live with and compensate for," she says. "By removing those limitations, it allows you to turn your body into the functional tool it's meant to be. That is the optimal goal."
Their website further educates on this philosophy:
"We know that life happens outside the parameters of the squat rack and that no one got hurt because their muscles weren't pretty enough. People get injured in everyday life, tying their shoes, putting the kids in the car, lifting a tool overhead, due to imbalances in the kinetic chain, weak connective tissues that were not developed properly, tendons and ligaments neglected in favor of isolated movements that overly-develop what society has deemed the 'attractive' muscles."
Clients don't need previous experience in yoga or fitness to take classes, Margulies says. As long as they have an open mind and willingness to learn something new, the sky is the limit.
"And don't worry; the pretty muscles still show up the same, just with greater function," Margulies says.
For more information on how these classes can help transform your body and life, visit Flex Movement Lab's website.
Sponsored