Upon entering Flow Motion, guests are kindly asked to leave their shoes in the entrance, already instilling a sense of comfort. Walking through the front door brings you to an open room with cozy seating areas filled with fireplaces, cushy sofas and glowing Himalayan salt lamps. Three pink Himalayan salt panels on the wall add to the soothing decor.
Owner Alyssa Springs wants to turn this into Whatcom County's first Himalayan salt cave, a man-made room fully enveloped in salmon-colored salt walls, natural salt bricks and a crushed salt floor. "It's not just for relaxation," Alyssa emphasizes. "It's not just for stress management. It also serves a therapeutic purpose."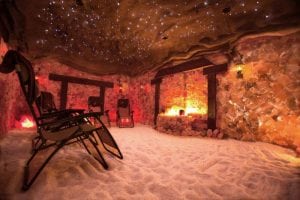 Historically, Himalayan salt caves have been used for deep relaxation and to holistically treat asthma and other respiratory issues.
The salt cave will house a self-contained saltwater waterfall and a halotherapy generator, which emits therapeutic salt-infused, ionized air. Halotherapy significantly reduces inflammation in your respiratory airway. There will be yoga workshops and open relaxation time in the cave, too.
Alyssa and her students hope the salt cave will make Ferndale a destination and boost local business. The nearest Himalayan salt caves are north in Vancouver, B.C. and south in Bellevue.
Flow Motion is avoiding increased membership costs by funding the project through community members. They successfully raised more than $50,000 in 40 days and plan to open the feature in January 2019, just in time for the studio's fifth anniversary.
This is just one of Alyssa's visions for her health facility, many of which she has already adopted. Not only can you experience yoga and massage therapy at Flow Motion, you can find serious stress relief and a welcoming community. "It's easy to list the things that we sell, but it's hard to say what we're doing at the foundational level," she says. "We're trying to deeply affect lives and help people heal, to give them a space to connect with people. This is your place to escape, to get away, to recharge your batteries and just hang out and learn to do nothing. I call it a sanctuary."
Flow Motion offers the relaxing refuge everyone needs. Their blissful space encourages everyone to leave the stress of daily life at the door.
You're even welcome to nap. "I love it when people fall asleep here," Alyssa says. "I consider that a success." She calls it the ultimate expression of relaxation.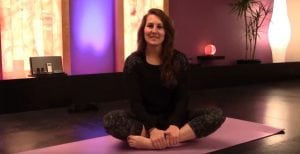 The studio uses personal aromatherapy to bring the feeling of Flow Motion home. Not only do the scents smell great, they will re-trigger your brain into a relaxed state. Their free essential oil class helps people incorporate natural wellness into daily life.
Alyssa says most of her students live in Ferndale, but many come from surrounding areas like Bellingham and even Burlington.
People are often attracted to the studio for its yoga and fitness classes. Flow Motion offers infrared hot yoga, Pilates and various other health classes like Zumba. Yin, a slow-paced form of yoga focused on deep stretching, is a popular choice.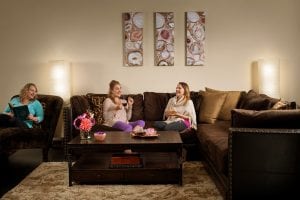 Some students come to Flow Motion because of traumatic life experiences. Alyssa recalls students that, slowly but surely, began to heal through classes, community and support system. "There are people with deep stories," she says. "They go through divorce, they're going through traumas in their life. Then there's the everyday stress. For them to have that momentary sense of peace where they aren't physically suffering from their emotional pain for just an hour- that's what I'm trying to do."
The Flow Motion community holds an open hiking club, where students and friends challenge themselves together on Whatcom County trails. A co-working lounge allows members to bring laptops, have a cup of tea and work comfortably from a heated massage chair in a group setting. Their monthly book club brings community members close and forms positive relationships.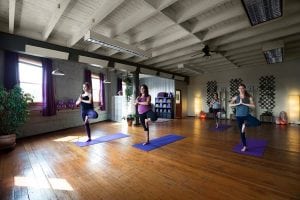 Flow Motion is distinctly unique. They don't want to rush relaxation. They want to foster wellness. "I'm not interested in owning just a spa," Alyssa says. "I don't want to have customers come in, pay and leave. I want to get to know people. I want relationships with these people and I want people to have relationships with each other."
You can become a Flow Motion member through their website or by visiting their Main Street location. You can also enjoy experiences à la carte, purchase punch cards or get a day pass.
They offer an "energy exchange" program for those unable to pay for a membership. People can help out a few hours a week, doing things like washing teacups and dusting, in exchange for services.
Flow Motion
1920 Main St #19
Ferndale
360-393-8829