In a time of seemingly endless technological distractions, from social media to streaming video content, there are still places where the old-fashioned idea of "playtime" is alive and well – where the beckoning blue light of electronic screens can't be found.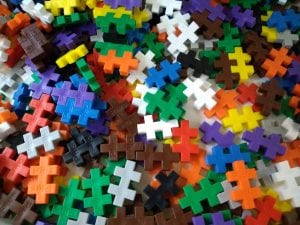 One of these places is Launching Success, a learning-based toy store that's been part of the Whatcom County community for 15 years.
Jen Zimmermann, in her fifth year of store co-ownership, encourages both parents and children to more frequently disconnect from their devices and re-connect with each other. "I feel like, sometimes, families don't always know what to do with each other anymore," she says. "If we're not engaging in some kind of technology or media, then what do we do together?"
Fortunately, Launching Success has a plethora of solutions. The store is filled with non-electronic options, from science and slime kits to hand puppets and crafts. "Our focus is quality play," says Zimmermann. "How do you encourage quality play? How do you empower kids through these toys, not technology?"
Change in Play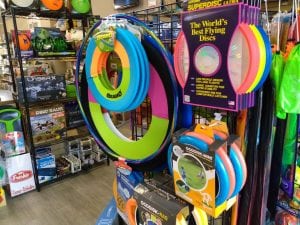 Zimmermann says the widespread use of social media and smart technology seems to be reaching a younger and younger audience, as compared to a decade ago. If children use that technology often enough, in lieu of face-to-face interaction, it can cause issues. "You're not engaging with someone when you're on your phone," she says. "You're watching things, listening, but you're not engaging back and forth."
Zimmermann has parents come into the store saying their children are struggling in school, unsure of how to behave in social situations or how to adequately understand their own emotions. Even among her employees, the youngest seem less likely to answer the store phone when it rings; they're accustomed to texting as their primary form of phone-based communication.
Although technology has given us the ability to interact far more and over greater distances, it still hasn't changed the need for humans to understand one another in face-to-face situations. "It's a shift in play and a shift in learning," says Zimmermann of more frequent technology use among children.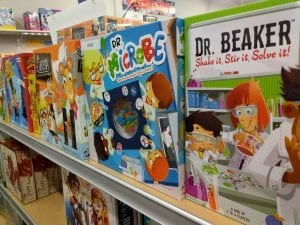 As a mother of three, with kids ranging from age 10 to 20, Zimmermann has noticed behavioral playtime differences between her oldest and youngest daughters. When her college-aged daughter was 10, screen time was less ubiquitous. Her daughter had one hand-held electronic device: an iPod.
Today, Zimmerman's 10-year-old has three devices: a Kindle Fire, her mother's old tablet and her older sister's iPod. She's sometimes more apt to engage with her tablet than with other people. To overcome this tendency, Zimmermann encourages her daughter to play outside and engage in activities with her, even if it's just kicking a ball around the yard.
Her daughter enjoys plenty of non-digital activities: she likes bike riding, playing with Legos, doing arts and crafts, and helping her mom garden. She recently finished painting a wooden bird feeder for the backyard. "We want kids to be problem-solvers and creative thinkers," Zimmermann says. "We want them to come up with solutions on their own by using something other than an electronic device."
Ways to Play
Zimmermann has many suggestions for old-fashioned family playtime:
Play a card or board game with your children
Go outside and throw a Frisbee
Fly a kite
If you're a bit older, show your grandkids the art of playing with a "foxtail softie," a foam ball with a nylon tail that's very fun to throw around
Take a walk by the water or in the woods
No matter what you do, the point is to spend quality time interacting with your children. Give them opportunities to engage with you, allowing them to work on their social, emotional and motor skills, all while having fun.
In addition to a vast array of "analog" toys, Launching Success also holds in-store events where children do arts and crafts and take part in games. For a non-electronic solitary activity this summer, children can sign up for the store's summer reading club. Parents can also request to receive mail-out quarterly toy catalogs.
For parents like Kim Howland, it's all more than enough reason to shop at Launching Success regularly. "The quality toys they offer encourage discovery, imagination, thinking and learning," she says of the store. "They offer the kind of toys that really add value to our playtime. That play value is very important to our family."
Launching Success Learning Store is located at 133 Prince Avenue in Bellingham, off the Guide Meridian. The store is open 9:30 a.m. to 6:00 p.m. Monday through Saturday, and 12:00 p.m. to 5:00 p.m. on Sundays.
Sponsored