More than 30 million people in the United States wear contact lenses – and the resulting waste generated can circle the Earth three times over every year. Unfortunately, the small plastic containers often get filtered out of municipal recycling centers and sent to landfills. Whatcom County contact wearers now have a solution. Binyon Vision Center is reducing waste by becoming a ONE by ONE Recycling Center.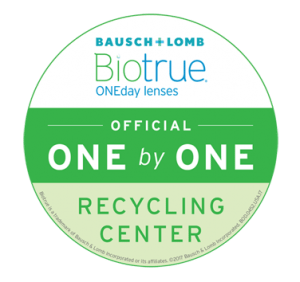 Binyon Vision Center has partnered with Bausch + Lomb, an eye health company, and TerraCycle to provide contact wearers a place to recycle opened blister packs, top foil, plastic and used contact lenses. "We take care of shipping everything and making sure it gets recycled properly," says Bruno. "It has come up for our patients as a concern since daily contact lenses do generate a lot of waste."
"Daily contact lenses are definitely the healthiest and most beneficial for patients' eyes in a lot of cases – dry eyes, allergies," says Caitlin Bruno, Binyon's office manager, "so it's nice that the environmental impact concern of daily contact users has an answer."
The solution came to Binyon Vision Center's attention through their Bausch + Lomb representative. Since the program's 2016 inception, more than two million used contact lens materials have been recycled through the ONE by ONE program, saving more than 14,000 pounds of waste.
And the benefits don't stop there. As a thank you for communities' dedication to "eliminating the idea of waste," for every qualifying shipment of two pounds or more, a one dollar per pound donation is made to Optometry Giving Sight, an organization dedicated to providing eye exams and glasses to impoverished nations. In April 2018, Bausch + Lomb reported that more than $14,000 had been raised for Optometry Giving Sight through the ONE by ONE program.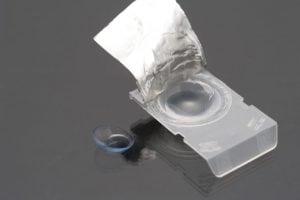 TerraCycle offers a range of free programs funded by conscientious companies, as well as for-purchase recycling solutions for almost every form of waste. They focus on helping people recycle hard-to-recycle items. Their free programs include food wrappers, drink pouches, Febreze products and, of course, contact lenses.
Once waste is received by TerraCycle, contact lenses and blister packs are separated by composition and cleaned. The metal layers of the blister packs are recycled separately and other components are melted into plastic that can be remolded to make recycled products.
"Because of hearing patients' concerns and our own concerns, it was a no-brainer to join this program," says Bruno, "You don't need to be our patients; if you've got a lot of contact lens waste, you're more than welcome to drop it by here too."
Binyon Vision Center recommends contact lens wearers place a separate waste receptacle close to where they insert and remove contacts. You could even double-down on your recycling skills and use an empty tissue container or shoe box. Go the extra mile for young contact wearers with a box-decorating party to celebrate your contribution to recycling.
Recycling contact lens waste is easy. When you open and insert a new contact, simply empty the saline solution down the drain and place leftover waste products in the dedicated (and possibly decorated) receptacle. When you're finished with your contacts, dispose of them in your container as well. You don't even have to clean contact lens waste before putting it in your designated container. Once your container is full, bring it to Binyon Vision Center for disposal.
Non-local contact users can find a ONE by ONE Recycling Center in their area or mail in waste by printing a free shipping label from Bausch + Lomb.
Protecting our communities and wildlife, and preserving the environment for future generations is important. And taking these small steps helps. Contact lenses are designed to help people see better. Help Binyon Vision Center make it a world worth seeing by recycling your contact lenses materials today.
Binyon Vision Center
411 East Magnolia Street
Bellingham
360-647-2020
Sponsored