Fairhaven's Solstice Senior Living has launched a Spotlight series to celebrate the lifetime achievements of their residents. Each quarter, one person is honored for their life's accomplishments – and the community can hear their stories. Colonel Sumner Scott was the first selectee in this new tradition, celebrated before an audience of his friends and neighbors for his years of service in the Civil Air Patrol and Navy.
Sumner gave a presentation in front of a wall displaying his pictures and certificates, sharing how he came to be a pilot. "I was learning to fly and one day in ground school the fellow I was sitting next to said, 'Have you ever heard of Civil Air Patrol? They have an airplane that you can fly; you only have to cover the gas.'"
Sumner needed a plane with which to practice. Without knowing exactly what the Civil Air Patrol did, he was ready to join. "That was my early motivation. Doesn't seem very noble, does it?" he says with a chuckle.
As a noncombatant arm of the Air Force, the Civil Air Patrol shoulders the responsibility of inland missions when airplanes go missing or are in distress. Civilian pilots are on-call, ready to help with search and rescue efforts. "It's an all-volunteer organization," Sumner said. "No one gets paid except in the satisfaction they get for serving their country. It's really dedicated to the public good."
On the night of Sumner's first Civil Air Patrol flight, he was awoken by a phone call detailing his mission. An airplane hadn't arrived at its destination. For each flight from an airport, a flight plan details their path. "They had a flight plan and hadn't closed it," Sumner said. "It would seem they were overdue, so you had to assume something went wrong."
As it happened, the story had a simple conclusion. "It was a small plane and the pilot put it away in the hanger and just forgot to close out his flight plan," Sumner said. "But every now and then it was the real thing and we saved some lives."
Pressed for the story of his scariest flight, Sumner recalled crossing the Atlantic to post at a base in Spain with the Navy. He was flying a large DC4 cargo plane. "We had extra fuel tanks in the fuselage because it was a long way to go," he recalled. "Somewhere along the way a tank sprang a leak and high-octane fuel was dripping out into the cabin for hours and hours. I kept looking at that drip, drip, drip thinking about how easily it could ignite. The plane could have gone up."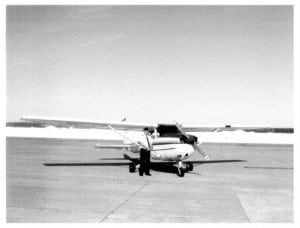 Sumner also shared more lighthearted recollections of his adventures. On a deployment to North Africa, Sumner's Navy unit brought over baseball equipment for an orphanage outside their base. They received an invitation to visit the orphanage and spent the day with teachers and children. "We were treated to a meal of couscous, which was typically eaten with your hands," he recalled as he pantomimed the motion. "They made it look so elegant. I had tried and just couldn't get the hang of getting it to my mouth without spilling it on myself." One of the teachers ended up taking pity on Sumner and brought him a spoon.
After completing his two years of active duty in the Navy, Sumner continued in the Navy Reserve and Civil Air Patrol for another 25 years. As a civilian, Sumner spent most of his life in Wisconsin, where he was a professor at the University of Wisconsin Eau Claire. He taught Physics and Teacher's Methods at the College of Education within the University.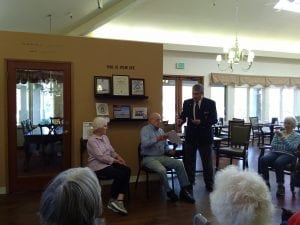 Sumner relocated to Bellingham a year and a half ago, following a traumatic car accident. "They wanted to keep a closer eye on me," he said, tapping the large scar on his head for emphasis. Now closer to his six children, who are scattered around the Pacific Northwest, Sumner also has the company of his partner in life who made the move to Solstice with him. "I have been exceedingly fortunate," he said for the second time. "My mother always said I was born under a lucky star. I think you should include that."
Sponsored