John "Westy" Westerfield had been home from the Army for a year when he went on his first elk hunt. Childhood friends urged him to explore an area they claimed was full of the prized ungulates.
They dropped him off outside Ellensburg, Washington, in the pitch dark, and told him to walk to a tree in the middle of the wilderness. He had never been to the area before, but did as he was told and ventured deep into the wilderness. He found the tree and waited for sunrise – only to realize he was in the middle of giant sagebrush prairie.
He'd been duped.
"I realized I'd been snookered," Westy says. "There wasn't a bush out there big enough to hide a rabbit, let alone an elk." He immediately decided to get his friends back by purposely getting lost, trekking further into the unknown. He figured his friends would grow concerned that their prank went awry and would try, in a panic, to find him.
He walked toward a nearby mountainside and noticed a gulley on either side. The gulley on his left contained an assortment of trees and brush; he knew if there were elk anywhere in this area, it would be here. Sure enough, an elk suddenly barreled out of the brush, and Westy immediately knocked it down.
After dressing his elk on the snowy hillside, Westy needed to find his friends. Intentionally getting lost felt like a good idea at first, but now he had an elk and needed the Jeep to haul it out. He hiked over one of the ridges and found his buddies; they retrieved the vehicle and grabbed the prize.
"That's my favorite hunting moment ever," Westy says from his office in Bellingham's Yeager's Sporting Goods. "These guys had been going to this spot year after year and never bagged an elk, but on the first hour, of the first day of my first elk hunt – I got one," he says with a hearty laugh.
A seasoned hunter and fisherman, Westy has had two stints with Yeager's: he started in the 1970s as a clerk, became an assistant manager, and stayed for 10 years. He returned to the business in 2009 to step in as store manager.
Yeager's turns an impressive 97 years old this August. The store has grown up with the Bellingham community and employed thousands of locals – some even put themselves through college while working there.
"Yeager's is our hometown store, and people still feel that way. Our relationship with the community is huge: we're actively involved and we love it," Westy says. "We provide a level of service you can't find anywhere else and service is what keeps you in business – people want to remember the service they experience. We give everyone the same opportunity to be served."
Unlike chain sporting goods stores, all the money Yeager's makes stays right here, locally. Plus, Yeager's is able to attract people with an expertise in hunting and fishing to work for them; in their fishing and tackle department alone they have over 200 years of accumulated fishing experience.
Westy says he comes to work every day for the people; not just those who work at Yeager's, but also for the customers that walk in and out of their doors. It's typical to see many generations of customers at the store and Westy has had some folks let him know their grandfathers were friends with founder Ira Yeager.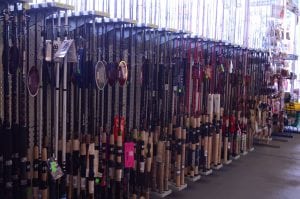 Just like it's important to forge relationships with customers, Westy believes businesses should form strong relationships with other businesses, and one of the most important is with your bank.
Westy interviewed many banks before choosing First Federal. He says the difference with First Federal is their willingness to be flexible and do what's necessary to help Yeager's achieve their goals.
"In 2015, First Federal was the newest bank in town, and grabbed Yeager's right off the tree," Westy says. "The bank is based in Port Angeles, one of the places of Washington's heartland, I just knew it was going to be a good experience and good fit."
Other banks posed multiple hoops and barriers, but First Federal got Westy what he needed, when he needed it – and even provided extra service. Although First Federal doesn't have any ownership in Yeager's, they're included in business planning and meet with Westy on a regular basis. Just like the relationship he has with his employees and customers, Westy's relationship with First Federal feels like a personal experience.
In the 30 years Westy was away from Yeager's, he travelled the country representing various hunting and fishing companies. But when he returned in 2009, he felt right back at home. After all, he was born and raised in Bellingham, and never planned to live anywhere else long-term. He says he would never leave Northwest Washington as it provides everything you could ever ask for, and Yeager's provides everything he could ever want in a job.
"In reality, we sell fun," Westy says. "Hunting toys, fishing gear, skiing equipment, kayaking accessories, what more could you ask for than a store that sells fun?"
Sponsored