Brian and Dana Hardy of Bellingham are definitely a reflection of the Pacific Northwest lifestyle – they love outdoor adventures and our area. They decided to take their experiences and create lifestyle-inspired apparel and accessories through their newest adventure together, Salt & Cedar.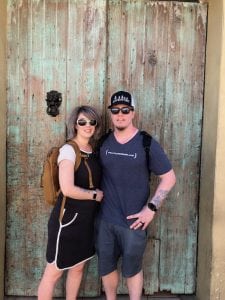 "We've been traveling all over our local area," Dana says. "I've always felt that our small towns here in the Pacific Northwest have these stores carrying branded products that really speak for the town or place. We want that for Bellingham."
Where the sea meets the forest, this team sets out to create high quality apparel that makes you feel good. "I want this lifestyle to resonate through the design and textures of our clothing," Dana says. "I want people to think of the sound and smells of the Pacific Northwest with our products."
The custom designs reflect the couple's passion for the outdoor lifestyle and our beautiful environment. "It really is a lifestyle," says Brian. "The clothing of Salt & Cedar reflect that."
As they brainstormed ideas for a new business opportunity that would allow them to pursue both a travel lifestyle and commitment to community, they found a creative outlet for themselves. Beyond the cool designs and quality clothing and home products, both Dana and Brian feel strongly about having a business that is connected to their community and gives back in a meaningful and sustainable way.
Each sale means $2 back to an organization that works to create change and make an impact. The organization will change every six months and is chosen based on where they fall within three categories: help people thrive and prosper, work with wilderness conservation and protecting animals. As they introduce Salt & Cedar to the community, Dana and Brian have chosen Bellingham's Lydia Place as the first recipient. "I think it's important to be more than just about profits," explains Brian. "Commitment to giving back should be a part of your business mission."
They hope to bring more awareness to each of the organizations and the causes they impact. "I never realized how important our environment makes us feel," Dana says. "It's really about our well-being."
Salt & Cedar uses a waste-free business model for inventory, something that is important to both Brian and Dana. Working with a clothing manufacturer that produces on-demand means no excess products as styles change. Each piece is truly an original.
The process generally takes a couple days to produce a product. "You're getting a custom-made piece of clothing every time you order something," Brian says. "It allows us to buy the best quality and product we can with no waste."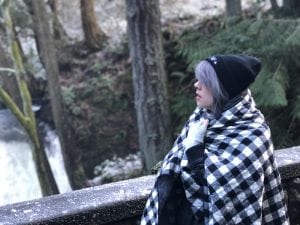 Not only do the clothes and accessories of Salt & Cedar reflect the Pacific Northwest experience, but the website was created to be a resource for information. With authors such as Anna Vocino of the popular book "Eat Happy," as a guest blogger, along with organizations such as Chuckanut Westfalias, visitors to the website will find a variety of information from eating well while camping to incredible adventures and experiences in our special part of the world.
Salt & Cedar was created to inspire a passion for community and the Pacific Northwest lifestyle. It's run by a couple who love where they live as much as they love working together. "Brian and I work really well together," Dana says. "We just click. He is able to interpret every one of my ideas."
Be sure to check out the latest apparel and accessories from Salt & Cedar. You will find a variety of items with cool designs and you'll know that each purchase actively gives back to our community.