Heading south on HW-9 off Mt. Baker Hwy, shortly after crossing the North Fork Nooksack River, you'll find yourself slowing for an S-curve crossed by railroad tracks. As you slow, you'll catch sight of Everybody's Store on the outer bend of the curve. Yellow with red trim and sporting an American flag proudly, Everybody's Store emanates small-town Americana.

On my first visit, it was the combination of their large sign advertising deli sandwiches and the newer sandwich board advertising Acme Ice Cream that convinced me to stop. I had taken the day to myself to explore the Baker foothills looking for lost logging roads and unmarked trails. My search for forested adventure may have only yielded one dead-end after another, but I was still hot and hungry. A pitiful attempt at rationing my supplies – one PB & J and some carrots – had left me yearning for a full meal and I could feel my stomach's growls of excitement as I entered Everybody's Store and beheld the large deli display.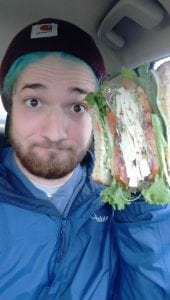 I was greeted warmly by the cashier as I ambled in, my hunger temporarily replaced by wonder at the cornucopia of colorful goods in this homey, house-sized super market – cheese samples, herbs, locally sourced foods of all kinds, general goods, clothing, cold beer, a few knickknacks. My list starts with cheese samples whenever I recount my experience because that's the first thing I tried. They have a whopping 50+ cheeses!
A man came in as I was filling out my sandwich order. The cashier engaged him with the same friendly demeanor that had put me at ease 10 minutes ago. The man admitted his main reason for coming was to bring along his cheese-nut of a friend. When his friend entered, it was clear he'd found heaven.
As the work on my ambitious sandwich order commenced, Jeff Margolis emerged from a backroom to help the two men with the difficult process of selecting which cheeses to take home. Jeff's deep, soft voice speckled with history provided background for my browsing as he answered the men's questions and occasionally remarked with humble pride that his cheese preparation skills came from years of practice.
Weeks later I found myself trudging through fresh snow as Jeff showed me around the five acre property that has been his home for the last 48 years. Although most of his crops were buried in snow, he was still able to point out Brussel sprouts, kale, basil and rosemary hibernating in his 8,000 sq. ft. garden. I discovered that Jeff shared a love for the sort of adventure that first brought me to his store. He's a firm believer that people should be more willing to get out of their car and walk, recounting the many walks he's enjoyed through Baker's foothills.
Jeff and his wife, Amy, weren't looking for a business opportunity when they bought the property; it just happened that there was a store already on the site. They most assuredly did not realize that they were embarking on an endeavor that would span half a century.
Standing proudly amidst the beautiful snow-dusted hills, Everybody's Store is a bastion of community preservation and a unique harbinger of personal connection – a store focused on the people and not the money.
The store's community focused, customer-centric attitude permeates into everything the Margolis do including their support of the Josh VanderYacht Memorial Park across the street. On a sunny summer day anyone can taste the fruits of this community's labor and play a game of basketball or handball before taking a dip in the river right down the road.
Explorers of all types are treated to an experience found nowhere else in the county thanks to Jeff and Amy's unique approach to business – a dying art of wholesome storekeeping where the sale is less important than the bonds formed with customers.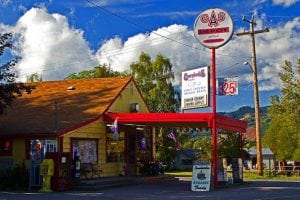 Fortunately for those looking to make a purchase, Everybody's Store has an unrivaled collection of locally sourced food, handmade organic clothing, delicious wine and a dreamlike amount of cheese. When you visit, I highly recommend exploring the standout unique items like their garden-grown sweet kale, Nokkelost cheese (crafted from a 1,000 year old recipe) or their locally-raised organic lamb.
The wonders of this store are endless and the kindness of its employees boundless. Just a short hop outside of Bellingham, Everybody's Store will bring you warmth, cheer and a full stomach – all in a way rarely seen today.