Old World Deli is known for having the best sandwiches. They back up this reputation with their phenomenal handmade meats, crafted in-house by Zach Holmes and Phil Mulligan, the morning and evening managers at this popular food and wine establishment. Zach and Phil have worked together for the last seven years creating lunch and dinner specials, which tend to focus on a specific meat made fresh that week; porchetta, pancetta, bacon and sausage are just some of the delicious meats made in-house.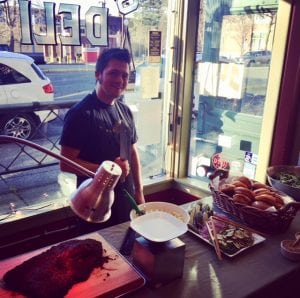 Zach and Phil felt the meat wasn't getting enough of the spotlight. So they came up with Carving Night, the newest addition to Old World Deli's collective of special events. Every third Thursday of the month, Carving Night will feature a freshly-crafted meat. The idea is to take the meat at its peak flavor point and serve it immediately.
Carving Night is a family-style roast. Tables are set up in the center of the restaurant and staff run the evening from the middle of the room. Tables are converted into serving and carving stations and condiments are displayed at the end of the line.
For April, spicy pickled vegetables, an aioli and Breadfarm buns will accompany their housemade porchetta. "It will be a build-your-own sandwich night," Zach says.
Customers will watch as a staff member slices fresh porchetta onto their bun. Once their hefty helping of meat is secured, guests will build the rest of the sandwich with various toppings.
Last month marked the first Carving Night, with pastrami. Phil declared it a success, which convinced them that Carving Nights should be a monthly occurrence. Carving Nights were also inspired by the success of their Paella Nights, which happen every second Thursday of the month.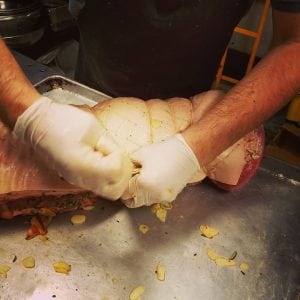 "Thursday has generally been our slowest day of the week," Zach says, "which is why we introduced Paella Nights. Now they sell out; we even take call-ahead reservations for them. We're hoping the same happens with Carving Nights."
Paella Night sticks to the family-style dinner theme. The staff prepares the traditionally Valencian dish in a massive paella pan, using ingredients such as prawns, chicken and chorizo. Customers line up to grab a plate of paella, which can be paired with Old World Deli's wide wine selection. Some people even opt to make it a full meal.
During the Carving and Paella Nights, Old World Deli is still open for regular business, which means attendees can make use of their evening specials board by adding small plates or sides to their main course.
The evening specials start at 4:00 p.m. and run Thursday through Sunday. They feature small plates ranging in price from $5.95 to $9.95. Lamb skewers, chicken empanadas and homemade naan with a beet puree, date syrup and house ricotta are just a few of the specials Phil and Zach have dreamed up. "We used to do these specials thematically," Phil says. "But now we realize it doesn't always have to have a theme. You could have a bunch of different specials on the board that don't necessarily match up and people still want to buy them."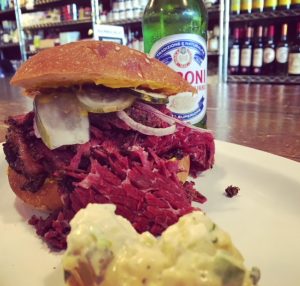 Phil's favorite evening special was their Bánh mì Dip – Old World Deli's own take on traditionally Vietnamese sandwiches. They served the baguette-style sandwich as you would a French dip, but with an au jus made of pho broth. Ideas like this illustrate why Old World Deli is such a fun place to eat – there's always something new.
"I love vegetables, so I try to do something with vegetables every once in a while," Phil says. He emphasizes this statement by taking a bite of a gigantic salad filled with what I imagine is every vegetable in the restaurant. Phil and Zach have free range in creating what interests them, so there's a good chance this gargantuan salad could make the evening special board at some point. If it does, count me in. Just like everything else dished out by the deli – it looks good.
Old World Deli
1228 N State St.
Bellingham
Sponsored