Have you ever heard of such a thing? Maybe a family you know takes a vacation together – not just for a week or two, but for a few months. Or a few years! Sounds crazy, right?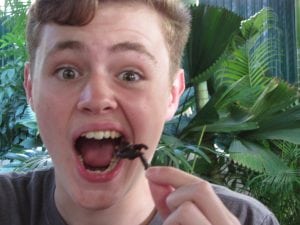 Or is it?
It's more common than you think (or at least more common than I thought). I was curious about how (and why) families do this. So I spoke with some who had. In 1994, Richard and Nancy Friedman traveled with their boys Julian, Gabe and Asher. Lisa and Ray Dailey traveled with their boys Tyler and RJ in 2015. In June of 2018, Gerry Coleman and her son Dexter will take their turn. They were all excited to share their insights.
The Dailey Family
Ray and Lisa and their two boys, RJ, then 15, and Tyler, then 13, planned their seven month long trip after doing extensive research with no specific destinations in mind, other than knowing they would spend time in Vietnam and India. The time was right fitting in between Ray's retirement from his public health position and his next job. Ray's previous government job enabled them to travel for free on a space available basis overseas, with 72 hours' notice before flights – requiring great flexibility. They noted some interesting places they wanted to see, while keeping their options open. Lisa also attended a few travelogue sessions at the Bellingham Public Library beforehand to get ideas.
Journeying to places in Japan, Southeast Asia, Thailand, Africa and Spain, they mostly traveled by train and bus, except when major cities were connected by flights.
The Friedman Family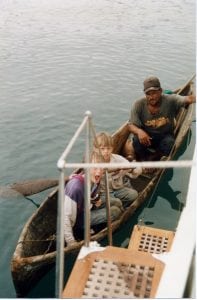 Richard had a great love of the sea and vast experience as a commercial fisherman before he met Nancy. On their first date in 1983, they talked of sailing around the world with their family. It was 1994 when he found himself in career transition. By then the couple was married with three boys – Asher (5) Gabe (7) and Julian (8). It was Nancy's encouragement that motivated them to go from "someday" to "today" in 60 days.
The Friedmans first planned to buy a boat and cruise to Europe, but decided instead to hug the eastern seaboard and travel the major cities on the east coast. They traveled up the Potomac River, then wintered in Florida, where Richard got the idea to create a charter boat business. They headed back up to Maine to try it out. They spent the last seven months of their two year trip bringing the boat home – traveling to Cuba, through the Panama Canal, Costa Rica and Mexico.
The Coleman Family
Gerry and 12-year-old Dexter have spent the past 18 months planning their trip to the EU, after her current position ends in June, 2018. Gerry is a citizen of both the U.S. and Ireland. The plan is to return to Bellingham after a year, but both are keeping an open mind if something amazing comes along while they are there.
With her Irish passport in hand, the two of them can travel freely around Europe without visas. They are selling their home in Bellingham to finance the trip. They hope to return with fabulous memories and enough money left over to secure housing.
By their own admission, Gerry and Dexter "are not big museum people." They are starting their journey with a flight to Iceland where Geri's sister will join them as they continue on to the EU. They're most looking forward to seeing their extended family that still lives in the small towns of Ireland where Gerry's grandparents and great grandparents grew up. They plan to be in Paris for Christmas. Gerry recently learned that one of their friends is joining the Peace Corps and will be in Madagascar, adding that country to the list of potential places to visit.
What to Bring
The Daileys each brought their personal clothes and items in a backpack. They checked weather predictions and packed accordingly. Lisa and Ray carried the bulk of the family belongings, like first aid supplies and travel meds. They also brought Malaria pills, just in case. (Note: they never got Malaria.) They brought two computers and two phones. The boys brought GameBoys and Nintendo DS to play games and watch movies.
Richard and Nancy had "a whole boat" of room, and still brought "too many" books. The boys were allowed to bring favorite toys and stuffed animals. Back in the 90s there were not as many options for electronics.
Gerry purchased a carry-on suitcase that will split into two bags. She is less concerned that her checked bag arrives back home as much as she wants her carry-on with her on the way there. They are watching the weather and will bring climate appropriate clothing. She will also bring a cell-phone and a lightweight laptop, Dexter will have an old cell phone with internet access that will take photos for the blog.
What about School?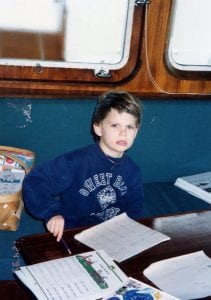 The Dailey boys brought schoolwork on the trip. They returned mid-year, and were able to catch up so they didn't lose a grade. Now that they are both fully engrossed in high school, Lisa says traveling at this age wouldn't have worked so well.
Nancy took a home-schooling class before the trip. She occasionally had to offer extra fishing time as a reward for the boys doing their daily classwork. Before returning to school, they were tested by a school psychologist who said they were performing at grade level, with a phenomenal knowledge of geography.
Gerry will be filing an intent to homeschool 7th grade and expects Dexter to manage well when he returns to Bellingham for eighth grade. She is perusing the internet for information on home schooling. As part of his home school assignment, Dexter will be responsible for the family blog.
Thoughts from the Kids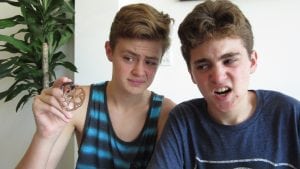 Tyler said he missed American greasy food and his friends, "especially my best friend, Soren." He also missed being at school. He admitted he now misses the uniqueness of every day while traveling.
Older brother RJ said he would probably take his family on a similar trip if he could save the money.
Julian remembers his parents sitting him down with his brothers to tell them the family would be going on a boat trip. In his eight year-old brain he understood this to mean they were traveling "around the world by boat." His experiences have led him to his current career as owner of Crystal Reef Aquatics and Bellingham Pet Supply. To other families (and kids) he advises, "Immerse yourself in the places you go – focus on history and culture. Eat the food. It's a rare opportunity that most people don't get a chance to experience, and the coolest gift that your parents would give to you."
Dexter is mostly excited about seeing his best friend who lives in Denmark. He's not looking forward to missing his whole 7th grade experience and his friends here Bellingham.
Re-Entry 
After spending days on end together all day, every day, both families have become tightly bonded in a way they had not expected.
The Daleys sorely missed family, friends and neighbors. Because of the time difference, they hardly ever talked to anyone "at home." It took them about a month to get re-acclimated upon their return. The family still travels together and is considering future trips to Peru and South America. Lisa kept a travel journal blog which can be found at Dailey Destination. Her current blog is called Northwest Rambles. She's working on a memoir about their experiences. The working title is "Square Up."
Upon their return, Richard continued to run the charter business, Alaskan Song, as captain for 11 years. Nancy travelled along, acting as hostess and chief cook. While Richard is still running the business end (there's a new captain/cook couple aboard) and keeping up Facebook and their website, he and Nancy will remain ashore to share weekly meals with their grown boys.
Richard says the key to successful travel is flexibility. He advises travelers to be aware of their circumstances, look at alternatives and be willing to change plans. Whether it's for a week or a year, travel will enhance your life and forge connections to last a lifetime.