From the daily ritual of mealtime to parties and special occasions, kitchens are where we gather. We linger there, enjoying the warmth, smells and activity of cooking. For many, the kitchen island has replaced the dining room table. Making the kitchen a space worth gathering in can enhance those daily rituals, as well as add value to your home.
In the early 20th century, when many of Whatcom County's craftsman homes were built, kitchens were often separated from the living space. A closed door kept the noise and smells away from company. In new home construction, open kitchens connected to the living area are a highly sought after design. This feels more informal, but connection is valuable. In such a space, a person can keep an eye on their children in the living area and share drinks with guests, all while they cook. This open design plan is what sets the stage for modern kitchen style trends.
However, the direction of modern kitchen designs is not limited to one movement. There are many ways to bring an updated look to your kitchen depending on your taste. When done right, inexpensive pine butcher tops are as modern as stone ones. "Reconditioned retro appliances are very hot, but so is sleek stainless steel," says local interior designer, Jonathan O'Brien. "Shabby, country chic is just as fashionable as a kitchen with dark wood and stone counters."
Whether you want something light and airy or something more dramatic, there are modern elements to make your kitchen fresh and new – even for those on a budget. "In my designs, I've included quality GE appliances that are comparable in style to expensive industrial ones, for a fraction of the cost," O'Brien says. "For counter tops, I've been drawn to using Caesarstone. It's a quartz composite, which has the same effect for half the price of granite."
As the heart of the home, a kitchen's design and functionality can set the tone for the rest of the house. Even for those with classically designed homes, a kitchen update can bring in more light and space. "If your space has size constraints, you can maximize the feeling of spaciousness by using lots of fresh white," explains O'Brien. "A subway tile backsplash is very inexpensive and a great solution for making things seem spacious."
Removing a wall can make a stifling kitchen feel airy. It opens up the space for conversation between two rooms and gives the illusion of a larger area.
A kitchen update can inspire a homeowner to continue their redesign out into their living space. The color scheme and textures of the kitchen can often be complemented in the next room. If there are stainless steel appliances and dark woods in the kitchen, one can warm up those tones in the next room with a warm grey – without giving up the sleek style.
Kitchen updates can also be affordable. A simple change in paint color, a furniture update or cabinetry refinish is easy on any budget. Easy upgrades like these tie spaces together. "By using what you have with a fresh outlook on it, you don't need to spend a fortune for a new look," says O'Brien. "Even getting your existing carpets cleaned and a new wall color can make it seem like a whole new space."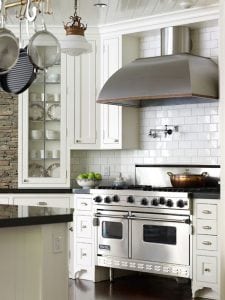 For many, a kitchen redesign may seem like an overwhelming investment, but with the help of a professional, there's a plan for every budget. O'Brien has the experience and industry connections to find the elements that suit your taste and finances. "You don't have to be wealthy to have an interior designer help you," he says. "I can take a budget and already have a list of options that would work within it."
That professional knowledge saves clients time so they can relax and find joy in the process. O'Brien offers a complimentary one-hour initial consultation for his services. Here he can determine the client's needs and share ideas. A kitchen update not only adds value to your home, it brings the daily reward of feeling more connected to this important space.
Sponsored