There's nothing more refreshing than the sweet scent of fresh spring air. Its new vitality just takes your breath away. Then there's the promise of impending warmth and the newly budding plant life. There's simply a contagious excitement of a world awakening itself from winter slumber. But above all, for me there's one aspect of spring that trumps all others – the return of the Bellingham Farmers Market.
Wandering through the visually stunning vendor displays amid a cacophony of sound and delicious aromas is about as close to heaven as I can get in this lifetime. I love all farmers markets – it's true – but the Bellingham Farmers Market stands above the rest. The carefully curated vendor list keeps the experience balanced with just the right number of farmers, food vendors, innovators and craftspeople. No matter how often I go, there's always something new to see and do.
The Bellingham Farmers Market kicks off its 26th season with a Market Grand Opening on April 7. This year promises to delight with over 140 businesses already signed up to showcase their produce and wares. Be sure not to miss the official start as Mayor Linville tosses a locally-grown cabbage at 10:00 a.m. issuing in this impressive new season of shopping local.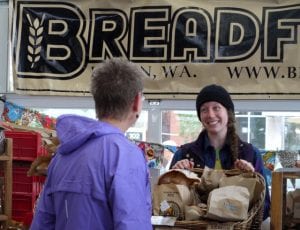 Then stay and explore all the amazing sights, smells, sounds and tastes the market has to offer. Fifteen vendors are new this year and deserve an especially warm welcome. These newcomers include:
Asp & Hand – Beautiful glass works
AWE Botanical Parfum – Small-batch solid botanical perfumes made with organic and wild carrier oils
Calypso Kitchen – Phenomenal Caribbean cooking
Dimitri Olive Farms – 100 percent "unfiltered" olive oil grown, harvested, pressed and bottled in Southern Greece
Crowe Pottery – Functional stoneware pottery
El Fuego Pepper Sauce – Habanero sauce, so hot it's good
Gathered Confections – Local and organic wedding cakes and pastries
Herb's Cider – Delicious hard cider from Primus drummer Tim "Herb" Alexander
Jill Bliss – Artwork inspired by the Salish Sea and Pacific Coast ecosystems
Lucky Star Bread Co. – Flavorful breads including gluten free options
Sabor de Jalisco – Delicious and memorable salsas
San Juan Island Sea Salt – Sea salt evaporated via solar from the waters of the San Juan Islands
Something Cheesy – Grilled cheese like you've never tasted before
The Mile Pie Club – Sweet and scrumptious pie just like mom used to make (maybe better!)
Tomas Vrba Studio – Remarkable chain saw sculptures
Once you've absorbed all there is to see at the market, stroll over to Railroad Avenue to visit the non-profit fair that will be going on all day. What better way is there to usher in spring?
Sponsored