Helen Solem is a farmer. She specializes in petite spicy greens, mixed berries, culinary herbs and gourmet roots. Her compact three-acre farm is right next to the Sumas River in Sumas, WA.
Helen became a farmer in 2008 after she left teaching. As she thought about what she'd do if she could do it all again, farming came to mind. Why farming? "People farm for the private, hardworking lifestyle," Helen notes. "Mostly I just want to grow food."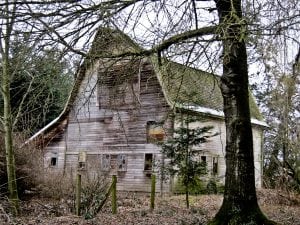 I first met Helen at the Twin Sisters Farmers Market. The cooperative mobile market serves the more rural "food desert" areas in East Whatcom County. The farmers take turns staffing the converted flatbed trailer to keep costs lower than a traditional farmers market. This market is especially important for residents in the foothills region since two area grocery stores have closed.
Helen believes in building community around food. Consumers, neighbors and a huge network of local farmers are all part of her community. Helen spoke enthusiastically about how much she's learned from other farmers. Organizations like the Northwest Agriculture Business Center, Puget Sound Food Hub and Sustainable Connections are also great resources for local growers.
Helen cultivates two acres of her farm. The area is blessed with rich soil and a temperate climate. Sumas also has some of the purest water in the entire county. According to Helen, "[The combination of] quality soil, sunlight and water is what makes it all happen."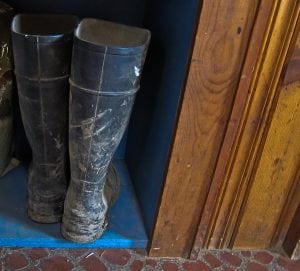 I came for a tour of Sumas River Farm on a cold day. Helen's home (circa 1888) was a comfortable haven with a roaring fire in the wood stove. Helen donned her mother's plaid wool scarf and we set out. Weeks earlier much of the ground was flooded, but now the path around her property was clear and generously mulched.
The main barn, built by Ben Knight in 1934, is on the Washington Heritage Barn Registry. While the barn is in need of rehabilitation, it is stately as old barns can be and still reflects how it was used long ago.
Helen's hoop house (a low-tech greenhouse) boasted a few rows of greens and will soon be used for seed starting. Helen was especially excited to show me her new packing shed. Her walk-in fridge is her newest addition. Guidelines for growers under the FDA's Food Safety Modernization Act (FSMA) are very specific for harvest to market. Each plant is handled differently.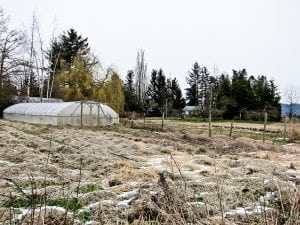 There is a plan for harvesting and a post-harvest plan that includes a wash, cool and pack system guided meticulously by FSMA for food safety. These guidelines protect the food consumer from foodborne illness. Helen is certified organic and FSMA certified. As part of her organic certification Helen cultivates native habitats on her property.
Berries and rhubarb will be grown in the west fields. The east fields are dedicated to the cultivation of annual vegetables and there is also a nettle garden. Another area of low ground will soon be used for more annuals.
Each farmer has a unique farm plan, but most of the basic elements of farming are the same.  Farm maintenance includes a variety of day-to-day tasks. The day I visited, we checked for new plant growth and found rhubarb just beginning to poke up from the dirt. Some hardy red Russian kale had survived the winter. We each tore off a leaf and savored a snack.
Long-term tasks include barn restoration and solar panels for the packing shed. Irrigation is another crucial element of farming. Some farmers hand water and Helen did that for some time. Now she uses the drip method, which slowly and methodically drips water onto the crop. Soil chemistry is important to the nutrient value of food, as well as taste. She tests her soils regularly.
Helen works to distinguish her operation and her crop from her competitors. Farmers are encouraged to have an outreach and marketing strategy. Helen is pleased that she will finally have her own website in April.
Local customers purchase from Helen at the Farmers Market in Bellingham beginning in May or Twin Sisters Farmers Market beginning in June. Her current wholesale clients include: Ciao Thyme, EAT (be sure to look for her farmer photo on their wall), The Fork, Super Duper and the Puget Sound Food Hub.
The wholesale part of her business is very competitive – she's certainly not the only farmer in the area! Her clients buy her food because it looks and tastes good; it's really that simple. If you grow food, it should taste good! Her customers appreciate the fact that Helen is reliable and loyal. Helen says, "I am always there."
When you frequent the farmers market, or any of the eating establishments listed above, you also nurture area farmers and encourage the eat- and buy-local food movements. There truly is no better way to vote with your fork.
Farmer Helen Solem
Sumas River Farm
PO Box  288
Sumas, WA
helen_solem@yahoo.com
360-319-0895