In a Fairhaven restaurant kitchen, husband and wife Norman and Kristen Six are prepping fresh herbs, onions and meats for the day. The gleaming silver kitchen is the staging area for delicious dishes that will soon be served to eagerly awaiting guests. This is also the last leg of the journey for Lovitt Restaurant's high quality, farm-to-table meat.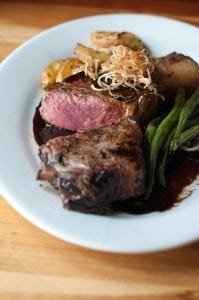 Coupled with the impressive skills of Chef Norman, Project Meat is the not-so-secret ingredient to Lovitt's exceptionally flavorful entrees. This is not your average commercial meat. The philosophy behind Project Meat is a focus on the individual animal. Farmers interact with all animals providing individual attention to each and creating a low-stress lifestyle for all.
"Our meat tastes better, even with nothing on it," says Kristen. "If you did a taste test of our ground beef and grocery store ground beef, ours would have a much beefier flavor before adding all the spices."
"Commercial lamb tastes a great deal like beef to me," adds Norman, "but there's no confusing Project Lamb; it really stands out with delectable flavors."
One of the most exciting aspects of visiting Lovitt Restaurant is its menu's endless possibilities. With Project Meat, they purchase whole animals in October, then formulate a continually evolving, one-of-a-kind experience based on supply, customer preference and artistic creativity.
"We really do entertain ourselves with the menu," Norman says. "Our menu is about moving through all the animals the way we need to. Whole pigs, lambs, steers – we have to move through all those cuts. That guides us."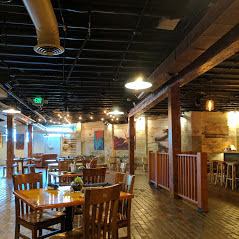 Not only does Lovitt's meat taste better, it's actually better for you. "You are what you eat and that's true for the animal as well," Norman explains.
One interesting thing for meat lovers to be aware of is that sometimes this meat looks different. Project animals, who are USDA-approved, enjoy a healthier lifestyle than the creatures whose meat is more commonly seen in stores. The bacon, for example, is much pinker than what people are used too. That's the beauty of naturally-raised pigs.
For over a decade, the Six family has learned how to use the whole animal to its fullest potential. They've switched to cooking bases like coconut, animal and olive oil for most of their entrees, creating a healthier meal as a result.
"My family and I eat here," Norman says. "One of the main reasons we do this – if not the main reason – is to eat like this. We really like eating well and this provides us, ourselves, with excellent meals. We eat here three meals a day."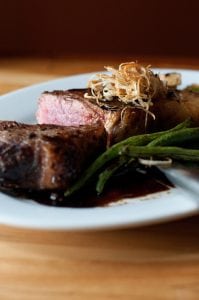 Eating at Lovitt really is eating the best home cooked meal possible. Norman explains that they focus on keeping the menu priced affordably so people can eat there at least twice a week. The family wants to keep their quality, healthy food accessible to people from all backgrounds. Lovitt is not meant to be a "celebration" restaurant that people visit once a year on a big occasion, but a sit-down, take your time experience with an excellent meal.
Lovitt offers options for vegans and meat lovers alike. With delicious entrees, soups, salads, desserts and a brunch menu, there's something for everyone. But Lovitt doesn't just serve an exceptional meal – they're making an impact with every dish served. "We are true believers this is a way to save the world," says Norman. "We're saving the world one hamburger at a time."
The economic-viability of Project Meat helps support farmers and reduce the carbon footprint of shipping animals and their products around the country. An even greater and more immediate impact is how this meat affects the person eating it.
"I was right at the edge of needing cholesterol medication," says Norman. "A few years later, my cholesterol numbers collapsed to the numbers you would find in a lifelong vegan. Really, really low. I had a combined cholesterol of 52 and it had been 160. Nothing changed except I started eating really good meats and dairy."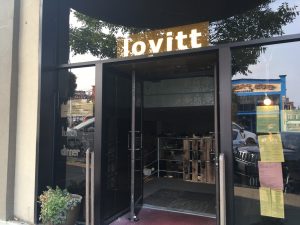 The health impact of eating good meat and fresh greens can be seen all over Lovitt's main menu and its children's menu. Since having kids, Norman has become obsessed with what young people eat. Lovitt provides a place where parents can dine and kids can have fun while enjoying healthy food of the highest quality. Bringing the family in for brunch could really boost your energy levels to finish the day strong.
"We eat our burgers when we feel worn out and afterwards we feel better," says Norman. "It's never heavy. It's like your body absorbs the energy immediately. If you're feeling tender and you need to recuperate, you can have a steak here and afterwards you're healthier and energized."
The future of Lovitt is in the hands of the people. Norman is proud of the restaurant they're running and hopes to be giving back in this way for years to come. He would like to expand the restaurant's hours to provide greater access to more of the community and help create an even bigger impact for local farms and individual health. He's investigating the possibility of cooking classes so community members can take home the farm-to-table mentality and pass it on to those around them. In this way, he hopes to help create everlasting change.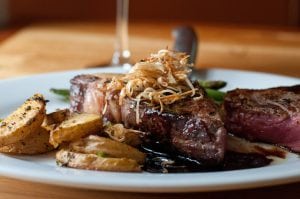 "The knowledge of how to make food from scratch is not a very common thing," Norman says. "It's a great gift to give to your kids if you can give them the skills of cooking."
Until then, the doors of Lovitt Restaurant are open to locals and visitors alike. Here you'll find Norman and Kristen, always offering the purest flavors of farm-to-table, made with the love of a family.
Lovitt Restaurant
1114 Harris Ave.
Bellingham
Sponsored